As your corporation grows into an enterprise, you need to start taking into account the need to train external stakeholders. When your learning requirements begin to include distribution channel partners, customers, and other brands under your umbrella, you need to think about integrating an extended enterprise LMS.
What is an Extended Enterprise LMS?
You probably know that a learning management solution, or LMS, describes any software that helps you automate and structure your internal training program. An extended enterprise LMS extends that concept to include not just your employees, but any stakeholder that can benefit from participating in the same type of structured program.
According to the corporate education resource Web Anywhere, extended enterprise learning includes;
any training that is provided to learners outside of your organization. The training could be targeted at dealers, channel distribution partners, suppliers, resellers, franchisees, and even your customers.
You've probably encountered this type of learning mechanism yourself, in the systematic onboarding your company needs for any software it integrates into its workflow. Customer knowledge bases, new product rollouts for franchisees, and partner channel certifications are all examples of extended online learning.
6 Benefits of an Extended Enterprise Learning Management System
As soon as your training program begins to consider external stakeholders, your needs for a corporate learning management system begins to change. Now, you need a wide variety of training modules that are adjusted for individual audiences, allowing you to track successes not just based on overall process but segmented by audience type. When you get to that point, an extended enterprise LMS implementation comes with a variety of benefits:
1) Standardized Training for All Stakeholders
Perhaps the biggest, and most obvious advantage of an extended enterprise LMS solution is its standardization. Once your stakeholders begin to expand outside of internal departments and employees, keeping the baseline of knowledge required to work with your company consistent can be difficult.
A single learning program helps to keep everyone on the same page. It efficiently distributes any new or newly relevant information about your enterprise for any stakeholder who needs to know about it.
2) Increased Trackability and Reporting
Standardization, of course, only matters when you can track its success. Moving to a single LMS that can serve all relevant stakeholders means being able to take advantage of extensive reporting, which allows you to track which of your channel partners, customers, and franchisees are completing the training. These reports also help you relate measured results to performance and quality of relationships, allowing you to make adjustments and improvements where needed.
3) Consistency Across Individual Brands
As your enterprise grows its brand portfolio, consistency becomes increasingly essential. Multiple brands may act as independent entities in the eyes of customers, but they still need to share a knowledge base about corporate practices, values, and regulations. Structured extended learning can help you build this consistency.
4) Consistency Across Distribution Channels
Similar to individual brands, distribution channels will need to operate from a single base of knowledge. Particularly for corporations engaging in just-in-time delivery, information needs to be shared efficiently and quickly. The right LMS helps to get every channel partner on the same page, reducing the amount of daily communication required to functional and increasing speed (and quality) of delivery.
5) Customized Training for Stakeholder Groups
In addition to its consistency, the second component to any extended enterprise learning system is its customization ability. Each channel partner, customer group, brand, and franchisee needs to receive the same type of information. How they receive that information, however, can differ significantly. The right strategy helps you customize your training module for each stakeholder group, without sacrificing the consistency gained through using a single software solution.
6) Increased Customer Engagement and Loyalty
Finally, it pays to consider just how vital structured training can be especially for new customers. After first choosing to buy your product or service, this group needs to understand precisely how to make the most of it. A training software solution that reaches beyond internal audiences can help to accomplish that feat, standardizing the onboarding process and improving the chances that your customers stay with you for a long time to come.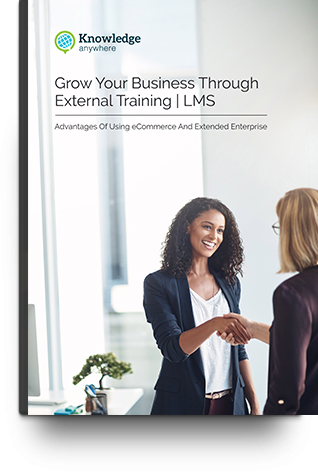 Grow Your Business Through External Training: Advantages of using eCommerce and Extended EnterpriseBecome an expert on how to use eCommerce and Extended Enterprise LMS features to train external partners.
Use Cases for Successful Extended Enterprise LMS Implementation
Based on these benefits, use cases for a structured extended enterprise learning program abound. Just some of the many possibilities include:
Onboarding new customers in a more standardized way.
Introducing new products or product features to your existing customers.
Establishing standardized processes for moving products through the value chain.
Building branding guidelines and rules for individual franchisees.
Establishing a baseline understanding of corporate values and processes for individual brands.
Of course, the potential use of this type of program is not limited to the above use cases. Anytime your enterprise can benefit from a more formal flow of information to external stakeholders, implementation of extended enterprise learning makes sense.
At the same time, the success of these and other use cases depends on the right software. Only a top extended enterprise LMS can help you leverage benefits such as increased trackability and a more consistent corporate knowledge base to franchisees, channel partners, and customers.
Over the past 20 years, Knowledge Anywhere has established itself one of the best LMS solutions for businesses and enterprises like yours, thanks to our intuitive software and customizability to fit your (and your audience's needs). Learn more about our learning management solution to discover the fit for your company, and begin to streamline your extended enterprise learning needs.
Similar Posts
Learn how you put education at the center of your organization with these great articles and resources.
Sign up to receive industry tips, trends, & insights