Hiring new talent can be exciting, but unless your company is growing and you're filling brand new positions, it's not something you want to be doing all the time. Each new hire fills the spot of someone you lost, and that loss is expensive, not only regarding the money required to train the replacement but also in productivity and possibly morale.
In a 2014 survey from SHRM, one-third of respondents said they quit a job in the first six months. When giving reasons for this, 23% felt they didn't have clear guidelines as to their responsibilities; 17% were looking for more helpful, friendly co-workers. Meanwhile, 21% indicated that "more effective training" would have made them want to stay.
In other words, a winning talent management strategy could have made all the difference.
Business Dictionary offers a simple talent management definition:
"An organization's attempts to recruit, keep, and train the most gifted and highest quality staff members that they can find, afford and hire."
This goes above and beyond recruiting. It's not enough to simply hire the right people. Training and keeping them is where a good talent management strategy is essential.
Talent Management Challenges
Forbes called retention the biggest challenge in talent management facing employers this year, citing not only that many companies aren't prioritizing retention, but also the generational shift: workers who join companies now don't necessarily even expect to stay with that company for more than a couple of years. According to the Bureau of Labor Statistics:
"The median number of years that wage and salary workers had been with their current employer was 4.2 years in January 2016, down from 4.6 years in January 2014."
But that's not all. There are a lot of reasons why retention is a challenge today.
Company Culture: According to randstad, "Younger employees (millennials, in particular) expect a different work environment than their predecessors did." Meaningful work, the opportunity to work from home, flexible scheduling, and more are important to today's talent pool. And it might change again: Gen Z is now graduating from college and entering the workforce. How will they fit into your company culture?
Smaller Talent Pool: In the "gig economy" more and more workers are choosing freelancing and short-term contracts over long-term career paths with companies.
Indecision: 93% of CEOs know they need to make some changes in their organization to attract and retain the best talent. However, 61% haven't done anything about it. They don't even know where to begin.
Building Your Talent Management Strategy
What is a talent management process? It can include a lot of different tactics, but the primary objective is to make sure your best workers stay with your organization. Talent management strategy examples might include:
Treat Potential Recruits Like Customers: You create an outstanding product and back it up with top-notch customer service to attract and retain customers. You've got to treat your potential employees the same way. They're shopping around for the best place to work. What can you offer them?
Align Your Plans: Your strategy for talent acquisition and retention should align with your strategy for the company as a whole. What type of workers do you need to keep your company moving forward? What will it take to make sure your employees are prepared to meet your goals? Each employee should have a perfect fit within your company.
Provide Clear Job Requirements and Goals: Employees need to know what's expected of them, and they need to have something to work toward.
Measure Progress: Not every role within the company can be measured the same way. What does success look like for the designer as compared to the receptionist? Schedule regular evaluations, so the employee is clear on how she's doing and how she can work to improve.
Stay Engaged: Employees should feel as though they're part of the team. It helps to have the entire organization on board with welcoming new hires. Establishing a mentorship program can give new employees an opportunity to learn from and connect with experienced team members.
Offer Fair Compensation and Rewards: If someone is doing the same work for more money at another company, your employee's morale and motivation is going to drop. Competitive compensation includes not only the salary, but also benefits such as health and wellness packages, time off, child care, the opportunity to work from home, and more. Even simple perks, like a weekly catered breakfast, help employees feel valued. And remember: 97% of employees want to be recognized for their contributions to the company.
Provide an Outlet for Employees to Share Concerns: If an employee is dissatisfied but feels he has no way to correct the problem, he'll probably bottle it up until the day he quits. When employees have a place to express concerns and can trust the management to work to correct the problem, they have an alternative to quitting and some control over crafting their ideal working environment.
Create a Path for Advancement and Improvement: When employees stagnate in their positions, they're likely to look for new jobs. Options for advancement and continued education keep employees learning and engaged as they advance their careers with your organization.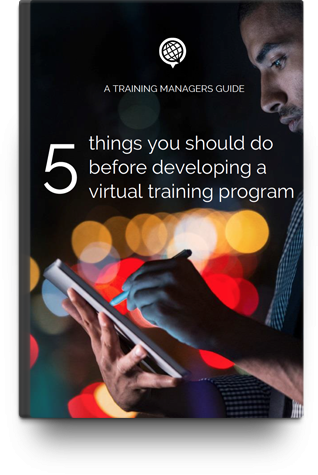 A Training Managers Guide: 5 Things You Sould Do Before Developing A Virtual Training ProgramLearn how to get your virtual training program up-and-running without a hitch with this free guide for Training Managers.
Ongoing Training is an Essential Part of Talent Management
A focus on training and professional development builds loyalty and increases productivity. It shows you care about your employees and their futures, which makes them more inclined to stay with you. As a result of that training, not only do you save money by not having to replace an employee, the employee you keep is happier and more skilled, better able to do the job you hired her for in the first place.
An online learning management system provides an easy way to invest in your employees. You can include necessary job training and optional skill development programs, both of which can be completed at the employee's pace when it fits in his or her schedule. With e-learning training, it's easy to assess progress and skills.
The best part? You can do all of this without the cost and missed work associated with sending your employees to conferences and seminars. Your online learning program keeps your employees satisfied and allows you to build a stronger workforce, which is what talent management is all about.
When talent management activities fall short, companies lose. Taking action not only to attract top talent but to keep them and develop their skills, will prepare your company for a successful future.
Start by contacting us. Knowledge Anywhere has been developing customized training solutions since 1998. We can help you implement a program for ongoing training and education that improves employee performance, advances their careers, and encourages them to stay with you because they know that you're invested in their futures.
Similar Posts
Learn how you put education at the center of your organization with these great articles and resources.
Sign up to receive industry tips, trends, & insights