If you've been given the responsibility to develop a more engaging and effective training program for your organization's workforce the biggest question you're probably asking yourself is "Where do I start?" Getting the ball rolling is often the biggest hurdle that the modern training manager must overcome, and with shifting organizational priorities, scattered content, and sometimes a lack of resources at your disposal, it can seem like you hit roadblock after roadblock as you pave your way to training success. Creating effective employee training can be a serious challenge, but it doesn't have to be.
If you follow these four steps, you can set your training program into motion down the right path and avoid some of the common obstacles along the way.
Before you design your training program, you need to know what you're going to accomplish with it. You aren't just providing general information to your employees. You're giving them specific information that they need to perform their jobs properly. Make sure you know what your goals are before you start writing your course material. Ideally, your goals should be specific, attainable, and measurable to allow you to continually tweak your materials in the effort to provide better training.
Example Goal #1: This training module will prepare new employees in the sales department to effectively handle their first day on the job.
Desired outcomes: Employees who have been through the training module are better prepared to take on their first day on the job. They understand how to use the sales system, how to interact with customers, and when they should bring in a manager.
Example Goal #2: This training module will give employees across every department the ability to use the new software the company has recently implemented.
Desired outcomes: Employees who have been through the training module are ready to use new software with confidence and excellence. They aren't confused by the software's features and know how to accomplish daily tasks using it.
Example Goal #3: This training module will provide annual safety training for employees.
Desired outcomes: Employees will be engaged in the review of safety procedures. Following the training, safety violations will decrease. Employees will know how to respond appropriately in the event of an emergency.
Take Inventory of Employee Skill Gaps
There's a growing skills gap across America, and it's causing stress for both employees and employers. Jobs in fields that require advanced skill sets have a hard time finding people with those vital skills. By identifying the skill gaps in your workplace, you can develop training modules that will allow new employees with the other attributes you look for in a new employee—for example, dependability or the ability to fit into your office culture—to more effectively join the team.
Some common skills gaps include:
The ability to work with industry-specific software that is only available at a high price or within a corporate environment
The ability to use equipment specific to your industry or business
Foreign language skills, especially lesser-known languages
High-level customer service skills
There are several industries where skill gaps are becoming an area of concern: manufacturing, healthcare, construction, and energy-related professions head the list. Whether you work in one of these industries or have identified increasing levels of concern about the skills that potential employees bring to the table when they enter your business, you must identify the specific skills gaps that are appearing in the workplace and work to correct them. The key question you need to answer is, "What specialized skills are only possessed by a handful of individuals throughout the company, but would be helpful in daily business if others held them?" You should also ask yourself what skills would be most beneficial to new employees. When you answer those two questions, you can create a training program that can equip your workforce for solving every day problems.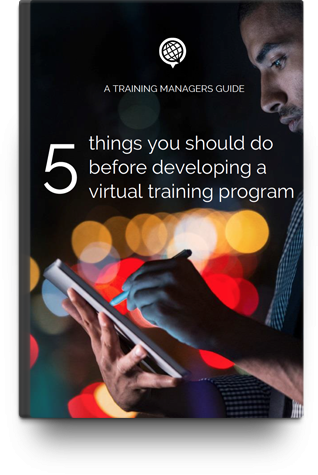 A Training Managers Guide: 5 Things You Sould Do Before Developing A Virtual Training ProgramLearn how to get your virtual training program up-and-running without a hitch with this free guide for Training Managers.
Design a Blended Training Program
The best training programs use a variety of instructional methods to create a high-impact educational module that is ideal for conveying the information your employees need. Try combining several formats, including:
Online training modules which allow employees to complete their training program in an entirely online environment—no materials required! These online training environments allow for interaction between instructor and employee, enhance communication between employees, and offer flexible construction that makes it easy for each employee to gain the knowledge they need.
Instructor-led training modules which allow instructors to guide employees through the learning process, monitor their learning, and respond quickly to questions
Mentoring sessions which enable employees to interact with more experienced mentors who can guide them through the learning process
Video-based training modules which allow for better assimilation of lessons than simple text documents
Self-paced learning with supplementary documents which will allow employees to work through the training materials at their own pace—particularly beneficial to employees who are maintaining their usual job responsibilities throughout the training
Practice Good Training Management Techniques
Even if you've designed online training modules that allow for entirely self-paced learning, it's critical to monitor employee progress. Training managers need to practice the following techniques to ensure the training program is successful:
Monitoring employee progress - assessment scores/quiz results, course completions, and grade—through an online training system to ensure employees understand and can apply the material they've learned
Collecting feedback on the training from employees to improve the training materials for future trainees
Analyzing system reports to fully understand how employees are proceeding through the training, where difficult spots are, and anything else they need to know about the training process
Get Started Today
Designing high-impact employee training is an ongoing process, but it's one that's well worth the effort. When you maintain your training modules, updating them regularly to ensure that they are providing the high-quality instruction your employees need, you'll find that you're much better positioned to make the most of your existing employee base and incoming employees. It's time to give your employees the skills they need to be more successful in your business and your industry. Contact us today to see how we can help you create high-impact employee training.
Similar Posts
Learn how you put education at the center of your organization with these great articles and resources.
Sign up to receive industry tips, trends, & insights