​eLearning platforms can sometimes include many working components, which may seem confusing at first. Knowledge Anywhere has recently partnered with Knowbly, course creation specialists, to provide you custom training content. With just a few simple steps, they can create beautiful, engaging courses and publish them quickly, even adding them to your Learning Management System.
Save time and money
Although there are ways to use your current content in a course, creating online training internally can cost your company lots of time, and therefore money. By allowing trained professionals to handle your content creation, you will have more time to spend elsewhere.
Personalize your content
Some have the impression that hiring an off-the-shelf course leads to cookie-cutter, dry content. Not anymore! Now, course authoring experts have the ability to create responsive and interactive learning tailored to your organization's needs. For example, you can request training to be tailored to specific industries, topics, goals, media types and more!
Trust the experts
Chances are, your company and staff are not experts in course authoring. Instead of learning an entirely new field, conserve your energy and resources by trusting the people who already live and breathe eLearning. Course authoring companies have first-hand experience in the field, and know how to make user-friendly, beautifully designed courses that are engaging for all types of learners. Here are just a few tools you can choose to leverage within your digital learning strategy through course authoring:
Videos
Audio recordings
Image editing
Flashcards
Interactive quizzes
Gamification
Infographics
Simulations
Role playing scenarios
Integrate it with your current training platform
With flexible content delivery, you'll be able to safety and easily transfer Knowbly's courses into any Learning Management System (LMS). All multi-formatted courses, modules, and raw data can be reused and refreshed to fit your needs as they change.
Although a worthy pursuit, there can be so many potential barriers in creating an online course. Skip the hassle entirely by using trusted professionals. Through our partnership with Knowbly, Knowledge Anywhere users can sign up here to get a FREE demo, a 21-day trial, and a discount on course authoring systems.
​A robust Learning Management System is a vital component of employee training across many industries, from healthcare to manufacturing. The advantages that a well-designed LMS can bring are numerous, including:
Consistent training for global workers
Streamlined and improved service on an organizational level
Enhanced effectiveness in content quality and delivery
Many organizations invest a lot of time and resources into their LMS. But there is a unique challenge that occasionally arises: how can companies convert written or visual content (such as PDFs, videos, etc.) into functional eLearning courses? Are there any standards or guidelines for the transference of educational content from one platform to another?
The answers to these questions can be answered by SCORM.
What is SCORM?
SCORM stands for "Shareable Content Object Reference Model." It is technically not a single set of standards; SCORM is a collection of standards and specifications for eLearning technology, and serves as a guideline or reference point for how developers can successfully use different standards in combination with one another.
The SCO, or "Shareable Content Object" in SCORM defines the smallest possible unit of training in an online course. This could be a module or page, and is technically considered the smallest piece of content that is both reusable and independent within the context of a lesson or training program. Each LMS generally lists the SCO as separate items in the course's table of contents, and tracks them as distinct entities.
Moreover, SCORM defines both communication methods between client side content and the LMS' host system, as well as how content is packaged into ZIP files known as "Package Interchange Formats."
SCORM Versions
Since its launch in January 2000, SCORM has come packaged in 3 basic versions:

SCORM 1.1. Considered by many developers as the "prototype" version and is not widely adopted today.
SCORM 1.2. Launched in October 2001, fixed many of version 1.1's bugs, and gained acceptance across the board. It still is supported by every major LMS, and vendors continue to supply material that meets the guidelines set out in 1.2.
SCORM 2004. A partial extension of SCORM 1.2, which also includes S&N (Sequencing and Navigation) guidelines. S&N standards allow for a wider range of content interaction types, and an increase in SCO reusability.
How Does SCORM Work?
At its core, SCORM is concerned with regulating two vital aspects of a Learning Management System: content packaging and data exchange.
Content Packaging
Also known as the Content Aggregation Model (CAM), content packaging guides the physical manifestation of a piece of content, or SCO. For instance, content packaging governs the order in which documents or pages in an e-course should be launched, as well as the names of courses, chapters, and sections.
SCORM packaging contains a file called "imsmanifest." This file contains the information needed to automate the import and launch of educational content according to predetermined parameters. The XML within the "imsmanifest" file regulates the structure of an e-course by delivering content in sequential order to the end user, as well as accurately indexing each file from a back end perspective.
Data Exchange
Data exchange is often referred to as Run-Time communication. It defines and regulates how the content within an e-course communicates or "talks" with the LMS itself as the program is running. For example, data exchange protocols allow the LMS to track a user's score for a particular module by communicating the number of correctly answered questions compared to the total number of questions delivered.
SCORM's data exchange capabilities allow for a wide variety of rich interactions between the learner and the delivered content. Of course, SCORM 2004 offers more capabilities in this regard than the earlier versions of the model.
Why is SCORM Important?
SCORM is an important tool for developers and vendors of eLearning content for a variety of reasons. Some advantages from utilizing SCORM's methodology include:
Flexibility. SCORM's flexible, yet solid framework allows for a variety of formats to successfully operate across different LMS platforms. In addition, learners often are given the freedom to bookmark their progress when they need to take a break, and navigate to applicable modules when a specific need arises.
Reusability. SCORM allows course developers to create content one time, and then reuse that content in several applications without heavy modification. This ability to "plug and play" content is helpful on multiple levels: for instance, within an organization there may be several eLearning platforms that differ from one another according to location.
Consistency. The very nature of SCORM constrains learners to follow a fixed pathway throughout the e-course in question. In addition, SCORM-based content can ensure the legitimacy of test scores and prompt learning facilitators and managers to focus further training on specific gaps in learner knowledge. This ensures a consistent learning experience for all workers. In turn, this promotes consistency on an organizational level, whether in the realm of customer service, manufacturing processes, or other business operations.
What Should I Ask My Course Provider?
Are the courses published in a SCORM compliant format?
What version of SCORM?
Are the courses developed with HTML 5 (ie not in Adobe Flash)?
Are the courses mobile (tablet and phone) friendly?
Can you send a sample course to test?
Now that you understand the necessity of using SCORM as a foundational element for eLearning coursework, the next logical question is: "How can I make my educational content SCORM-compliant?" While there are several options from which to choose, the good news is that there is a instantaneous, convenient way to convert your content into a SCORM-compliant eLearning material: Scormify.
Scormify is a SCORM conversion service offered by development experts at Knowledge Anywhere, with the following key features:
It meets all SCORM standards so that your content will work in any LMS
It offers responsive design so that your e-courses will look their best in any browser or device
Allows you to style your courses as you see fit via CSS and SaaS
Converting documents and/or videos into a SCORM eLearning course is faster and easier than ever with
Scormify
!
​The path to improved productivity and employee satisfaction begins with an enjoyable, fulfilling training platform. Without a robust learning system in place, your business is more likely to lag behind your competitors and experience long-term problems. From increased turnover to brand confusion, the red flags of a lackluster training strategy are dangerous and should not be ignored. Below are seven warning signs your business needs a proven learning system today.
1. Your turnover rate has skyrocketed
Few things are more devastating to a business than a high turnover rate. In addition to hindering productivity, a revolving door of employees can damage your company's reputation. Millennials are especially likely to leave employers prematurely, highlighting the need to devote increased attention to retaining them. The good news is that there are some simple steps you can take to help retain millennials. Here are a few:
Train millennials in a way that makes the content meaningful to them
Set clearly defined goals and reward goal attainment
Personalize their learning experiences
A new Learning Management System (LMS) is a solution that allows you to achieve all three of these goals simultaneously. Whether you are still using traditional training methods or your old learning system is outdated, you can migrate to a new LMS with ease. Within a matter of hours, you can be well on your way to a more enjoyable learning process and a more engaged, loyal workforce.

2. Your onboarding process moves at a snail's pace
A person's first experience with a new employer should not be slow or unpleasant. Unfortunately, it often is. And few business owners realize just how detrimental a lackluster onboarding process can be. Results of a survey conducted by HR tech platform Hibob show that 64% of employees are less likely to stay at their new jobs if they have a poor onboarding experience.
Creating a more efficient onboarding process is vital to boosting retention and helping employees grasp your company's mission. And it also helps control costs. The Society for Human Resource Management (SHRM) notes that a sound learning system with an organized online portal is an effective way to jumpstart onboarding and help employees hit the ground running right away.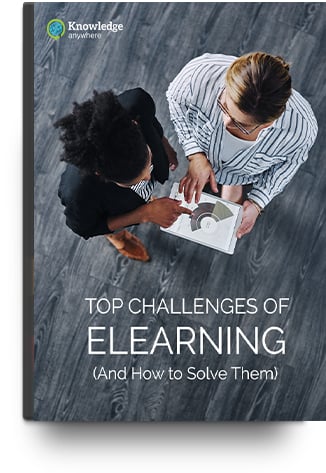 Top eLearning Challenges and How To Solve ThemLearn more about the eLearning industry with this handy guide.
3. Your customer reviews have plummeted
Your online reputation can have a major impact on traffic and revenue. With customer reviews serving as the building blocks for your reputation, it's up to you to take the necessary steps to improve your reviews. Here are a few ways to help you turn around an online reputation that is less than stellar:
Train employees on appropriate ways to respond to complaints and angry customers
Ensure that your learning coaches are armed with the latest customer satisfaction trends
Designate a member of your team to monitor your online reviews and respond accordingly
The Harvard Business School studied the impact of a one-star increase in a restaurant's Yelp rating and found that it led to a five to nine percent increase in revenue…This implies that a restaurant with $1 million in annual revenue stands to lose $180,000 every year due to a poor online reputation."

- Jonas Sickler, Marketing Director at Reputation Management
4. There have been several "close calls" due to safety or compliance lapses
Few things are more frustrating than accidents or "close calls" that could have been prevented with proper training. The best way to reduce the number of close calls is to create an effective online compliance program for your employees. Online training platforms that feature quizzes and engaging material can help make dull compliance topics more relevant and interesting. Additionally, an LMS can help training managers spot employees who are struggling with compliance concepts.
5. Your brand awareness is dropping
Brand confusion is dangerous. It can stunt your company's growth by reducing consumer trust in your products and presenting conflicting values. Sometimes brand confusion is so pronounced that even your employees are unable to articulate your mission or values.
The journey to improved brand awareness begins with a winning customer service training program that emphasizes your company goals and mission. Creating an outstanding customer experience should be a top goal for every member of your organization, regardless of their job title. For example, if you train your receptionist to say, "Thank you for calling Avante - your one stop shop for medical equipment," then you should train all of your employees to answer the phone the same way. This can be especially relevant for franchising, where the same brand may be geographically dispersed.
6. Your employees are dissatisfied
Employee dissatisfaction can lead to declines in productivity, increased absenteeism, and a host of other problems that can damage your company culture. Preventing employee dissatisfaction is critical, and here are some ways to achieve that goal:

Seek employee input Ask your employees for suggestions to help you improve your training course development
Reward their efforts Certificates, colorful badges, and gift cards can all help motivate employees to master their jobs
Know the signs Poor performance, disengagement, and negativity are all behaviors exhibited by dissatisfied workers
7. Sales for your newest products and services are sluggish
Launching an innovative new product or service should be exciting for your employees. And when properly marketed and promoted by sales representatives, your latest product offerings should give your bottom line and industry reputation a welcome boost.
Unfortunately, the opposite can occur when employees are unable to quickly grasp key features and benefits of a product. Without a keen understanding of these selling points, your staff will feel less comfortable promoting your latest and greatest products and services.
Preventing this pitfall is best achieved by integrating just in time training into your eLearning system. With just-in-time-training, employees have immediate and easy access to the information they need to become familiar with your latest innovations. The end result is improved engagement and healthier sales.
The Bottom Line
The single best way to avoid the problems outlined above is to seek the guidance of an expert in the online learning industry. The online learning experts with Knowledge Anywhere are available to listen to your learning challenges and help you introduce a five-star Learning Management System. Contact us today to discover the many ways we can help transform your employee learning experience. We look forward to putting your organization on the fast track to improved employee satisfaction and retention!

​If you're reading this blog, chances are you're a manager, supervisor, or HR professional trying to get all your employees trained or cross-trained. With varying schedules and actual work to get done, we know it can be a challenge to get all your staff together under one roof, much less all in one room to finish training. By investing in training, you're investing in your people, and ultimately your entire operation. We know quality training will improve staff confidence, boost their output, increase sales, and keep quality talent at your organization longer.
But what if you have the eLearning tools available, and employees aren't taking advantage of them?
Is your staff too busy or pressured to learn right now?
Have they lost interest?
How can we re-capture their interest in better training?

With this article, we'll help you re-engage those employees who aren't taking full advantage of your eLearning tools. We'll be giving the nod to your marketing department, who you might tap for assistance. Essentially, you'll be doing in-house marketing to your organization. So put on your marketing caps, and let's get this done.
4 Steps to Employee Training Re-engagement
1. Know Your Employees
Your marketing department would call this "knowing your audience." Everyone is an individual, but look closely at employees who have been lackadaisical about completing training as a group. Ask your HR department questions such as:
Is your organization currently understaffed?
Are these employees overburdened?
Has something upset their morale?
Know the difference between extremely busy employees and those who have lost interest in training. Many situations within an organization can upset employee morale like:
Loss of a valued customer to the competition
Loss of a respected leader
Changes in shifts, wages, hours or duties, etc.
The reasons your employees have lost interest might come in handy later, as you launch your re-engagement campaign.
2. Evaluate Your eLearning Materials
Once you have a more thorough understanding of the dynamics happening among your employees, review your eLearning materials. Quality course development is crucial! If it's been a while since you implemented a specific training system, sit down and take the courses. As you progress through the training module, ask yourself:

Is this course too technical, too complicated, or too dull? Employees aren't excited about boring material.
Is your material too basic? Staffers don't like to be patronized.
Upon completion, will your employees feel like they've used their time in a valuable way?
This last question is arguably the most important. Quality talent generally doesn't like to be micro-managed. As leaders, we know our best employees are self-starters who can re-prioritize, by themselves, throughout the workday. Which begs the question, what is more important to them? Finishing a training module or "putting out fires"?

Your best employees will aim to squash problems first, then move on to lower-level issues.
Training that makes "putting-out-fires" easier is valuable to self-starters.
Employees will be more motivated to learn if they feel the material is valuable to their career overall.
If your eLearning platform is engaging, and the tone is set just right, it becomes a matter of creating a need among your employees to get through more training. If not, consider re-working your training module before continuing to step three.
3. Create Need and Make It Urgent
The best way to create a need for more training is to look at the issue from your employee's perspective and ask the ultimate question: "What's in it for me?" Urgent tasks get done first. Make training a high priority among employees. Consider these perks:

Money - Let's be honest; employees are at work to earn a living. Is it possible to offer raises or a small bonus for completing challenging training programs? Be careful to include the staff who have already completed training. You wouldn't want to damage their morale.
Non-cash incentives and goodies - Not every company can swing a raise or bonus for every employee, and that's okay. Would your employees enjoy an afternoon off? How about a trip to Starbucks? A lunch, or a harmless and professional office bet?
If cash is tight - Consider titular advancements. Explain to staff that their progress is important to you and consider offering select titles to employees who finish more difficult training topics. We all love to be recognized for our expertise, and having a team of recognized in-house experts will boost their confidence and performance. In short, titles matter!
4. Launch Your In-House Re-Engagement Campaign
By now, you've done your research and have identified which employees need more training. You've reviewed your modules and tweaked them, and you've brainstormed some ideas that will motivate your employees. Now we need to make them aware of the benefits to them!
It's time to launch an inside marketing campaign among your staff. Tap your marketing department if you have them, and that you want inter-organizational materials aimed at promoting your eLearning training modules. Whether you have access to a marketing department or not, consider these ideas to market the new training perks to your staff:
Broadcast emails and CC users about new training modules, and goodies or advancement for completing them.
"Advertise" the training opportunities in your break rooms, on whiteboards, and around offices with fliers.
Include a note in payroll envelopes about new training topics and the perks for completing them. Explain benefits both to the organization and the employee.
Acknowledge employees for completing training topics in front of others. Perhaps this is simply a note in an email, a quick thank you at your next team meeting, or a "Learner of the Month" section in your employee newsletter.
Set up social media groups for your company's new "experts," and encourage them to discuss training topics, research those topics, and advance new ideas.
Mention the new training modules in meetings, and make those meetings FUN! Offer refreshments, and keep the tone lighthearted.
Set up a friendly competition among shifts or departments. Whichever team finishes the most training modules in a month gets a reward. Rewards don't always need to be cash-based - the winning team could get a small trophy on their desk, or throw a pizza party, or create their own non-monetary, fun reward!
The key takeaway: employees do their best work when they're well trained and motivated. Would you like to learn more about training course design or implementation? Get in touch with Knowledge Anywhere. We'd love to share our ideas and help you train that team.
​How do you improve the employee experience if you don't understand the employee? Millennials are looking for companies they can believe in and for companies that make personal growth part of the culture. They want to know they matter. What better way to show they do than by employee engagement?
As an employer, your employee training can focus on how your company works. You can give employees extensive training on how to perform their jobs, but if you don't show an interest in helping them grow, you won't be able to engage them. Without engagement, employees leave. Below, we've outlined how eLearning can empower the employee experience.
Hiring
Engagement begins with the hiring process, regardless of if prospects use an Learning Management System (LMS). Individuals get a glimpse at the corporate culture as they navigate the interview process. If potential employees don't engage at some point in the hiring process, odds are they won't engage once they are hired.
Employees involved in the hiring process need a training program that reflects the corporate culture and its employee experiences to ensure the candidate is a good fit. Consistency is vital in finding the right people, and training is key to that consistency.
Onboarding
You have promised an engaging environment to a seemingly smart and dedicated newcomer; now's the time to follow through. You've hired the perfect employee and after a week of onboarding, that perfect employee doesn't seem as enthused. Nothing dampens the spirits of a new hire more than an onboarding process that is decades old. It is hard to be enthused about uninspired compliance material.
When was the last time you looked at your onboarding process? Unless you've made a conscious effort, most onboarding processes haven't changed much. What if you could dramatically improve that experience?
Why not let the employee choose what to learn first? Aside from a few "must complete" forms, does it matter if a new hire is trained on how to use your Intranet before taking a tour of the facilities? Likewise, does it matter how they learn the information, as long as they are engaged and learning from it? Mix up your onboarding process by allowing for a variety of learning styles and utilizing all types of eLearning techniques, such as virtual reality, video role-playing, lectures, webinars, quizzes, and more.
The main takeaway? Identified critical information every new hire needs and give them the flexibility to access it in the way that it makes sense to them. With the right learning management system (LMS), you can track employee activity to ensure that the information has been accessed.
Employee Satisfaction
The so-called honeymoon phase is over and your prospect is now an employee. How can you improve the employee experience day after day? Provide tools and training that are designed to entice and engage, and techniques that value employees as people.
Nothing is more frustrating than not having access to the needed information. A learning management system can help organize information so employees can find what they need when they need it. If the LMS can deliver the information on multiple devices, employees can find what they need on their phone, a tablet, or a laptop. More importantly, they can find information where they need it - in a meeting or during the customer's journey. A less frustrating experience for everyone. Effective collaboration means listening to other people and organizations to learn how to work towards a common goal. It means having a repository of information that all members of a team can access. Sharing knowledge is what makes collaboration work. Collaboration creates a sense of community, making the workday experience more meaningful.
Collaboration
Where are you keeping crucial information? If your employees are unable to access information when they need it, what is the point of having it? With the right LMS, subject matter experts (SMEs) can update information. The information can be curated before publication. What better way to show employees you value them than letting them share their expertise.
Management
Management needs to show an interest in employees from day one. Whether it is taking a moment to meet with the new hire or sending a personalized email, that initial contact is essential. Another way to show interest is to track their training and provide encouragement as they make progress. Managers need to continue employee involvement beyond the onboarding process. If you don't take the time to interact with employees, they become less engaged.
Growth
Learning shouldn't just be about the job at hand. It should encompass areas of growth for each employee. With the right LMS, you can create customized learning plans that show employees that you care about their specific growth. If you support their growth, employees will believe in your company. They will want to contribute to your company's growth.
Trust
All of these employee experiences build trust. Trust builds loyalty. Loyal employees don't leave. Companies with a positive corporate culture retain employees more than those who ignore their corporate culture. In fact, companies that focus on the employee experience and a positive culture have a lower turnover rate. Who doesn't want to increase employee retention?
The right Learning Management System is a crucial part of engaging and retaining employees. Knowledge Anywhere, an elearning company, understands the need for flexible, employee-focused solutions. Our experience and customer support enable our users to create a positive corporate culture to drive corporate growth.
​Leading a cross-departmental training isn't easy. You have to coordinate between multiple teams with differing schedules, differing locations, and differing learning styles. But regardless of these discrepancies, there's some information that needs to be mastered at a company-wide level.
Having an eLearning platform can help promote cross-departmental training and make it much easier across your entire enterprise. Let's take a closer look at the many ways it can do just that.
An online platform is versatile no matter where your team is located
With any organization, different departments tend to move to the beat of their own drum. They have disparate meeting schedules and plans for how and when they achieve their own specific missions. While everyone's goals should hopefully align with the company's overarching mission, the method, location, and schedule with which they work towards that mission may differ greatly.
With a Learning Management System, you don't have to worry about getting different departments in the same place. You don't even have to worry about getting them to show up virtually at the same time. An LMS gives you the capability to allow different departments to take an eLearning course at their leisure, no matter their different work schedules.
It's also a great option because often different departments are located in different physical spaces. With an LMS, that's no longer an issue. Now you can have your remote teams logging in to take the same training wherever they are. All you have to do is give them a deadline and let them work it into their own schedules.
You can tailor departmental training to a specific audience
Your entire company may need to learn and retain the same baseline information. But each department is tailored for a purpose and will need training for different reasons to fulfill their daily responsibilities. For example, HR, accounting, and sales will apply the same information their own separate ways.
That's why having the capability to create custom courses is so crucial to a better training experience. By creating custom courses, you can tailor similar information to a variety of audiences. You can omit any information one audience doesn't need to do its job while adding in additional items for another audience.
Your departments may also learn in different ways using different skillsets. Marketing and IT, for example, cannot be expected to learn exactly the same way. To ensure that both groups optimize the way they learn, you can create custom courses to appeal to those diverse employee bases.
You can achieve SCORM compliance
You can expose the entire company to a more immersive training experience
Older training modules involve text-based examinations. Some more modernized versions may include audio and video components. While these can be effective for some, teams and individuals with different learning styles may succeed or suffer depending on the type of training you opt for. This can prove problematic when you're leading a training meant for the entire company.
But with state-of-the-art training modules that incorporate next-generation technology such as Virtual Reality (VR), you can create new, immersive learning experiences for your employees that appeals to a wider group of individuals. You'll leave all employees - no matter the department - feeling as if they're actually there as they go through their training.
VR training goes a step beyond reciting memorized data. It allows them to walk in the footsteps of your company's ideal team member, helping them visualize what a high performer looks like. This is something all of your departments can benefit from, as it aligns multiple sectors of your business to understand the core mission they're all charged with accomplishing.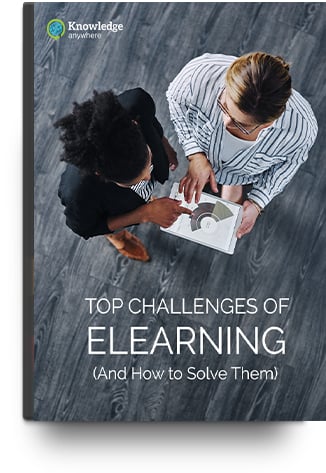 Top eLearning Challenges and How To Solve ThemLearn more about the eLearning industry with this handy guide.
Integrate your training into existing Slack channels
Some (or many) of your departments may communicate using Slack - the handy tool meant to promote departmental collaboration. Incorporate your cross-departmental training into those various Slack channels to make training even more convenient for your team! Take
QuickQuiz
, which allows you to create and send small quizzes into your organization's different Slack channels. This fast process enables lightning-quick small tests, designed to test employee knowledge. This speeds up the amount of time it takes to disseminate your eLearning and helps you tweak and improve it for future iterations.
Summary
Coordinating cross-departmental training is never easy. But it can be simplified with the right eLearning platforms and tools. By making the learning process easier and more enjoyable. Using these mechanisms, you can increase the likelihood that they'll retain the information by teaching them in a fun, convenient way that can be applied across all your teams.
To talk more about Knowledge Anywhere's suite of eLearning tools and services, schedule a discussion with one of our reps today!
​Giving a constructive performance review is an art. While you want to encourage employees to strive for higher levels of success, you also want to point out where they can improve. Test out these tips and tricks for giving the best possible performance review in your next one-on-one!
Tip #1: Choose the right timing.
Many companies choose to give reviews on an annual, twice annual, or quarterly basis. While these reviews are an excellent opportunity to connect with your employees and provide feedback, they probably shouldn't be the only time you're giving performance reviews. For many companies (and their employees), the best time for a performance review is right after each completed project. This accomplishes several things:
It ensures that the content is fresh in the individual's mind.
It allows you to give project-specific examples in a way that is current and relevant.
It ensures that you are able to build a culture where feedback is prioritized. When your employees know that feedback comes regularly, they might become more comfortable with the entire process and less likely to experience stress concerning those reviews.
Tip #2: Be direct in addressing problems.
When you know that an employee is having problems, whether with a coworker or with a specific aspect of their job, it's important to address the concern directly. If you want the performance review to have a constructive outcome, you need to clearly define the problem. Try this:
Let employees know what problem you have observed using clear, concise language.
Provide concrete examples. For example, "I noticed that you had a hard time hitting deadlines on this project. You were late with X and Y, and Z was very close to the wire."
Listen to the employee's feedback. Sometimes, you may discover that the employee had a good reason for why they performed a task the way they did.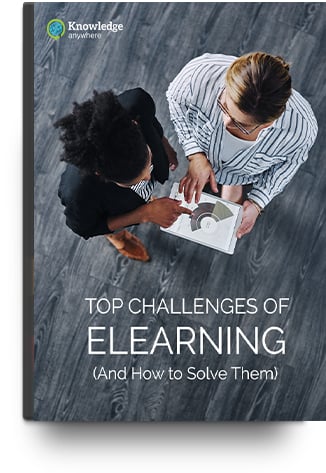 Top eLearning Challenges and How To Solve ThemLearn more about the eLearning industry with this handy guide.
Tip #3: Point out what employees are doing well.
Yes, a performance review is an amazing opportunity to help employees improve their regular job efforts - but that doesn't mean you want to spend the entire review offering "constructive feedback" which thinly veils critiques. Instead, take the time to build a positive connection! Find the things that the employees is already doing well and make a point of commenting on them. You'll find that when an employee knows they are well regarded for something they do right, they will take more pride in it. Afterward, they may show better efforts than before. By building employee engagement, you can often achieve a greater willingness to work on any problems that come up during a review.
Tip #4: Brainstorm solutions together.
You're the boss. That doesn't necessarily mean that you have the perfect solution for every problem your employees face on a daily basis. In order to make the most out of a performance review, brainstorm solutions with the employee - especially for ongoing problems. Coaching isn't just about throwing your opinions out there. It's about working with your employee to decide what to do next.
Consider this scenario: an employee is habitually late to work because they need to drop off a child at school before work. The employee confesses that the child often drags his feet, causing the tardiness. You might suggest that the employee arrive at work fifteen minutes later and tack those fifteen minutes on at the end of the day, if that works for the office schedule, or you might be able to offer suggestions that can help streamline the morning routine.
Tip #5: Avoid language that could be perceived as a personal attack.
When you address a problem that an employee is dealing with, talk about the situation, not about the person. For example, "I've noticed that you arrive late most Wednesdays," addresses a situation. "You're the latest person in the office!" is a statement that the employee may perceive as a personal attack. When an employee feels attacked or threatened, they may be less likely to address the behavior, and they may have a poor opinion of you and the company as a whole. Instead, deploy soft skills and try:
Using neutral language
Discussing potential solutions together.
Addressing concerns, not personal issues with an employee
If you're worried about offering feedback to an employee that you don't get along with well, consider bringing another employee into the office while you have your discussion. The presence of another person can help smooth out those jagged edges, and that individual may be able to offer a little feedback about how you're handling the situation.
Tip #6: Build on current feedback sessions.
It's not just about immediate progress—you also want to be sure that your employee is making steady progress over time. Remember, growth doesn't happen overnight! The fact that you've addressed a problem once doesn't mean that the employee will immediately correct the behavior. Make a note of your current feedback in the personnel file so that you can come back to the discussion again in the future. Talk with employees about both the progress they have made and the areas in which they still need to improve.
Tip #7: Create a quantifiable way to measure success.
When you ask employees to make big changes, you need a way to measure them. As part of your performance review, create a way to measure the employee's progress. Create SMART goals that are both measurable and attainable: setting them too high could have employees struggling to reach those goals! Consider building in a rewards system that will allow employees to see their continued progress toward their goals. You might offer more flexible working conditions, extra time off, or small rewards as your employees reach each new goal.
Effective performance reviews take effort, but if you put in the work to make a professional relationship with your employee, you will often discover that you can more effectively handle these challenges and help both of you achieve success.
​Using Knowledge Anywhere's eLearning system, NewFordTech's ACE program has grown about 80% in the last year. So how did Ford get so much growth? To find out, let's meet the players and the situation….
Ford ACE Program
Ford Automotive Career Exploration (ACE) is a partnership program between Ford Motor Company, Ford/Lincoln dealerships, and secondary and post-secondary educational institutions. The intent of the program is to raise awareness and increase interest in career opportunities within the automotive industry, ultimately as a trained service technician.
Knowledge Anywhere
An eLearning solution, Knowledge Anywhere helps train over 2 million learners worldwide through Learning Management Systems (LMS), Virtual Reality training, course development, and specialized training tools, including QuickQuiz and Scormify.
Problem
With over 482 involved dealerships and 556 schools, how can Ford effectively and consistently train students, while there is increasingly shrinking labor force?
Solution
Our solution was to combine the collective power of Ford/Lincoln's reach and Knowledge Anywhere's technology to train a new generation in the automotive industry, using the same platform as bonafide and trained professionals.
"Through access to our custom-tailored content and training, young adults find that a career as an automotive technician can be exciting, challenging, and rewarding. In today's world, the percentage of young adults that are aware of career opportunities in the skilled trades has been shrinking. ACE provides these individuals with that information and the opportunity to begin a career with the local Ford or Lincoln dealership."

- Paul Peters, ACE Program Coordinator
This partnership has created a Win – Win – Win – Win solution, helping Ford Motors, Knowledge Anywhere, ACE students, and Lincoln dealerships all around North America.
While the program is ongoing and numbers continue to incline, we've already seen massive advancements in the ACE program. To see the stats, check out our infographic below, and to learn more about the program, go to https://www.newfordtech.com/ and follow them on Instagram, Twitter, and Facebook @newfordtech.
​We've added a lot of new and exciting features to our Administrator Learning Management System recently! Keep up with our updates in this article, as well as our ongoing Announcements and Releases section within our Support Center, or through the Bell on the top righthandside of the menu on your LMS.
Badges Report
See a report of all badges, with date, name, courses, and badges filters. Found under Administrator LMS - Reports - Badges Report.
New Image Cropper
New Administrator access to crop images on our LMS, ensuring easy photo cropping, with the ability to preview! Found under Administrator LMS - Site - Personalization.
Create A Custom Course Field
Administrative option to create a customized course field, with the option to add to certificates and courses. Found under Administrator LMS - Site - Custom Course Fields.
New Formatted & Customizable Email
Beautiful and customizable email formatting for new user registration, auto-filled with your company's logo, your name, new user's name, and option to "revert to default." Found under Administrator LMS - Site - Notifications.

Users - Uploading External Completions
Coming soon, users can download and edit their user achievements, and can upload external completions on their own lifetime leaning record. Located on the bottom of the User Achievement page.
Drag and Drop Group Sets
Coming soon, you can now order the group sets by dragging and dropping them in the order that you'd like! This option will be available under Admin - Users - Groups.
Similarly to purchasing your first LMS, switching to a new LMS can be a daunting and complicated task. With various components to consider, it's important to understand how the migration process works with your new LMS provider, so your employees can spend more time learning.
The most important factor to keep in mind when migrating to a new LMS is to migrate to a better platform.
Different does not always equal better.
You need a platform that supports your long-term organizational goals. Do your homework before you leave your current LMS provider because it will immensely help the transitional process.
Here are the top 4 tips for migrating to a new LMS.
1. Migrating Content
Migrating content is the first priority. You have built or bought custom courses for your learners, so it's important to transfer that information over in an easy, streamlined process.
Questions to ask yourself:
What types of courses do you own?

Consider every type of training course you have created. This can include SCORM, classroom, and several others. Ask your new LMS provider what the process is for transferring over the courses and how long it will take.

Do I need all of these course transferred?

This is a time to update and renew. Know which courses are necessary to transfer over and which ones are outdated.
2. Migrating User Information
The next area to consider is migrating all of your users over into the new system. This includes all of the personal information on their learner profile.
Over the years, your organization may have accumulated many user profiles that are no longer being used, so this is a perfect time to decide who should be transferred over. This could include all of the active users in the system, everyone who has ever used the system, or a mixture of the two. Again, it is important to ask what the process will look like for transferring all of this information, how long the process will it take, and will there be any extra chargers.
Learning Management System Evaluation ChecklistThis checklist will guide you through selecting the right elearning training solution for your organization based on your unique needs.
3. Migrating User Transcripts
With your previous LMS, learners completed course, earned certificates, and are most likely in the process of completing more courses. This means that migrating user transcripts is very important to consider.
Questions to ask yourself:
What information do you need transferred?

Do you want all of the user transcript information to be sent over? Is there a cutoff period? Over the years, courses have come and gone, meaning that information about courses that are no longer available could be useless to transfer over. Carefully consider what is necessary and what is cluttering up your system.
4. Migrating Integrations
The final area to consider is migrating over integrations you previously used with your old LMS. With your previous LMS, you may have been able to seamlessly integrate SalesForce or Google Analytics into your system. Make sure that your new LMS provider can easily integrate with the programs that are necessary for your organization and have the ability to add new integrations.
As your organization moves forward in migrating from one LMS to another, make sure that you are thoroughly communicating to your employees about the new platform. This will ensure that your employees will be excited and start using the new platform right away.
About Knowledge Anywhere
Knowledge Anywhere is an elearning company focused on providing flexible, modern learning and development solutions that enable organizations to harness the power of an engaged, knowledgeable workforce.
Our Learning Management System, Virtual Reality Training, and Course Development services, combined with our experience and customer support enables our users to create a learning and development program that boosts sales and drives company growth.
​Introducing New Knowledge Anywhere LMS Dashboard
LMS Administrators now have access to a newly designed, easy to use dashboard, which features analytics such as:
# of courses
# of active users
# of new users
# of users that haven't started training
# of user logins
# of course completions
Time spent in courses
Breakdown of where your users are from
And more!
To answer questions quickly or tackle tough tasks, employees cannot only rely on traditional training methods. Learners need to have the resources and support to solve problems quickly and effectively.
With just-in-time training, learners can face new problems and solve them instantly due to the accessible and relevant information this type of training provides.
What is just-in-time training?
Just-in-time training is the concept of supporting employees by providing avenues for immediate learning, allowing them to acquire the knowledge they need, when they need to know it.
"A lag between learning and application causes a loss of knowledge and skill." - Shift Learning
With the advancement of technology, we are now using just-in-time training in everyday life. Through tools like Google and social media, we are able to instantly gather and learn new information at the tips of our fingers.
Benefits of just-in-time training
Just-in-time learning comes with a host of benefits, including:
Saves time With up-to-date information that is easily accessible, learners perform their job duties faster and more accurately, leading to fewer mistakes.
Accessible training With just-in-time training, your are offering your modern learners the "moment of need" support they require, allowing them to refresh their knowledge and skill sets whenever from wherever.
Increased engagement Just-in-time training produces confident and engaged learners because with instant access to the information they need, employees will have the ability to solve their problems quickly and easily.
Since just-in-time training is currently being used everyday, the modern learners expects this type of learning to translate over into the workplace. Thus, it is important to meet those expectations by implementing just-in-time training into your eLearning program.
How to implement just-in-time training
When implementing just-in-time training, there are three important aspects that make it effective and successful for learners.
1. A library of short-form content
Just-in-time training is effective when the content is short, informative, and to the point.
Short-form content is often called microlearning. This type of learning is perfect for when a salesperson is about to conduct a demo call and they need a refresher on a product's function. Or when a prospect is on the phone and the reps are asked a question they don't know the answer to.
5 Techniques For Building Successful Product Training For Sales RepsThis ebook will help you create innovative product training that equips sales reps with the knowledge they need to be exceptional salespeople
2. Online Platform
Even the best content won't help your learners if they can't find it when they need it.
Businesses need an organized and easily accessible library of content for learners to use when they encounter a gap in their product knowledge, allowing them to fill it quickly and with minimal effort.
There are many online platforms which can store an organized library of content for your business. One popular tool is a Learning Management System. This tool can be used to store just-in-time content, as well as all of the training materials needed for employees.
3. Spreading the word
Take the time to thoroughly communicate to employees about the platform and the value it will bring to them in their daily jobs. Additionally, make sure learners feel completely comfortable using the platform by providing them with resources, onboarding, and support contacts.
Implementing just-in-time training helps employees learn and retain the information needed to increase productivity and produce greater results. Start incorporating just-in-time training to build an engaged and well-equipped workforce that will succeed.
About Knowledge Anywhere
Knowledge Anywhere is an elearning company focused on providing flexible, modern learning and development solutions that enable organizations to harness the power of an engaged, knowledgeable workforce.
Our Learning Management System, Virtual Reality Training, and Course Development services, combined with our experience and customer support enables our users to create a learning and development program that boosts sales and drives company growth.
​Content is an essential element of any learning management system. A company can purchase the perfect LMS for their organization and learners, but it's success still depends on the content.
Because of the overwhelming amount of choices that are available when looking for a new LMS, it is easy to forget the importance of training content. Most businesses focus their time and energy on finding an LMS with the perfect combination of features and user experience not thinking about, or budgeting, for the content they will inevitably need.
Creating content should be a priority before or during your pursuit of the new software
Why not wait until the implementation of the LMS to turn your attention to content?
There are a couple of important reasons to not wait to start on creating content.
Content is valuable to your company any time. There is no reason to wait for the purchase of an LMS to use great training content.
Creating content almost always takes longer than expected. A head start on planning and creating training courses is never a bad idea.

Budgeting in the cost of training content will be more accurate and easy to do if content creation is already in the planning stages, or in progress.

Starting on content can be intimidating and sometimes it is hard to know where or how to start. Here are a couple of focal points to help get your organization moving forward on its training content:
Identify the team that will be spearheading the content effort
Nail down what type of content you should create with your budget and timeframe (PowerPoints, professional videos, off-the-shelf courses, PDFs, quizzes, lectures, scripts, etc.)
Write down all of your content needs, then prioritize them

Outline your content
Although you might not be able to fully complete the creations of your training content before the implementation of your LMS, any progress made will help you down the road. It will specifically add value with budgeting, as well as helping your organization get a faster return on investment.
About Knowledge Anywhere Knowledge Anywhere is an elearning company focused on providing flexible, modern learning and development solutions that enable organizations to harness the power of an engaged, knowledgeable workforce. Our Learning Management System, Virtual Reality Training, and Course Development services, combined with our experience and customer support enables our users to create a learning and development program that boosts sales and drives company growth.
Many organizations use partners as an important part of a company's sales strategy. In order to have a successful partner program however, your organization needs to establish effective training for these partners. One of the most effective ways to train your partners is through a flexible, mobile, learning management systems (LMS).
What is partner training?
Partner training helps your business' partners understand the features, branding, and selling techniques for your products.
Implementing partner training through an LMS can introduce a huge competitive advantage to your organization.
With an LMS, partners will:
Require less support
Be trained quicker
Receive the same quality of training
Through utilizing an LMS, your organization will also be able to easily scale a partner program, ensuring that your partners are up to speed with new brand and product information.
This article will discuss 3 valuable LMS features that can help enhance your organization's partner training.
A Learning Management System (LMS) is a cloud-based software that organizes and automates training for learners.
Hosting partner training on an LMS is great for several reasons, including ensuring that every partner aligned in understanding your brand, product features, and how to sell your product.
Here are three of the most valuable LMS features that enhance effective partner training.
Extended Enterprise
Through using the extended enterprise feature of an LMS, the training, branding and administrators will be unique for different partners. Extended enterprise enables organizations to create specific, separate online training experiences for each of their partner organizations while using one LMS.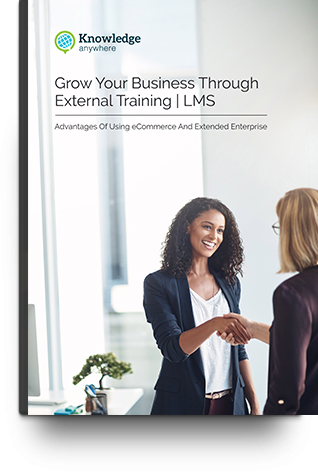 Grow Your Business Through External Training: Advantages of using eCommerce and Extended EnterpriseBecome an expert on how to use eCommerce and Extended Enterprise LMS features to train external partners.
Mobile Friendly
A mobile friendly LMS gives partner training even more flexibility on when and where they access their training. It opens the door for just-in-time training. For example, if a salesperson wants to brush up on product details before meeting with a potential customer, they could quickly access a training video on their mobile device.
Advanced Reporting
Using an LMS for partner training has a lot of advantages. When it is coupled with advanced reporting, it becomes an even more powerful tool, allowing you to analyze and optimize your training. Advanced reporting will also enable you to understand and report on the value that the LMS partner training is bringing to your business.
Partner training is an effective way to increase sales in your business. Implementing your partner training program on a mobile friendly LMS with extended enterprise and advanced reporting features will bring even more value to your organization.
About Knowledge Anywhere
Knowledge Anywhere is an elearning company focused on providing flexible, modern learning and development solutions that enable organizations to harness the power of an engaged, knowledgeable workforce.
Our Learning Management System, Virtual Reality Training, and Course Development services, combined with our experience and customer support enables our users to create a learning and development program that boosts sales and drives company growth.
Formal learning experiences (i.e in-person lectures or online course modules) account for only about 10% of the ways students actually learn. The remainder of learning occurs through interactions with mentors and peers (about 20%) and experiential learning (about 70%).
Historically, this limitation has been a source of frustration. Now there's a way businesses can track as much as 100% of learning experiences.
It's called xAPI.
What is XAPI?
xAPI allows for deeper tracking of learning. This application is able to track the information learners seek whether that be through the elearning content provided by a company or outside information on the internet. xAPI also makes it easy for learning and development teams to see self-directed learning in action.
The "x" in xAPI stands for experience and represents this software's ability to capture learning experiences which was not always possible. "API" is short for application programming interface which indicates that xAPI will seamlessly integrate with your learning management system.
xAPI, when integrated with your learning management system, provides a more comprehensive assessment of learning because it is able to track more than conventional AICC- and SCORM-based online experiences. Among other things, xAPI will enable you to track not only classroom learning, but also participation in online communities, the use of support tools, and performance assessment results.
How is xAPI different from SCORM?
SCORM, which stands for Sharable Content Object Reference Model, is a useful tool that enables e-learning courses to communicate directly with the LMS. The data it collects is useful for recording traditional learning activities such as whether learners completed courses, how much time they devoted to each course, and the scores they achieved.
However, SCORM is limited to the 10% of learning that formal learning can provide. xAPI adds in the other 90% of learning because it can track learning that occurs outside of an LMS. The substantially larger volume of data that xAPI provides gives a more comprehensive picture of what users actually learned.
What are the benefits of xAPI?
xAPI effectively tracks a wide range of online and offline learning. It substantially enhances your analytics capabilities, makes integration into any learning management system easy and intuitive, and supports more learning experiences, like gamified, social, and group learning.
Three important benefits to highlight, include:
1. Access a wider range of learning activities: xAPI allows for the interaction with a wide array of objects because it is not limited to tracking just elearning content within the LMS.
2. Enhance analytics capabilities: xAPI creates activity stream data, enabling deeper tracking capabilities. Due to tracking occurring both online and offline, more meaningful learning outcomes are produced and stronger eLearning courses are offered.
3. Track mobile learning: xAPI will track mobile learning experiences, including all learning stats and data. The ability to track mobile eLearning activities substantially enhances the scope of eLearning behaviors and outcomes.
How to use xAPI
Because xAPI has the ability to track a wide range of learning activities as well as collect important data, it is critical to understand how to correctly use xAPI.
Although there are many ways it can be implemented into your eLearning program, two important ways to use xAPI include:
xAPI is able to track the information learners seek, whether that be through the elearning content provided by a company or outside information on the internet. XAPI makes it easy for Learning and Development teams to see self-directed learning in action.
Example: A sales representative browses through LinkedIn and reads an interesting article about sales training. If their company is using an xAPI enabled LMS, then they can read the article and add it to their LMS learning records for their manager to see.

Assign external material
Often, managers want employees to perform research and be up to date on new trends in their industry. xAPI allows for managers to track if their employees complete assignments and examine if anyone is going above and beyond their assigned tasks.
Example: A marketing manager wants their team to research the latest product updates on competitors sites. With an xAPI enabled LMS, marketing team members can track their research and add it to their LMS for their manager to review later.
How is Knowledge Anywhere using xAPI?
Knowledge Anywhere has created an xAPI bookmarklet that allows learners to have a button in their internet browser that records selected pages in their LMS transcript.
Knowledge Mark is an xAPI bookmarklet that allows users to track the learning they do outside of the LMS. Learners can consume a piece of material on the internet and use Knowledge Mark to easily add it to their transcript.
Here is a short video explaining xAPI capabilities and Knowledge Anywhere's new xAPI bookmarklet called Knowledge Mark.
xAPI represents a significant step forward in the deployment of eLearning course offerings and assessment of learning outcomes. Although xAPI is not standardized or widely adopted quite yet, LMS professionals and LMS companies alike are excited about the possibilities it brings.
About Knowledge Anywhere
Knowledge Anywhere is an elearning company focused on providing flexible, modern learning and development solutions that enable organizations to harness the power of an engaged, knowledgeable workforce.
Our Learning Management System, Virtual Reality Training, and Course Development services, combined with our experience and customer support enables our users to create a learning and development program that boosts sales and drives company growth.
​Getting approval for an LMS can be a challenging process. There are so many tools and technologies out there that managers can be wary of approving yet another tool for your organization.
The video above gives you three valuable strategies for successfully gaining approval to move forward with implementing an LMS into your organization.
The video starts by suggesting not to use the acronym, "LMS" when discussing the software with your higher-ups. Instead, use more recognizable terms, like "training software," "learning software," or even the full name of "learning management system."
The second tactic is to collect as much data as possible on the effectiveness of your organization's current training and development program, as well as fully understanding LMS software and what it can do to improve your organization.
The third strategy covered in the video is being able to communicate specific benefits an LMS can have on an organization. We highlight five of the most commonly shared benefits companies see while using a learning management system.
Watch the video above to get a full picture of the three strategies to use to get approval for an LMS.
About Knowledge Anywhere
Knowledge Anywhere is an elearning company focused on providing flexible, modern learning and development solutions that enable organizations to harness the power of an engaged, knowledgeable workforce.
Our Learning Management System, Virtual Reality Training, and Course Development services, combined with our experience and customer support enables our users to create a learning and development program that boosts sales and drives company growth.

​When the search for an LMS begins, it quickly becomes apparent how many choices are available. One of the first challenges that many of the people researching learning management systems face is trying to nail down the cost of an LMS.
What should be budgeted for the new learning system? What goes into the cost of an LMS? What should be asked so that there are no surprises in the pricing?
In the video above, we answer all of these questions and more while providing an overview of what goes into determining the cost of implementing an LMS.
To summarize the video, there are four main buckets of cost associated with implementing an LMS:
Implementation
Maintenance and Support
Content Curation and
Integrations.
Watch the video to learn about what percentage of the total LMS cost each of these buckets represents, and how to plan for their cost.
If you are searching for an authentic, knowledgeable LMS partner, feel free to reach out to us at Knowledgeanywhere.com.
About Knowledge Anywhere
Knowledge Anywhere is an elearning company focused on providing flexible, modern learning and development solutions that enable organizations to harness the power of an engaged, knowledgeable workforce.
Our Learning Management System, Virtual Reality Training, and Course Development services, combined with our experience and customer support enables our users to create a learning and development program that boosts sales and drives company growth.
The benefits of online training have been well established. And yet, not every organization achieves these benefits. In fact, as cited by the Harvard Business Review, a recent study found training and development to be among the daily areas employees are least satisfied with.
Simply offering this type of learning environment is not enough. It is vital to ensure that online training actually accomplishes its goals in educating and benefiting your teams.
Consider these 3 ways to evaluate the effectiveness of your online training.
1) Gather Online Training Feedback
Make sure that, as your teams go through the training modules, you get their initial feedback on content as well as the areas that could be improved to help them with their performance.
Ask your learners exactly how the courses are working, through these three mechanisms:
Surveys: Allows you to get snapshot answers and general quantitative ratings.
Focus groups: Both in person and online focus groups help you get in-depth answers and insight into greater themes of what works and what does not.
Interviews: Interviews provide the deepest and most comprehensive way to get qualitative information on your training and its effectiveness.
Each of these options bring awareness to a different dimension of your training. Do not just rely on one of these methods. Instead, use a combination of all three to make sure that you get both the information to see obvious improvements and in-depth suggestions for more effective options in the future.
In addition to giving you the insights mentioned above, gathering feedback makes your teams feel that their opinions matter. Training and learning will become more collaborative because it is shaped by each of your employees.
2) Assess Your eLearning Results
At its core, evaluating your training effectiveness is about tracking if employees learn new skills, increase productivity, and grow professionally. This is a complex goal that is best attacked by breaking it down into components.
Those components are your key performance indicators, or KPIs. One commonly used framework is the Kirkpatrick Evaluation Model, which breaks down the success of any type of training into four levels:
Reaction: Based on whether your participants find the training useful, engaging, and relevant.
Learning:The degree to which your employees get the skills and knowledge intended from the training.
Behavior: How participants translate the training to the actual work to be done.
Results: Measuring the degree to which the training influences performance of the employee and the organization.
Ideally, KPIs are oriented against these four levels but are more specific to your organization. They should be measurable, and within a specific time horizon, making it easy to assess the outcomes of the training.
Defining your KPIs is only the first step in assessment. Once identified, a 3-step process tends to be most beneficial in making sure your participants learn what they need to.
Pre-Training Evaluation: Test your participants' knowledge before the course rolls out. A simple survey, for instance, can help you uncover the strengths and weaknesses in the knowledge base of your learners, which helps you initially build more effective content.
During-Training Evaluation: By measuring how learners engage with the content, you can identify any participation issues and where engagement tends to drop off or pick up.
Post-Training Evaluation: Create a post-training survey that directly compares to your pre-training evaluation. By examining these results, you will have answers to the following questions: Have participants increased their knowledge? Have their strengths and weaknesses changed? How do they plan to implement that knowledge in their daily work life?
Each of these steps should be built directly around your KPIs. That way, you have a specific picture about the effectiveness and success of your training, enabling you to make the necessary adjustments as needed.
3) Leverage Social Media Metrics
We currently live in a social media-rich environment, so why shouldn't we use social media to aid corporate training? Training modules integrated with social components tend to outperform their counterparts, and the same medium can also be effective in evaluating your training effectiveness.
Social Media
Social media already tends to be an integration within the learning management system. Here, you can set up online discussions or social media groups to engage users. You can also get feedback on various modules or overall learning objectives in an informal, casual manner. The insights you gain here can be significantly different from the more formal surveys or focus groups, which is why it is so important to include when evaluating your training's effectiveness.
Webinars
Closely related are webinars, which often feature live Q&A sessions at the end which allow for similar information gathering opportunities. If your modules already include these webinars, it's easy to formalize a couple questions related to the training and its objectives in order to get audience responses. As with social media groups, the more informal and spontaneous setting can lead to insights that tend to be evasive in more formal channels.
Casual as it may be, a plan still needs to be in place. It's important to know what to look for (KPIs once again come in handy here), and what information your participants are willing to give you. By using the above evaluations with intention, you can dig deeper into what works, what doesn't, and where your training efforts can improve.
It's no simple feat. Building an online training program that accomplishes all of its business goal is a complex task, and continuous evaluation has to be a core part of that effort. But of course, difficult does not mean impossible.
How to Evaluate Your Online Training for Greater Long-Term Success
It's no simple feat. Building an online training program that accomplishes all of its business goal is a complex task, and continuous evaluation has to be a core part of that effort. But of course, difficult does not mean impossible.
If you know how to reach your participants, what KPIs to focus on, and how to integrate social media, you can build an evaluation mechanism that continually analyses training effectiveness and achieves long-term organizational success.
About Knowledge Anywhere
Knowledge Anywhere is an elearning company focused on providing flexible, modern learning and development solutions that enable organizations to harness the power of an engaged, knowledgeable workforce.
Our Learning Management System, Virtual Reality Training, and Course Development services, combined with our experience and customer support enables our users to create a learning and development program that boosts sales and drives company growth.
If you and your team are considering purchasing an LMS (Learning Management System), it's important to choose what is the right model for your organization. The price of an LMS is could be the deciding factor for which vendor you choose to partner with, so the ultimate question is what pricing model works best for your organization?
Spoiler alert: There is no solution that is ideal for every business.
Each pricing model has its pros and cons. This is why it is so important to understand which model works best for which organization, so you can determine the correct fit for your business.
The 4 most popular LMS pricing models include:
Pay Per User System
Licensing
Purchase Structure
Free Options
Let's take a closer look at these four LMS pricing models.
1. Pay Per User
The pay per user system involves paying for each person that uses the LMS. Usually, this is a cloud-based service, meaning that the LMS vendor hosts the LMS platform. Regular updates and upgrades are provided through this service which allows you to focus on developing and executing online training content for your audience rather than spending time maintaining the system.
A pay per user system may be based on either registered or active users. The pay per learner model means you incur a charge for everyone who registers for the system. Pay per active user, on the other hand, means you only pay for those who actually use the system. This is an important distinction as people in an organization may register accounts without using the software very often.
Pros
With the pay per active user model, payment is only required for employees who actively use the system, not the total number of employees in your organization.
Enables mandatory learning requirements to be met, such as regular compliance training.
Optimal for a company which has a relatively stable number of employees because it is easier to accurately predict the costs of training.
Cons
Less economical for organizations with a large number of employees, many of whom may not need the training or seldom use it. This may lead to payments for employees who register but rarely log onto the system.
If your employee count frequently changes, your costs will be hard to predict.
Who It's Best For
Pay per user is a simple and straightforward billing model that is worth considering for small and midsized companies with obligatory training. If you want to avoid the issue of paying for non-users, look for a model that bills you based on active users rather than registered users. On the other hand, if your employees are highly motivated or compelled to log on, the pay per learner option is also a viable option.
2. Annual Licensing
Under this model you buy a license, typically on an annual basis, from an LMS vendor. There are usually several tiers based on the features you want to access. Depending on the company, costs may also be based on the number of users.
Pros
Great model for forecasting because you pay a set fee.
You don't need to worry about the number of active or registered users.
Cons
Not flexible: While it's reassuring to pay a fixed price, this also means you have to pay this amount even if usage is lower than you anticipated.
Carefully consider the features needed, so you choose the most appropriate tier. It can be expensive to upgrade, and a waste of money if you are not utilizing all of the features.
Who It's Best For
The annual licensing model is a good choice for large companies with many employees who need training. This model also works best if you are clear about the features that your organization needs. Make sure to do your research before purchasing a license from an LMS provider.
Learning Management System Evaluation ChecklistThis checklist will guide you through selecting the right elearning training solution for your organization based on your unique needs.
3. Purchase or Perpetual License
This is another variation on the licensing model; however, rather than paying a monthly or annual fee, you purchase a permanent license and have complete ownership over the LMS.
Pros
Simple pricing option: one-time upfront cost.
Since you own the software, it allows for more customization, scalability and integration with other hosted applications.
Cons
Price range for perpetual license can range from less than $500-$20,000.
Usually need to pay for upgrades.
In general, you need to download the software. If you prefer the convenience of a cloud-based LMS, this is a drawback.
Who It's Best For
As with the annual license, this is a good option for large organizations as you don't have to pay per user. Before you purchase a perpetual license, however, you should do plenty of research. Not only does the price for purchasing the software greatly vary between provider, this option also involves the greatest commitment. If you decide later on that it's not the ideal choice (beyond the refund period, if any), the investment will be a total loss.
4. Free Options
There are two main free options for LMS plans: freemium and open source. While free sounds appealing, keep in mind that there are certain limitations or hidden costs involved with any type of free software.
With freemium, the LMS provider allows you to access basic services for free. For example, the system may be free for a certain number of users or may come without any support services. Ultimately, the hope is for businesses to eventually upgrade.
With open-source software, you can access the LMS regardless of how many users you have; however, this usually requires some tech experience. You may have to pay IT specialists to install and configure the software because it will require programming and HTML knowledge.
Pros
You save money by not having to pay for the LMS.
With open source LMS, you can have unlimited users and still incur no charges.
Cons
Under the freemium model, limited access to features might mean not getting the full benefits of the software.
With open source, the time and expense of configuring it may make it less economical than it first appears. SearchITOperations.com provides some useful guidelines for estimating actual costs of open source applications.
Who It's Best For
The freemium model is a great fit for smaller companies who want to start off with a free LMS. This can provide a good introduction to an LMS. At some point, however, you may want to upgrade, so you can access a greater number of features.
An open-sourced LMS is best for companies that have a large IT team because the system will require a great deal of tech experience. Consider the time and costs of configuring and updating the system on your own before making a decision.
Choosing the Best LMS Pricing Model
When choosing an LMS, you have to take into account many factors, and the pricing model is always a serious consideration. You need to contemplate both your budget and the features that are essential for your organization. Calculating the price of an LMS can be trickier than it first appears. But with a good grasp of the standard LMS pricing models, it should be easy to decide which pricing works best for your organization, so you can implement the best training within your company.
About Knowledge Anywhere
Our Learning Management System, Virtual Reality Training, and Course Development services, combined with our experience and customer support enables our users to create a learning and development program that boosts sales and drives company growth.
There are two main challenges that often keep managers from spending more of their time coaching.
Most managers report that the number one challenge they face when trying to coach is a lack of time. No doubt, there are a lot of demands placed on today's managers – by their organizations, by their bosses, and by the people they are hoping to coach. That said, managers who see the value in coaching will always find the time to coach.
Managers often say it can be a struggle to get their teams – the "coachees" – to take an active role in their own development. A lot of managers find themselves in the role of "Problem Solver in Chief" – a title that extends to coaching and professional development.
As surprising as it may sound, there is a way to address both of these challenges by integrating Actionable Coaching into the way you and your managers coach. In this article, we will discuss what Actionable Coaching is, how an LMS enables it, and what is needed to utilize this effective type of coaching in your workplace.
Actionable Coaching and the BASICS of Coaching
According to research conducted by Echelon Performance, Actionable Coaching is one of six criteria associated with quality coaching provided by top managers.
These criteria – known collectively as the BASICS – include coaching that is: Balanced, Actionable, Specific, Immediate, Continuous, and Specific. All six of these coaching BASICS are important to effective coaching, but in this article, we'll be diving deeper into Actionable Coaching.
Actionable Coaching occurs when a manager asks their "coachee" to address identified gaps in performance on their own time.
An effective way to do this is through the utilization of your company's learning management system (LMS). LMS's by definition, are designed to help managers and their teams gain access to the training, tools, and resources employees need to extend learning beyond the classroom and drive professional development.
Once managers can identify the areas they want their coachees to "own" and couple that with easily accessible LMS resources, coaches can save time and get coachees to take a more active role in their development.
A sales manager using their LMS with Actionable Coaching might sound like this, "Samantha, we talked a lot about closing today. Please go to our learning management system and review the training module on gaining commitment. We can talk about it during our next one-on-one or virtual coaching session."
What Is Needed To Utilize Active Coaching
The challenge faced by many managers is that they don't know what content, tools, and resources are on the organization's LMS and/or how they can efficiently access them.
Bridging the gap between a manager's current comfort level with the LMS and their ability to leverage Actionable Coaching can be achieved through this three-step approach.
Step 1: Take Inventory – Managers need to take inventory of what LMS content is available to them and their team at least every three to six months. As part of that inventory, make sure managers are giving feedback on how the LMS can be even more useful during the coaching process.
Step 2: Communicate – Although manager and coaches should be familiar with the LMS, it is vital that regular communication about the tool and its content are sent out. Providing quarterly or even monthly updates to managers is a great way to keep the LMS and its contents top-of-mind. Think of it as marketing the LMS to your managers.
Step 3: Purge – It is important to assess if any resources in the LMS are outdated, if content should be refreshed, and if the organization of the content still makes sense. When a company's LMS is full of meaningful, up-to-date content and your managers know about it, they are more likely to use it.
Following these three steps will create an environment where managers understand their LMS and get value out of the tool through their Actionable Coaching. If you'd like to read about how to build an effective coaching program, we have another article addressing that issue.
Both coaching and using a learning management system are great ways to improve employee engagement, productivity and knowledge in an organization. Combining these two resources through actionable coaching creates tangible results for both managers and employees. Employees will have more of an active role in their development, while managers will have more time to coach.
About Knowledge Anywhere
Knowledge Anywhere is an elearning company focused on providing flexible, modern learning and development solutions that enable organizations to harness the power of an engaged, knowledgeable workforce.
Our Learning Management System, Virtual Reality Training, and Course Development services, combined with our experience and customer support enables our users to create a learning and development program that boosts sales and drives company growth.
This week, Knowledge Anywhere released badges into their learning management system.
This new gamification feature allows LMS Super Admins to easily assign badges to learners for the completion of a single course or courses.
Admins will be able to track how many badges were earned and by whom through the User Reports and Transcript pages of the LMS.
Learn more details about Knowledge Anywhere LMS badges and how to set them up here.
According to RNR Market Research, the Global LMS Market size is expected to grow from US $9.2 Billion in 2018 to US $22.4 Billion by 2023. This indicates that in five years the LMS market size is expected to more than double in size. So the main question is why are so many companies making this switch to online training?
Short answer: Online training saves your company money.
Online training, also known as e-learning, is a form of education that takes place entirely over the internet. This type of training allows for your team to receive a high standard training, ensuring that your company is ahead of the game. The training is self-paced and can be customized to fit an individual's learning needs and schedule.
As an employer, you can continually create or purchase as many courses as your team needs. Employees can then access the training courses anytime and anywhere making the creation of development opportunities simple.
This article will dive into the benefits of online training and list the three ways it saves your company money.
5 Benefits of Online Training
1. Flexibility
Online training introduces flexibility to a training and development program. Not all learners are able to easily attend in-person training and not all employees learn best in a classroom-style environment. Online training provides an option for learners to participate in training and development at their own pace, and at a time that works best for them.
Today, the available online courses are configured to a wide variety of devices. Online training is accessible on devices such as laptops, tablets, and smartphones, giving trainees the option of mobility instead of being stuck in a classroom.
3. Consistency and Accuracy
With online courses, organizations can be sure that each employee receives the same content, which means that everyone will walk away with the same new knowledge and information.
4. Custom Learning Paths
Different professionals have varying training needs which can be difficult and overwhelming to organize and maintain with in-person training. Online training allows organizations to create all the training they need and match and assign certain job roles to certain courses. With an LMS, custom learning paths can be automated to make this process even easier.
5. Engaging Material

Not every person learns best from in-person training. Online courses can utilize different types of content including: videos, infographics, articles, and audio. This type of training can also come in different forms including, microlearning which consolidates and delivers bite-sized information to the user. These interactive courses provide learners with active learning, which goes a long way in helping boost retention of the material learned.
On top of all these advantages of online training, there is the added factor of how cost-effective it is.
Learning Management System Evaluation ChecklistThis checklist will guide you through selecting the right elearning training solution for your organization based on your unique needs.
3 Ways Online Training Saves Your Company Money
Online training saves you money in various forms, but most importantly, the benefits spread to your employees, management, and customers of your business.
1. Employees
Reductions in travel costs
An e-learning platform renders geographical location irrelevant for training. With online training, employees can access their courses from anywhere, eliminating the need to pay for employees to physically attend training, as well as the need to pay for a professional to travel to your offices to train your employees
Reduction in lost productivity
When employees have the ability to complete their training according to their work schedule, they can still accomplish their office responsibilities meaning your company's productivity will not be affected due to training. Also, the fact that they will not need to travel to learning centers further raises their productivity. Offering online training engages your staff, resulting in a spark that boosts their feeling of value, creating growth for the employees and in turn, for the organization.
2. Management
Smooth Onboarding
Onboarding new employees can be time-consuming, repetitive and stressful for managers. Automated, online onboarding keeps the manager's role in onboarding to only the most important and needed elements of the process. This saves the organization money by helping managers stay out of the unneeded elements of onboarding.
Real-time tracking
Online training takes the paperwork, Excel spreadsheets, disorganization, and stress out of training and development programs. Compliance training, annual training, or specific job training courses can be set to automatically assign and track participation. This allows managers and administrators to spend less time tracking and making sure that each employee gets the training they need. It also means that if someone asks if your organization is in compliance with certain training, you can very easily verify that you are, saving time and avoiding possible fees.
3. Customers
Fast training
The faster your customers can understand how to use your product, the more satisfied they will be. Providing an easily accessible library of training allows customers to quickly understand your product and how to start getting value out of it. This will start their relationship with your organization off right from the very beginning.
Creates a positive relationship
Online training is an efficient way to connect and train your customers about your product. By providing customers with accurate and up to date information regarding your products and services, you create a positive relationship based on trust. This improves how your customers interact with the product or service you provide, which will go a long way in customer retention and in turn, increase and maintain high revenues.
Ready to make the switch?
Online training is now becoming a necessity for every business. Moving from in-person training to online training can save your company a great deal of money, but it can also be quite difficult to execute. Implementing a Learning Management System allows for all of your online training to be in one place, making it easy for your employees, customers, and external partners to access the training.
About Knowledge Anywhere
Knowledge Anywhere specializes in providing organizations with a variety of elearning solutions, such as their Learning Management System, Virtual Reality Training solutions, Course Creation services, as well as elearning tools such as QuickQuiz, an elearning Slack App, and SCORMify, an app that turns videos and documents into SCORM compliant courses.
Today, employees consistently want to be engaged at their workplace while having the opportunity to develop their professional skills and keep up with fast-moving technological advances.
In a LinkedIn Learning Survey with 2,000 Gen Z workers, it was reported that
43% of Gen Z workers prefer learning based entirely on a self-directed approach while only 20% of L&D professionals plan to offer Gen Z learners this level of self-direction.
This difference in expectations between Gen Z and Learning and Development professionals could cause employees to disengage. However, 74% of L&D professionals are ready to make changes to their training programs in order to accommodate employee needs.
This article discusses how to create a self-directed learning environment for Gen Z workers and four tools that will encourage self-directed learning among all employees.
What is Self-Directed Learning?
Self-directed learning (SDL) is the act of independently assessing learning needs, creating goals, identifying ways to learn that information and taking the initiative to learn about that topic. According to the Towards Maturity 2017 report, 96% of L&D professionals top priorities are to increase self-directed learning. Why is this such a high priority?
Because employees want to learn!
In a Deloitte study, 85% of participants cited learning as being highly important to them in their job.
SDL provides an outlet for continual learning, especially because more often than not, employees know what they need to learn. Advantages of self-directed learning include:
Greater schedule flexibility
Closing the skills gap
More focused learning in highly specialized fields
How to Create a Self-Directed Learning Environment
Stating that you want to start utilizing self-directed learning is simply not enough. Creating a workplace environment that supports this type of learning will motivate employees, especially Gen Z workers, to continually learn new skills and not become disengaged from their work.
Here are five ways to create an optimal self-directed learning environment in the workplace.
Communicate shared goals Communicate how learning helps individuals and the entire organization; emphasize how self-directed learning can increase learning and development.

Create custom learning paths Custom learning paths supports independence while also giving employees the tools they need to be successful.

Offer on-demand learning Put more emphasis on digital courses than in-person courses.

Trust employees to take charge in their learning Support employee's need for self-directed learning by trusting them to explore.

Encourage unplanned or out of order learning activities Use techniques such as informal learning to encourage learning at every faucet of their time at work.
Once you've created an environment that supports this type of learning, its necessary to give employees the tools to execute SDL.
Tools to Encourage Self-Directed Learning
The Towards Maturity 2017 Report also noted that one of the biggest barriers of creating an all-encompassing learning culture was the lack of skills amongst employees to manage their own learning. Here are 4 tools to help employees deploy self-directed learning.
Learning Management System (LMS)
An LMS is an online training platform that seamlessly delivers training courses to organizations across all industries. It deploys virtual training to end-users (employees, suppliers, customers, partners, etc.), manages training materials and tracks results aimed to improve end-user performance.
xAPI allows for deeper tracking of SDL. This application is able to track the information learners seek whether that be through the eLearning content provided by a company or outside information on the internet. xAPI makes it easy for the L&D team to see self-directed learning in action.
Course Integration
Company specific content should come from the company's Learning and Development team. However, an LMS with the capabilities to integrate outside courses is critical for users and administration. Users are easily able to locate courses on the platform, saving a ton of google search time, and administrators can easily track and report the data collected from the system. There are 2 types of course integrations that are useful to have in your LMS:
Subscription Pay per time period for unlimited courses. Ex: LinkedIn Learning allows users to have access to unlimited courses for a monthly fee.
Off the shelf content Pay by course. Ex: EJ4 allows users to pay for each course they want to view.
QuickQuiz
Quick Quiz is a Slack application that allows users to quiz each other. After an employee has initially learned something from an article or video, testing that knowledge will solidify the learning process. Giving employees the tools to manage their own learning and promoting a supportive environment around self-directed learning will create a competitive advantage for your company.
About Knowledge Anywhere
Knowledge Anywhere is an elearning company focused on providing flexible, modern learning and development solutions that enable organizations to harness the power of an engaged, knowledgeable workforce.
Our Learning Management System, Virtual Reality Training, and Course Development services, combined with our experience and customer support enables our users to create a learning and development program that boosts sales and drives company growth.
​
​Marketing Meets Learning and Development
How To Use Marketing Channels to Reach Learners
Today, only 27% of learning and development professionals list a "limited budget" as their top constraint for learning and development. In previous years, this was the major roadblock for training, but now the hurdle to overcome is employee engagement. Currently, there is a huge push to increase employee retention. This has been shown to increase with training and development. By engaging employees through training, they are able to develop new skills, ultimately leading to them staying longer with your organization.
This increase in the training budget now allows for learning and development professionals to play a more strategic role in marketing learning and development programs to learners. By utilizing marketing channels to promote training, learning and development professionals are able to reach learners more effectively which in turn increases learner engagement.
Review this infographic to learn how using marketing channels increases learner engagement and which channels perform best.

About Knowledge Anywhere
Knowledge Anywhere is an elearning company focused on providing flexible, modern learning and development solutions that enable organizations to harness the power of an engaged, knowledgeable workforce.
Our Learning Management System, Virtual Reality Training, and Course Development services, combined with our experience and customer support enables our users to create a learning and development program that boosts sales and drives company growth.
Every new hire costs your organization both money and time. According to a 2018 study, produced by the Sales Management Association, 62% of businesses consider their onboarding process to be ineffective. To avoid being a part of this statistic, it is important to establish an effective onboarding training program.
Why is onboarding important?
Research repeatedly shows that the right onboarding process significantly reduces turnover and improves job satisfaction. Having an effective onboarding process in place is critical in giving your new hires the best start possible in their new roles.
Effective onboarding can lead to:
Faster time to productivity: Effective onboarding decreases the amount of time your team members spend learning how to do their job and increases the amount of time spent performing.
Less turnover: When a new sales rep begins their role with a secure foundation, they are able to learn their position quickly and comprehensively resulting in improved employee retention rates.
Greater job satisfaction: A successful onboarding process should leave your team members feeling 100% confident in their abilities. A team member who's confident in their ability to perform will be more satisfied in their role.
Now that you understand how an effective onboarding process can benefit your team, let's look at five steps to successful product training onboarding for your sales representatives.
Here are the 5 steps to successful product training onboarding for your sales reps.
Step 1: Gather all product information needed to be successful
The first phase of the process is data collection. Before your new sales reps join your team, gather all the materials they'll need to be successful in their roles. This includes:
Vital product information needed to communicate to customers, such as: product features, benefits, pricing, and technical data.
Sales tips and general guidance on best practices for selling the product.
Frequently asked questions or common concerns about the product expressed by customers and how to best address them.
Contact information from other individuals in your organization they may need to contact to address questions (IT, engineers, management, etc.). Include an organizational flow chart if your company is big enough, so they understand how information flows between different team interactions.
Again, this information should be collected pre-hire. By providing your new team member with this information - packaged with a reference guide on where they can find each piece of information - you're giving them the raw materials they need to succeed on day one.
Step 2: Determine performance goals
Ideally, your sales team should have goals that include the following components:

Simplicity: easy to understand and remember
Measurable: ability to track progress and define success
Timeline: increases urgency and pragmatism
Clear expectations
To gauge the success of your sales reps, both quantitative and qualitative metrics should be measured. Tracking the raw numbers, through sales, percentage of leads converted, new acquisitions and retained customers, will serve as a valuable tool to help reach set performance goals. Quantitative measures are a clear cut way to measure results; however, sales reps need to be evaluated based upon qualitative measures- knowledge retention, personal efforts, and attitudes- in order to assess the long-term fit in your organization.
After defining the performance goals for your product training onboarding, it is critical to communicate these performance goals with your sales reps as early as possible.
Step 3: Create digestible content
With the information gathered and set goals for sales reps, it's now time to connect the two by creating content that lead to desired results.
Use micolearning techniques to break up content into manageable chunks. This will increase knowledge retention and prevent new sales reps from being overwhelmed with too much information.
Most importantly, creating digestible onboarding content avoids overloading your sales reps with information they might not immediately need. Instead, begin the onboarding process with only the essential information. This will help them reach their sales goals and support continued learning which will improve their performance over time.
Step 4: Implement coaching
One of the best resources an organization possesses is existing team members who have already excelled in the role.
Coaching enhances learning by giving new sales reps a chance to review and apply their knowledge through repetition and reinforcement. It also allows learners to ask questions and clarify uncertainties in real time. These more experienced members become mentors allowing new hires to absorb material quicker and feel more connected to the company.
Ultimately, a coaching system sets a precedence of accountability and performance. It will help new sales reps understand what kind of goals they'll need to set in order to be successful in the role.
Step 5: Continually evaluate your onboarding process
Once you've had a chance to implement a new onboarding process, give your new sales representatives time to adjust. After a certain period of time, check to see whether your new sales reps are meeting their performance goals.
Look at the data and the key performance indicators you've identified at the outset. Determine whether your sales reps exceeded expectations or if they have fallen short. Dig deeper to find what is working and what still needs to be improved in order to create the most successful onboarding program.
Discuss their performance, and communicate with your team to get their overall opinion on the product training onboarding in place. Ask where improvements can be made and what aspects helped their ability to succeed. This overlap between opinion and data will help ensure positive adjustments are made for future sales reps.
About Knowledge Anywhere
Knowledge Anywhere is an elearning company focused on providing flexible, modern learning and development solutions that enable organizations to harness the power of an engaged, knowledgeable workforce.
Our Learning Management System, Virtual Reality Training, and Course Development services, combined with our experience and customer support enables our users to create a learning and development program that boosts sales and drives company growth.
Over the last year, QuickQuiz has been providing a fast, easy way for organizations to create quizzes and test employee knowledge in Slack.
This week, QuickQuiz released an updated version of the app with additional tiers and new features.
Users can now choose from 3 plans, Basic, Premium and Pro, and enjoy additional command features like, Due Dates and Individual Question Results.
Basic plan is free with 1 Quiz Author and a limited feature set.
Premium plan is $9 per month with 5 Quiz Authors and an advanced feature set.
Pro plan is $14 per month with unlimited Quiz Authors and an advanced feature set.
QuickQuiz can be utilized across a wide range of industries as an elearning tool, allowing administrators to quickly understanding employee knowledge retention.
Businesses can use QuickQuiz in their workplace as a training tool by sending out a piece of learning material to the user, followed by a QuickQuiz to assess retention.
Key business benefits of QuickQuiz include:
Promoting learning in the day-to-day workflow of Slack
Increase employee engagement with unique micro-learning opportunities
Speed up employee learning and employer feedback
Finding the right Learning Management System for your organization can be a long and tedious process. Businesses usually look into dozens of providers during the course of their search. As the choices narrow, and you start to demo the training solutions that rose to the top of your list, the platforms and features can start to blur together.
This article will discuss the most helpful questions to ask during a demo and the tools to use to ensure that you get the right system for your current and future training needs.
3 Focus Areas in the LMS Evaluation Process
When evaluating a potential learning solution during a demo, there are a wide variety of factors to consider. Three areas deserve special attention: usability, customer service, and data.
1. Platform Usability
During the LMS demo, evaluate how usable the platform will be for your learners.
Questions that should be addressed include:
How easy is it for an administrator to upload and assign content?
Will my learners like and understand the user interface?
Are there different levels of admin roles?
2. Customer Support
It is important to learn about the customer support a provider offers. Ask about the onboarding process as well as the procedures, and support provided for future questions or issues.
Questions to ask should include:
What is the onboarding process for the LMS?
How many hours of support will I receive every month?
Is there a support center online?
Will a Project Manager be assigned to me?
3. Technical Needs
Pay special attention to any technical needs that may be required during the integration and ongoing operation of the software.
Examples include:
Platform integrations
Reporting capabilities
The more you learn about the technical aspects of the platform now, the better.
Learning Management System Evaluation ChecklistThis checklist will guide you through selecting the right elearning training solution for your organization based on your unique needs.
6 Key Questions to Ask During an LMS Demo
With these focal areas in mind, it's time to dive deeper into the specific questions you can ask vendors as they demo their LMS solution. Regardless of your industry, business size or training needs, these 6 questions will be helpful in determining the right training platform for your business.
The best pricing option will naturally depend on your overall budget. Try to determine what you've spent on learning in the past, and what you're willing to spend on a newer system.
Many solutions offer flexible pricing based on user amount or content possibilities. Learn what these options are, and which matches your company's needs the best. Then, find a solution that both addresses these needs and stays within your budget.
2. How Will the LMS Scale As My Company Grows?
This question is closely related to the first one. Most companies assume growth, both in revenue and employees. That means your LMS has to scale with you. The same thing is also true for building more complex learning modules and content over time. Can the solution you're considering accommodate that growth? It has to be able to, both in budget and capabilities. Flexible pricing models like the ones mentioned above can help to assure that fact.
3. What Will the LMS Implementation Process Be Like?
Change is inherently difficult, so you can expect at least some resistance from your teams in switching to a new learning system. You cannot make that process even more complex through a solution with a convoluted implementation process.
Try to find out the average installation and initial onboarding time for the solution as a whole. Then, replicate that process for each user that would learn through the LMS. Don't rely on a solution that requires you to figure it out; find out early whether you will receive vendor-side support during implementation.
4. What Integration Features Can I Leverage For Productivity and Efficiency?
Integrations are important for streamlining the elearning process and tracking the impact of your training. Three integrations to look out for are:
Single Sign-On (SSO)
Software Apps you already use.
Some integrations can be subtle. but it's still important to find out about them early on in the LMS search. That way, you can plan with a more comprehensive strategy than just another isolated system.
5. Are There Any Extra Perks That Comes With the LMS?
Along with specific integrations, it is important to ask LMS vendors if there are extra tools or services that comes with their LMS. When going through the vendor selection process, it can be difficult to differentiate between what each provider can offer. Asking about the extra accessories can distinguish the good from the best LMS for your needs.
There are a variety of tools but specific ones to look out for are built in content creators, deals on partner products and access to other free elearning tools or apps.
6. How Can I Measure the Real Impact for My Organization?
Finally, don't forget to pay attention to success metrics. An LMS that makes great promises but can't reliably follow through on them is worth little. You have to be able to measure learning success on an organizational level.
To answer that question, you need to know which metrics you should measure to evaluate the effectiveness of your LMS to begin with. Then, you can use that information to find a solution that has these metrics integrated. The more you think about this process early, the better.
Finding Your Optimal LMS Solution Through a Comprehensive Approach
Finding an LMS takes time. You are about to make a significant investment in a platform designed to help your employees learn, complete onboarding, and improve over time. That can only be possible through a comprehensive approach.
Part of the approach includes developing an LMS checklist that walks you through your various needs and keeps you on track. But it's also about asking the right questions, and knowing what to prioritize. That way, you end up with far superior chances of a successful long-term learning solution.
About Knowledge Anywhere
Knowledge Anywhere is an elearning company focused on providing flexible, modern learning and development solutions that enable organizations to harness the power of an engaged, knowledgeable workforce.
Our Learning Management System, Virtual Reality Training, and Course Development services, combined with our experience and customer support enables our users to create a learning and development program that boosts sales and drives company growth.
Employee onboarding and continuing education is a critical part of a successful company. With all of the training and development tools out there, it is easy to forget that one of the most effective tools we have is the ability to coach.
Adding coaching into your current training and development program can have many benefits. It can help new employees absorb material and feel more connected to the company. There is also a positive effect on current employees, helping to show investment in their continued professional development.
This article will outline:
How coaching increases the effectiveness of online training
How to build an effective coaching program
3 ways to integrate and execute coaching into online training
Let's dive into why coaching is such a powerful accompaniment to training and how to build and execute an effective coaching program.
How Coaching Increases The Effectiveness Of Online Training
Harvard Business Review recently explored Why Leadership Training Fails and came to the conclusion that the benefits of short-term training with no other organizational support will be short-lived. There are several additions to an online training program that increase the long-term effectiveness of these initiatives, one of which is coaching.
The article asserts that training has better long-term results when businesses add "day-to-day coaching and process consultation" to their training.
Some of the key benefits of coaching:
Enhances learning as it gives learners a chance to review and apply their knowledge right away. Both live and virtual coaching sessions involve repetition and reinforcement of material covered in training.
Learners have a chance to ask questions and clarify anything about which they are unclear.
Employees can discuss issues that are preventing the implementation of their training and create solutions
Helps employees see learning as an ongoing process rather than something that begins and ends with training.
How to Build an Effective Coaching Program
Here are the main steps for building a coaching program that helps learners get the best possible results from their training.
1. Identify the Objectives of the Program
Decide exactly what you want to achieve from your coaching program. You should look for problem areas in your training. Are there specific issues or skills that are challenging for employees to retain after training? These are areas that coaching can help with. You might also have goals such as better results on compliance training for your industry.
2. Provide Training for Coaches
In order to help learners, coaches need to be thoroughly familiar with the training material. It's important to choose coaches who are highly motivated, have excellent communication skills, and who are committed to keeping up with the latest training requirements. Ongoing training for coaches should include analyzing results and paying close attention to feedback from learners. This will help coaches adjust their techniques to meet learners' needs.
3. Communication About the New Program
In order for coaching to be effective, people have to know about your coaching program. To get maximum participation in the coaching program, spread the word in as many ways as possible. This includes:
Company newsletters and emails.
Discussion at meetings.
Printed reminders on bulletin boards.
Remind employees during face-to-face conversations.
When communicating information about coaching, it's important to present it as a benefit rather than an obligation. Coaching gives employees a chance to improve their skill sets, perform their jobs more effectively, and advance more rapidly in their careers. Emphasizing these advantages will motivate more employees to sign up for coaching.
4. Schedule Coaching Sessions
Once you've created the program and found the right coaches, it's time to actually schedule sessions. These should complement the regular training. Ideally, coaching should be customized to the needs of individual learners. Some people will need more sessions than others. The key is to make the coaching available to whoever needs it and to make sure people feel comfortable asking for help. If you use virtual coaching, scheduling is much more flexible.
5. Support From Leadership
As the Harvard Business Review states, "HR managers and others find it difficult or impossible to confront senior leaders and their teams with an uncomfortable truth: A failure to execute on strategy and change organizational behavior is rooted not in individuals' deficiencies but, rather, in the policies and practices created by top management. Those are the things to fix before training can succeed longer-term."
When making organizational changes or implementing new initiatives, there are other elements of the day-to-day organization that needs to change. Those changes are best implemented and sustained when they are supported by senior leadership.
To promote the success of a coaching program, make sure that, in addition to great coaches, the business processes and senior leadership support the program. Do employees have time to include coaching sessions? Do coaches get training to be effective? Do senior leaders recognize great coaching and employee improvements? Does upper management promote the coaching program?
6. Evaluate Results and Adjust
As with your training programs, it's essential to constantly measure the results of coaching and make any necessary adjustments. You can compare the performance of employees who have had coaching with those who hadn't. It's also helpful to get subjective feedback from those who have had coaching and ask for suggestions on possible improvements. Over time, you'll be able to refine and improve coaching.
5 Techniques For Building Successful Product Training For Sales RepsThis ebook will help you create innovative product training that equips sales reps with the knowledge they need to be exceptional salespeople
3 Ways to Integrate Coaching Into Online Training
There are three overlapping strategies for integrating and executing coaching into your online training program.
1. Virtual Coaching
Virtual coaching is one of the most convenient and flexible types of coaching. As with online training itself, learners can access the coaching from any location. Virtual coaching has some drawbacks by not being in-person, however, there are also several advantages. Coaches can record sessions for employees to view later, and it is great to use if employees are working remotely.
2. Rehearsal Coaching Integration
Rehearsal training is a powerful technique to prepare employees for workplace scenarios they are likely to encounter. This can be effective for many situations such as sales training, customer service training, or for any type of training where it's helpful to recreate real-world conditions.
Video role-play is an especially convenient type of rehearsal coaching. With video role-play, coaches record scenarios and employees record their responses. Coaches can then spend time reviewing and constructing feedback to improve their responses.
3. An LMS With Chat
As you probably know, a learning management system (LMS) is a way to organize and assign training to your learners online. Integrating an LMS with a chat feature is a great way to combine coaching with online technology. Learners that need advice or have feedback or questions about training can quickly connect to more experienced employees.
Get Better Results From Your Training With Coaching
Every organization that conducts training is looking for ways to improve results. A common problem is that once the training is over, learners start forgetting. This can be especially noticeable if there's a gap between the training and the need to implement what was learned. Coaching is a way to address this problem. Coaching and training go hand-in-hand. With today's technology, you can implement virtual coaching methods that strengthen and reinforce training. This will help to keep everyone up to speed on training materials and make it less likely that anyone gets left behind.
About Knowledge Anywhere
Knowledge Anywhere is an elearning company focused on providing flexible, modern learning and development solutions that enable organizations to harness the power of an engaged, knowledgeable workforce.
Our Learning Management System, Virtual Reality Training, and Course Development services, combined with our experience and customer support enables our users to create a learning and development program that boosts sales and drives company growth.
Download a PDF of this blog to take with you.
Unlike structured, formal learning, informal learning harnesses a person's intrinsic desire to learn and gives them the freedom to find knowledge from their preferred sources. Formal learning channels have largely been seen as the most effective way to train employees in the past. However, businesses have recently started to realize that employees can gain a great deal of information from less structured learning.
What is informal learning in the workplace?
Informal learning refers to learning that occurs away from a structured, formal classroom environment. Informal learning comes in many forms, including viewing videos, self-study, reading articles, participating in forums and chat rooms, performance support, coaching sessions, and games… Informal learning is a style of learning in which the learner sets their own goals and objectives.
- Training Industry
There are many benefits of informal learning activities:
Low Stress With no formal testing, there is no high-pressure situation.
Flows with Daily Work Informal learning activities fit easily into a work day. People continue to learn and grow according to what they need to solve a problem or get through a situation.
Intuitive People naturally learn in an informal setting, they have been doing it their whole lives.
Encourages Curiosity Without the pressure of performance, people are free to follow their interests, even if it takes them away from the original idea.
Here are our top 10 informal learning activity examples to boost employee engagement:
Workplace Mentoring Pairing new employees with seasoned employees gives the newbies an opportunity to see how business is conducted in your company. With no exams or assignments to worry about, new employees can learn by example and incorporate the practices they observe in more experienced employees. This also gives new employees the confidence they need to do their jobs well and helps with the succession planning process.
Social Media Engagement LinkedIn, Facebook, and other social media outlets are full of industry information (sometimes hidden behind the photos of a friend's lunch). Encourage your employees to connect online with your company and other industry leaders to stay on top of the latest news and trends.
Seminars and Guest Speakers Employees will enjoy a free ticket (and maybe an afternoon off) to attend a local seminar about personal development, sales, or anything related to your industry. Without standards to meet, they are free to absorb the information that is of interest to them. Bringing someone to the office to give a talk or a presentation is generally less time-consuming and expensive than sending all the employees to a conference, but there are similar benefits to be enjoyed. It's a quick change of pace for employees and offers new information they can incorporate as they see fit.
Ropes Courses A ropes course can be physically demanding, which can improve focus and determination while boosting self-confidence and overcoming fear. It also teaches leadership, teamwork, communication, and resourcefulness.
Escape Rooms Like the ropes course, an escape room is a recreational opportunity to improve communication, problem-solving, and teamwork among your employees.
Volunteering Helping others is rewarding, and it offers the volunteers an opportunity to learn on-site skills required for the project, reinforcing their own trust in their ability to learn quickly and act efficiently.

How to Implement an Engaging LMS A step-by-step guide detailing how to plan, choose, and implement an engaging LMS for your learners.

Company Sports or Happy Hour Joining a recreational soccer, softball, or volleyball league or attending happy hour together gives participants an opportunity to get to know each other better and encourages conversations (that will likely be work-related at least part of the time). In this way, employees can stay up-to-date on what's going on in other departments, which they might not have time to do during the workday. Sports leagues also encourage exercise, which comes with its own list of benefits, including increased energy and improved sleep, that can improve employee performance. Of course, it also builds teamwork and company pride.
Trip to a Trade Show, Manufacturing Facility, or Company Headquarters Salespeople will appreciate learning how their products are made, and employees in a field office might feel an increased loyalty toward the company after a visit to headquarters and a meeting with upper management. Getting away from the office and attending a trade show can spark renewed interest and innovation in the workplace.
Book Club Start a voluntary, informal book club within your organization. Choose a book each month that encourages personal growth or relates to your objectives as a company. Conduct short weekly meetings, in-person or virtual, to discuss what you've read.
Allowance for Learning on Their Own Time Provide your employees with a small allowance to be used toward an educational opportunity of their choice. This might mean an online course, an in-person class, or even a short trip. You don't necessarily have to require them to spend the money on a class that directly relates to their positions. The employees will benefit from anything they choose to learn; even if it simply boosts their morale and enjoyment, the company will benefit from a happier, healthier employee.
These are only a few of the informal learning examples you can use to help you increase employee engagement. Informal educational opportunities encourage your employees to keep learning and growing.
About Knowledge Anywhere
Knowledge Anywhere is an elearning company focused on providing flexible, modern learning and development solutions that enable organizations to harness the power of an engaged, knowledgeable workforce.
Our Learning Management System, Virtual Reality Training, and Course Development services, combined with our experience and customer support enables our users to create a learning and development program that boosts sales and drives company growth.
When an organization needs new courses for their online training, there are a couple of choices to consider. They have the option to:
Build their own course
Purchase an off-the-shelf course
Pay for a custom course
Although there is no right and wrong way to source elearning content, some types of courses are better suited for different training needs, budgets and organizational abilities.
Find The Right Type Of Course For Your Training Needs
What type of course is best for my training needs?
Creating content to fulfill your organization's training needs can be a serious challenge. There are three types of training courses we will be discussing in this article.
1. In-house course creation
2. Purchasing off-the-shelf courses
3. Purchasing outsourced custom courses
As stated above, there is no right or wrong way to source training materials. However, there are advantages and disadvantages to each of the three content types, and it comes down to finding the right type of content that will fit your training needs.
How to Use Different Types of Courses For Training Needs
In-house Course Creation
This type of course is created from within your organization.In-house courses are often used when training requires customization to meet the organization's needs while also staying within a smaller sized budget.
The ability to achieve a customized course with a smaller budget is appealing, but be aware that there is a trade-off of time and labor. Organizations need to be prepared for the time and effort required to create the course. If there are team members that can take on course creation, that is great!
Examples: This type of content can have a wide range of production value and can take on many forms. Internally created courses can come from:
Recording in-person training
Renting studio recording space
Narrated slideshows
Sometimes the team member or members' time is too valuable and it is better to outsource.
Outsourced Custom Courses
Outsourcing custom course development will cost more than an internally produced course. What you get in return is peace of mind while an experienced team creates a quality course within your schedule.
A content creation company has the time and expertise to not only develop your course, but to also help storyboard, offer suggestions and provide advice based on past successes.This is not necessarily better or worse, it is just a matter of which resources your organization chooses to use for the requirements of that course.
Off-The-Shelf Courses
These standard, pre-designed courses are a great option for basic training or continuing education courses. They are much cheaper than a custom developed course and they just require the time it takes to choose the ones you want to purchase.
Some off-the-shelf options are:
Some examples of when off-the-shelf courses might be a good option:
General sales training
Food safety knowledge
Leadership training
Microsoft Excel courses
There are some business needs where custom courses make more sense than off-the-shelf courses, whether they are created in-house, or outsourced.
For instance, if you are onboarding a new sales rep, off-the-shelf course would work for general sales tactics and best practices. However, the business should consider custom courses for their product training or lead qualification procedures.
Another example would be a healthcare facility. They might choose an off-the-shelf course for general industry HIPAA compliance standards, but create their own course about how patient documents are handled in their day-to-day office activities.
Consider A Combination
Learning and development programs often require different types of training. Creating a combination of content can be good for a couple of reasons.
Learners will like the change of pace that will come from off-the-shelf vs content that is customized to their job.
Off-the-shelf courses are quick to buy and can give you instant content to start a training program while you wait for more custom courses.
Purchasing off-the-shelf can be good for continuing education and general job skills while custom courses can be used for more company-specific learning areas
If you start creating new training content plans and realize that you could use some help creating those modules, feel free to contact us at Knowledge Anywhere and inquire about our Course Development.

About Knowledge Anywhere
Knowledge Anywhere specializes in providing organizations with a variety of elearning solutions, such as their Learning Management System, Virtual Reality Training solutions, course creation offerings.
They have also created elearning tools such as QuickQuiz, an elearning Slack App, and SCORMify, an app that turns videos and documents into SCORM compliant courses.
When identifying what courses are best for your organization's online learning program, it's critical to find an option best suited for the specific needs of your team. It is important to ensure that the course is comprehensive and meets all of the industry standards in order for your team members to find it useful.
Before you invest in a course, it's important to know if it checks all your organizational boxes. An incomplete program may lead to your team receiving inadequate training that could leave them unable to perform their responsibilities.
That's why it may make sense to look into building a custom course for your online training program. This article will outline:
The advantages of building a custom course
When to build instead of buy
Questions to ask before building a custom course
Taking a deeper dive into the three aforementioned topics will help you make a more informed decision on whether to opt for a pre-existing course or to maximize your course's effectiveness by designing it yourself.
Advantages of Custom Courses
1. Aligns with Company Values
Building a custom course allows you to craft a learning experience which aligns with your company's values. It will be 100% tonally consistent with your brand because it enables you to incorporate your company's logos and color scheme while also including specific company policies and procedures. An externally designed course may have materials that are defined prior to purchase and that you are unable to adapt to fit your organization.
2. Target Audience Needs
While staying brand consistent through custom courses, you are also able to target your audience's needs better than a third party. You know what your team members are likely to respond to and how they learn which makes it easier to build a course that optimizes how you communicate the relevant information your team needs to hear. Building a custom course also allows you to employ examples relevant to your business or industry. This will engage your users rather than non-specific examples that won't apply to your market.
3. Continually Update
One final advantage of a custom course: the ability to update it as changes occur within your industry. You can update a custom course whenever you need to. Buying a course can be a more static experience, without the versatility and flexibility your learning program may require. If you work in an industry with ever-changing requirements, this could be a major challenge.
When to Build Instead of Buy
Buying courses and building custom courses each have their advantages. To decide on which one to use, it ultimately depends on the objective of the training you are providing your employees. There are two key indicators where building a custom course may help train your employees more.
1. Specific Company Needs
Each company communicates, operates, and executes results differently. There are some areas that an off the shelf course can not teach your employees. This may include:
New product releases
Company-specific certifications
Organizational culture
Company-specific examples
Special accomplishments
Buying off the shelf content is best for when companies need employees to learn generic skills such as Leadership Development or Microsoft Excel Training. This is because buying these pre-designed courses are cheaper and not time intensive to select. However, when you need to train employees on specific areas related to your business, building custom courses will produce a greater impact on learning objectives. This is especially true if you need to train your team members on the uses or benefits of a product, specifically one created by your company. No external training course is going to be able to capture the knowledge your organization has about a product that company designed from scratch.
2. Increase Management Engagement
It is also best to build a course if you want to increase management's engagement with the training program. Leadership will be more likely to support and buy-in to a training program they had a hand in creating. Allowing them to provide input into the training also ensures your organization is reinforcing the goals and objectives of your management team. Incorporating management into the training development process is a great way to make sure the training is consistent with their values.
Questions to Ask Before Building a Custom Course
Before you embark on your course-building journey, there are a few questions your organization should ask itself.
What content do you already own?
When you identify the need for online training, you should first determine what content you have at your disposal. If you have the requisite information and materials to inform a comprehensive training program, it may be redundant to seek an external option.
What type of content do you need?
What is it that you want your users to get out of the training experience specifically?
Do you need them to learn specific policies or perform a certain task?
Do they need to know how to operate a specific product?
Do they need to be made aware of laws or other regulations that impact their ability to do their jobs?
Consider what type of content you need when deciding the best way to communicate it to your audience.
What audience are you targeting?
Are they your internal employees and staff? External stakeholders such as contractors or consultants? This will impact the amount of company information you share within the course as well as how the course is designed.
What are your expectations for the content?
When the training program is complete, will you need your users to perform a function? Will they need to possess knowledge about a specific rule or set of guidelines? Before you begin the course-building process, you should be able to visualize the finish line. Know the end goal of where you want your users to be so you can appropriately define your expectations for them as you develop the content.
Start Building Custom Courses
Building a custom course allows you to have much more flexibility in implementing an online training program. This will lead to a much more effective course sure to leave your users with a better understanding of the course content and, in turn, a better ability to do their job.
If you start creating new training content plans and realize that you could use some help creating those modules, feel free to contact us at Knowledge Anywhere and inquire about our Course Development.
Knowledge Anywhere specializes in providing organizations with a variety of elearning solutions, such as their Learning Management System, Virtual Reality Training solutions, course creation offerings. They have also created elearning tools such as QuickQuiz, an elearning Slack App, and SCORMify, an app that turns videos and documents into SCORM compliant courses.
Download the PDF of this blog post to take with you.
The success of your company depends not only on your ability to hire the right people but also on your ability to train them to do their jobs effectively. This training doesn't end after the hiring process; rather, it's just beginning. If you expect your business to grow and evolve to keep up with trends and advances, your employees need to grow and evolve, too.
The pressure is on: how are you going to do that?
You have lots of options, including traditional classroom methods like seminars and workshops. Of course, you might also consider a virtual learning platform, in which case you would join the 81% of companies who provide at least some of their training online.
What is a Virtual Learning Environment?
A virtual learning environment is an online system that allows education materials to be transmitted through the internet to transfer knowledge from organization to employee, or teacher to student. Virtual learning environment examples include the following and more, all of which can be accessed via an online or computer-based system:
Distance Learning Degree Programs
Professional Certification Courses
Instructional Videos
Video or Audio Lectures
Books, Articles, and Other Writings
Podcasts
High School or University Classes
For your business, your virtual learning environment might include your employee handbook, instructions on how to use new software or equipment, sales or customer service training, new employee orientation, and more. As with any type of training system, there are virtual learning environment advantages and disadvantages.
Advantages of a Virtual Learning Environment
Easy Tracking and Assessment: With your virtual learning environment software, it's easy to tell which employees have completed the activities. Built-in assessments like quizzes can help you ensure they're absorbing the material.
Seamless Delivery: Every employee has access to the same material, no matter when he or she gets hired. Your message is consistent through the years; when you make a change in company policy, that can be updated in your learning system, and all employees have access to it.
Time Savings: You don't always know when you will have to hire a new employee. If someone quits unexpectedly and is replaced, you might not have time to train the new employee properly. She might have to wait for a yearly seminar; in the meantime, she's under-prepared and overwhelmed, which puts the position at risk again. With a virtual learning environment, your new employees receive thorough training immediately.
Financial Savings: With an investment in virtual learning platforms, you're paying someone (or taking the time yourself) to develop curriculum once, which can then be used over and over again. Compare this to the expense of hosting workshops every time you hire new people or make changes in your business: paying speakers and instructors, arranging venues and travel, and losing productivity when employees are out of the office. It's easy to see how cost-effective a virtual learning environment is.
Communication and Connection: BBC Active mentions communication as one of the advantages of a virtual learning environment. With forums and message boards, seasoned employees can answer questions and offer mentoring and advice for new employees. This saves time for those in management roles and builds a sense of connection and community among your team.
Learning Management System Evaluation ChecklistThis checklist will guide you through selecting the right elearning training solution for your organization based on your unique needs.
Disadvantages of a Virtual Learning Environment
Dwindling Attention Spans: How many browser windows do you have open right now? Many people are programmed to multi-task when they're on the computer, despite studies showing that 98% of people are not good at multi-tasking. This could lead to skimming articles or starting a video that turns into background noise as they try to complete another project at the same time. Of course, you can help prevent that by keeping lessons and videos short and simple.
Getting Lost in the Material: Depending on each employee's learning style, some might feel lost when they can't ask an instructor for clarification in real time. Others might require lessons that are more hands-on, visual, or auditory than what you end up offering on your platform.
Discomfort with Technology: Though many industries rely heavily on technology and employees are well-versed in its use, you might be in an industry that doesn't require that kind of knowledge. In this case, you might have employees who feel they have two daunting tasks ahead of them: taking the training and understanding the virtual learning environment software that allows them to take the training.
Limitations: A virtual learning environment might not be the most effective way to teach someone to build or use a complicated piece of machinery. It also doesn't offer that human-to-human contact, which may limit your opportunities for team-building and role-playing activities, brainstorming, or discussion.
The good news is that when you base your training in a virtual learning environment, you still have the option to supplement it with in-person classroom-style training on an as-needed basis. In the meantime, you're benefiting from the many advantages of using virtual learning platforms.
Only you can decide what type of training is the best fit for your company, and you owe it to yourself to learn as much as possible before you make that investment.
About Knowledge Anywhere
Knowledge Anywhere is an elearning company focused on providing flexible, modern learning and development solutions that enable organizations to harness the power of an engaged, knowledgeable workforce.
Our Learning Management System, Virtual Reality Training, and Course Development services, combined with our experience and customer support enables our users to create a learning and development program that boosts sales and drives company growth.
The modern consumer can find most or all of the information they need to buy a product online. When someone engages a salesperson, it is not usually to discuss high-level product information. People expect sales reps to have a deep level of understanding and perspective on their products, company, and industry to make comparisons and add value.
This shift in focus for sales teams means that training is more important than ever. Every sales rep needs to be trained to expert level.
There are many different types of digital training strategies, and it can be overwhelming to know which one to implement. Here are 3 strategies that are effective across a variety of industries, applications, and teams.
3 Digital Product Training Strategies to Improve Sales
1. Virtual Coaching
Virtual coaching establishes a mock environment where employees can practice jumping over realistic job hurdles. Virtual coaching offers employees the opportunity to develop vital skillsets and practice making decisions so that they can perform when it matters.
What is virtual coaching?
There are many virtual coaching platforms available to use. Although these platforms can vary, the main functionality allows a coach to record a virtual scenario, the employee then records an answer, followed by feedback from the coach. All of this is done in a safe space where employees can prepare to interact with customers.
Although virtual coaching can be used to improve performance in many different job roles, it is a particularly great tool to improve and test sales rep product knowledge.
Some ways to use virtual coaching:
Recorded documentation to show employee progress
Integrate it into your training platform to add to employee learning records
An extension of your in-person coaching program
Onboarding tool
Way to share ideal answers and best practices with other members of the team
2. Microlearning
Microlearning offers a unique way to break through one of the toughest roadblocks to getting learners engaged: time.
The modern individual's schedule does not leave time to dedicate to learning for their job. Microlearning provides the opportunity to learn in short, manageable bursts of time, so business professionals no longer need to sit hunched over desks pretending to pour over thick manuals muddied with jargon and filler information. Modern research has taught us that information overload gets learners nowhere, and as a solution, new technology has developed to solve this issue through microlearning.
Creating microlearning modules that are in short, bite-sized learning opportunities allows employees to access this information quickly whenever they need it. For product training, microlearning will help sales team's in two aspects:
Just-in-time learning supports employees by providing avenues for immediate learning. For example, if a sales representative is about to go into a sales meeting and forgot a specific product feature advantage, they can easily access the information on their mobile device through just-in-time learning.
Performance support aids employees when they are on the job and have forgotten, from their previous training, how to perform a certain task. It prevents employees becoming frustrated because they won't have to waste time searching for the answers.
For optimal results, have the training focused on the key information that you want employees to get out of the training. Stray away from jargon and long winded sentences, you want to create information that is easy for learners to absorb and retain.
3. Mobile Learning
Mobile learning options are a valuable asset to any corporate training setup. The way people interact with technology is changing, so training delivery methods should match these changes to enable learning from anywhere.
Mobile learning offers the groups you are training easy access to crucial information. Your computer can only go so many places conveniently while your phone goes everywhere. Mobile learning simplifies the process of accessing information through making it available anywhere at any time. Couple mobile learning with microlearning modules to create information employees will appreciate.
Another advantage of mobile learning consists of the rising trend of the workforce working remotely. Mobile learning offers an easy transition that allows learners to work off their phones from anywhere. Having a product training program that supports mobile learning will allow your whole team to gain access to the important information embedded in the training.
Implementing these digital strategies into your product training program
Effective product training is essential for enabling sales teams to overcome customer objections and tough questions. Creating a digitized product training program will make employees more engaged with the training program and ultimately able to sell the product more effectively due to knowledge retention.
Connect with one of our product training specialists, so you can start implementing these strategies as soon as possible.
About Knowledge Anywhere
Knowledge Anywhere is an elearning company focused on providing flexible, modern learning and development solutions that enable organizations to harness the power of an engaged, knowledgeable workforce.
Our Learning Management System, Virtual Reality Training, and Course Development services, combined with our experience and customer support enables our users to create a learning and development program that boosts sales and drives company growth.
​
How To Engage The Modern Learner
Workplace learning has evolved. This infographic highlights statistics and tips for engaging modern learners in your workplace.
About Knowledge Anywhere
Knowledge Anywhere is an elearning company focused on providing flexible, modern learning and development solutions that enable organizations to harness the power of an engaged, knowledgeable workforce.
Our Learning Management System, Virtual Reality Training, and Course Development services, combined with our experience and customer support enables our users to create a learning and development program that boosts sales and drives company growth.
The way people learn at work has changed rapidly. Long-form training methods are no longer the ideal standard. Instead, employers are seeing better training results from short, broken-up, concise learning formats.
Spaced learning is one of the methods that is helping employees and other trainees retain more information over time. This method of learning engages employees while also giving them time to critically analyze the information they have just learned.
Here are the four way to implement spaced learning into your training program:
Combine spaced learning with microlearning
Repeat content in different formats
Track results with quizzes
Include interactive methods and real world simulations
Before we dive into these four areas, this article will give a brief overview of the fundamentals of spaced learning, and then describe how to implement spaced learning in order to enhance your training curriculum.
Overview of Spaced Learning
What is Spaced Learning?
Spaced learning is based on the highly researched theory that learning is enhanced when lessons are repeated after a certain lapse in time. In other words, learners are exposed to information multiple times with spaces in between. This is a simple but important concept that can make a big difference in how well people retain what they've learned.
Anyone who's ever attended an intensive training such as a day or weekend seminar will be able to appreciate a common problem with learning. You are given hours of training and feel like you understand it. However, within a few days or weeks, you have trouble remembering it. This isn't a flaw in your ability to learn but a reflection on how the brain works.
Benefits of Spaced Learning
It turns out that it's perfectly normal to forget information soon after you've learned it. Through Hermann Ebbinghaus' Forgetting Curve, it was found that learners tend to forget material at an exponential rate during the first few days after being exposed to it. Ebbinghaus also found that memory could be strengthened through repetition and by using better memory representation techniques.
Spaced learning is one of the best tools to improve retention. As Harvard Magazine reports, spaced learning can improve learning by as much as 50%. Whether you need to train people on new software, help them pass a certification or compliance training, it's essential to understand how spaced learning improve retention. In fact, there's evidence that spaced learning helps in fields as diverse as sales, language learning, and medicine.
How to Implement Spaced Learning Into Your Training Program
Here are four guidelines to successfully implement spaced learning to improve the results of your training program.
1. Combine Spaced Learning With Microlearning
Microlearning is another important principle of learning and closely related to spaced learning. Microlearning focuses on delivering information in short, manageable chunks rather than trying to dump everything on learners all at once. This idea fits perfectly with spaced learning as you can deliver shorter nuggets of information with intervals in between.
The three areas to combine spaced learning with microlearning are:
Product training: Providing short bursts of information that is spaced out over time will give customers and partners the confidence they need to effectively use your product
Compliance training: Make compliance training more interesting and effective by breaking up the learning which will allow employees to easily internalize critical compliance information
Onboarding: Don't bombard new hires with a plethora of information. Instead create manageable-sized chunks of information for employees to digest
2. Repeat Content in Different Formats
One of the keys of spaced learning is to mix up the approach. People absorb information more thoroughly when they receive it via different senses and formats. Repetition is one of the cornerstones of learning; however, it's far more effective to repeat the information if you vary the method. Someone can listen to the same lecture or study the same infographic many times and will quickly get bored. If, however, you mix it up, you're more likely to hold their attention. For example:
Create short modules that can be quickly absorbed
Show videos: Video learning is one of the top e-learning trends right now. Interactive videos are especially powerful for engagement
Create gamified exercises
Show infographics: Information can often be conveyed more succinctly using visual tools than by making people read long blocks of text
Give frequent quizzes
Using a variety of methods, with regular breaks, helps to keep learners involved and prevents boredom.
3. Track Results With Quizzes
It's essential to keep track of how well learners are absorbing information. With spaced learning, administer frequent quizzes rather than relying on one comprehensive exam at the conclusion of the training. Quizzes, aside from tracking progress, can enhance learning as they compel learners to review the information as they're taking the quiz. Knowing that they'll be quizzed also motivates them to pay close attention.
QuickQuiz is a great application that allows you to quiz employees on their comprehension of learning content via Slack.
4. Include Interactive Methods and Real World Simulations
One of the best ways people learn is by doing. Incorporating interactive strategies and real-world simulations into your training improves engagement and fits in nicely with spaced learning. There's still a place for traditional didactic learning methods such as printed material and lectures. However, it's important to combine these with interactive methods such as gamified exercises and interactive videos.
Role-playing is also a powerful way to engage learners and reinforce the material. This is especially helpful when it comes to anything involving human behavior such as sales and customer service training or compliance training. With this approach, it's important to carefully monitor the exercises and make sure that people are staying on the right track. If learners aren't well versed in the material and there aren't qualified trainers to correct them when appropriate, their mistakes can be reinforced.
Incorporate Spaced Learning Into All Your Training
Spaced learning isn't a mere trend or gimmick but a process that's based on substantial research. It's a proven way to help employees and other learners absorb information more efficiently and to help them retain what they've learned. This style of learning is appropriate for all types of training in any industry. It's not difficult to adopt spaced learning for your purposes, and you'll find that your employees will respond favorably to it.
About Knowledge Anywhere
Knowledge Anywhere is an elearning company focused on providing flexible, modern learning and development solutions that enable organizations to harness the power of an engaged, knowledgeable workforce.
Our Learning Management System, Virtual Reality Training, and Course Development services, combined with our experience and customer support enables our users to create a learning and development program that boosts sales and drives company growth.
Product training is an important part of an organization's success. Without value-adding product training, a marketing team cannot reach the right market, and a sales teams will fail to answer the critical questions customers are looking for. Poor product training can cause a great deal of loss to a company, so it is necessary to take a look over the program already in place to ensure that employees are receiving effective product training.
Here are the four pillars of an effective product training program:
1. Product Knowledge: Understand what you are selling
Having your team completely understand the products being sold is critical for creating strong customer relationships, building a positive brand reputation and outperforming your competition.
Equipping your team with excellent product knowledge will help your company:
Build a stronger relationship with customers When your team gives accurate information about your products to customers, they earn the customers' trust. Knowledge of the product also makes customers believe they are dealing with employees who are experts and passionate about what they do—making your company their favorite among competitors.
Improve sales A deep understanding of product knowledge allows salespeople to do two key things. It allows them to customize their product offerings and suggestions to maximize satisfaction and upsells, it also enables them to quickly and accurately give the prospect what they need to make a buying decision.
Improved customer experience If your customer care team has in-depth product knowledge, they can help your customers easily and promptly. Customers won't have to wait on the line for the right person to address the issue, overall improving the customer experience.
5 Techniques For Building Successful Product Training For Sales RepsThis ebook will help you create innovative product training that equips sales reps with the knowledge they need to be exceptional salespeople
2. Industry and Customer Knowledge: Understand what your customers are looking for
Great product knowledge is supported by an in-depth understanding of the industry you are in and the customers you serve.
It is not enough to train your teams about the specifics of your products, the training program need include aspects that give context to your products.
How is this product being used by customers?
What problem does this product solve for the customer?
Are there trends or changes in the industry?
Customers no longer engage a salesperson for generalized information; they are looking to sales reps to add expertise and value to their interaction.
Here are three ways to implement industry and customer knowledge into your training program:
Allow employees the space to spend time researching industry trends
Ensure training includes not only who your ideal customer is, but also how your product solves that person's needs - connect the customer attributes to the product.
Create a shared communication space where people can post key competitor observations
Infusing industry knowledge topics in your training help prepare your team for the needs of the customer. Being up to date on changes in the industry will also prepare employees to foresee possible changes that might disrupt the industry.
3. Competitor Analysis: Understand what your competitors are doing
Analyzing competitors helps identify your product's strengths and weaknesses, as well as identifying communication strategy adjustments you can make.
Competitive analysis is a crucial process of the research and planning phase for companies who wish to grow their business. It allows you to view competitors' product features in comparison to yours and create a benchmark to develop an effective competitive marketing strategy.
Once completing a competitor analysis, share the data and implement it into your product training program. This will give employees the opportunity to how your product stacks up against competitors and create a specialized pitch, improving their chances of a sale.
Remember that some of the best product observations come from the fresh eyes of new employees.
4. Create winning product value statements
Once you understand your target customers, analyze competitors and fine-tuned your product knowledge, it is time to create a value statement that will persuade customers for the final sale.
What is a value statement?
According to CXL, a value proposition is a clear statement that:
explains how your product solves customers' problems or improves their situation,
delivers specific benefits,
tells the ideal customer why they should buy from you and not from the competition.
Elements of a good product value statement:
Communicate specific results customers need
Explain how it's different and why it's better
Be clear and concise so it can be easily understood in 5 seconds
A product value statement carries the promise that entices the customers to buy your products. Make your value statement clear and concise, but most importantly, ensure to fulfill the promise.
Creating a comprehensive product training program can be a daunting task; however, these four pillars will help outline what is needed to successfully train a team that will boost sales, improve customer retention, and broaden your market share.
About Knowledge Anywhere
Knowledge Anywhere is an elearning company focused on providing flexible, modern learning and development solutions that enable organizations to harness the power of an engaged, knowledgeable workforce.
Our Learning Management System, Virtual Reality Training, and Course Development services, combined with our experience and customer support enables our users to create a learning and development program that boosts sales and drives company growth.
Soft skills tend to be neglected, often because they are hard to measure, and some people think they can't be trained - you either have them or you don't. Certain employees will naturally be better with soft skills than others, but there is no reason people can't work on soft skills like any other skill. Soft skills are valuable, transferable skills that can play a large role in the success and productivity of employees.
This article will discuss which soft skills are best taught through online training, and techniques for how to accomplish this.
What are soft skills?
"Unlike hard skills, which can be proven and measured, soft skills are intangible and difficult to quantify. Some examples of soft skills include analytical thinking, verbal and written communication, and leadership."
Which important soft skills can be taught or enhanced through online training? See the soft skills examples list below.
1. Teamwork
Teamwork is the one soft skill nobody can do without these days. Even freelancers who work at home and seldom see another person in the flesh need to develop their teamwork skills. Teamwork means cooperation, collaboration and taking the initiative when necessary.
2. Effective communication
Effective communication is perhaps the easiest of the soft skills to teach online, especially as people can benefit simply from listening to or watching good communicators and seeing how they do it. Bear in mind that communication does not just cover speaking but also listening as well - and knowing when each is important.
3. Problem-solving
Problem-solving is not just about being analytical. Employees need to learn to approach problems calmly, to know when to get help (back to teamwork again), when to barrel through and when to back off and take a break or try a different approach.
4. Time management
Time management can benefit from both online training and the use of productivity tools to encourage focus and prioritize tasks. Although this is a transferable skill, it is more concrete than most, as people need to learn how to put together a proper to-do list and organize their calendar.
5. Conflict resolution
This skill can be taught online using scenarios, bite-sized videos and role-playing games.
So, how do you cultivate these and other skills through online learning? Follow these techniques:
1. Create short videos. No one likes long, in-person seminars, but we can get through them, however, long online seminars are much harder to sit through. Because of this, most soft skills training modules use only short videos. The concepts are broken up into small sections, and the content is cut down as much as possible.
2. Use interactive scenarios - have people role-play with other employees or use AI-based online scenarios to show characters and their interactions. These scenarios are a vital part of a good online training course (and are also used face-to-face). Branching scenarios can be particularly effective as they show the direct outcome of various decisions.
3. Define measurable goals. Although soft skills are hard to measure, it's possible to set goals that reflect them indirectly. These might include making more sales or deals or getting feedback from the rest of their team that demonstrates improvement. In time management, it is even easier - you can keep track of how much employees are getting done in a given time frame.
4. Focus on one skill at a time. It's easy to give in to the temptation to try and improve multiple things at once. Grouping skills together are much less effective than focusing on teamwork for a while, then communication, and keeping the sessions short. Although there's obviously some overlap, it's important to keep things brief and focused.
5. Find motivation in the real world. This does mean using real-world examples, but it also means helping employees understand how these skills can benefit them - being better at conflict resolution might be great in the office, and even better at home when their children are fighting again.
6. Do group projects. These facilitate both teamwork and communication - and can either be directly related to a work goal or just for fun (just like team-building exercises in the real world). These projects can also help develop better relationships with specific individuals.
7. Turn the tables. Have each employee host their own webinar - this develops leadership and helps get over the fear of public speaking (which can be just as real when dealing with people over the internet as face to face). Having to pass a topic on to others can also be a great motivation to learn it in more depth. This can also spread out the dry research across the group.
8. Use mobile learning. These days, we do almost everything on our phones - and by using online training through a phone employees can go anywhere to learn and also apply things directly to the real world in front of them. For example, they can take an online video to a conference and compare it to how people are doing things there.
Regardless, whether you are the employer or a professional trying to improve your skills, online training can be an important way to develop soft skills, often for a lower cost than, say, going to a conference. Employees can even get soft skills certification courses online that help demonstrate improvement and prove to employers and partners that they have what it takes - and this kind of training can also help attract talent.
If you are an employer looking to improve the soft skills within your organization, then you should check out Knowledge Anywhere. We offer an intuitive learning management system as well as custom content development services that can help your team create a curriculum customized to your needs and those of your employees.
The "sales process" is a fundamental aspect of a successful sales team. A sales process is a layout of the steps that sales representatives need to accomplish throughout the sales cycle.
Different businesses will have their own unique pipeline for their sales teams, but every business needs one. A good sales process strikes a balance between providing a clear framework to follow throughout the sales cycle while leaving room for the salesperson to personalize based on the situation.
This article will outline how to achieve the optimal sales process to help support your sales team, win more customers, and ensure the most ROI.
Setting up the Sales Process Steps
Before creating a personalized sales process for your business, it is important to go over the basic steps to fully understand the flow of a sale. Here are the 5 overarching steps of a sales process:
Lead Generation: Using outbound tools to identify target persona
Qualify Leads: Deciding if a prospect is a leads to pursue
Demonstrate Value: Communicate how the product solves the customer's problem
Guide Prospect Understanding: Manage objections to close the sale
Deliver and Support: Continue to deliver what was promised to ensure customer satisfaction
View this infographic to learn more details about the sales process.
For each of these five steps, provide your sales teams with enough information about what is expected of them at each stage as well as what they should be seeing in a customer's behavior. This will enable them to effectively communicate with a potential customer and identify their needs and desires early on in the process.
Creating a Personalized Sales Process
To create a process which will optimize your sales, sit down with marketing, sales, and customer support. Map out what your team is currently doing at each of the 5 steps and pinpoint the core requirements in each area. What are the things that every sales rep is expected to do in each step of the process, regardless of the situation?
After solidifying each stage of the sales process, the next step is to create concise training and reference materials. These materials will not only help efficiently train new sales reps, but it will also ensure that customers and leads are getting a consistent experience with the business' entire sales team.
Just as important as creating these training and reference materials, is communicating, distributing and tracking them with all sales employees. The most efficient way to do this would be through the implementation of an online training platform, such as a Learning Management System (LMS). An online training platform not only helps to organize and track training, but it also doubles as a catalog of materials for sales reps to refer back to whenever they need a refresher.
Once your sales process has been created and implemented, be sure to check back in regularly with the process and the training materials to ensure that it is still accurate and optimal for your business needs.
Optimizing Your Sales Process
Rapid technological advances have allowed for markets and customers to continually change their needs and desires making it necessary for your team to evaluate and test your sales process as much as possible. It is important to track and follow up when a lead leaves the sales process to find out why they decided to go in a different direction.
Some key metrics that are important to track are:
How long customers are in each stage
How many prospects close after a demo
Customer churn rate
If one of these metrics start to be undesirable, test small aspects of the process to see if sales results improve. It is beneficial to continually test the process with role-play exercises and input from every member of the team. Things will change over time, and methods that work one year may not work the next, so be prepared and anticipate these changes by continually evaluating and testing your sales process.
Taking your Sales Process to the Next Level
Your sales process is a key part of your ability to attract and retain customers. Make sure that your entire sales team is on the same page of what is expected of them and what the customer's behavior should be at each step. Setting up your sales process in this fashion will give the structure that your team needs but flexibility in order to adapt to your customer's needs. Successful selling requires a developed process that guides each customer through the 'buyer's journey' with the highest level of return.
About Knowledge Anywhere
Knowledge Anywhere is an elearning company focused on providing flexible, modern learning and development solutions that enable organizations to harness the power of an engaged, knowledgeable workforce.
Our Learning Management System, Virtual Reality Training, and Course Development services, combined with our experience and customer support enables our users to create a learning and development program that boosts sales and drives company growth.
Knowledge Anywhere is now part of the Microsoft Azure Active Directory App Gallary
Teams using Azure Active Directory can now set up Single Sign-On for their Knowledge Anywhere LMS by adding Knowledge Anywhere through the Azure Active Directory App Gallery.

SAML is an open standard for exchanging authentication and authorization data between providers, in particular, between an Identity Provider (IDP) and a Service Provider (SP). Using Single Sign-On through Azure will allow Knowledge Anywhere LMS users to be authenticated and signed in using their Azure credentials.
Knowledge Anywhere's inclusion in the Active Directory App Gallery also means that teams using the free tier of Azure will have an easier integration set-up process.
If you'd like to learn more about Knowledge Anywhere's integrations and apps, click here.
About Knowledge Anywhere
Knowledge Anywhere is an elearning company focused on providing flexible, modern learning and development solutions that enable organizations to harness the power of an engaged, knowledgeable workforce.
Our Learning Management System, Virtual Reality Training, and Course Development services, combined with our experience and customer support enables our users to create a learning and development program that boosts sales and drives company growth.
Micro-learning is a buzzword in the elearning industry, and for good reason. The way people learn at work, and in general, has shifted and training formats have needed to adapt.
Part of this change includes rising expectations that most workplace training should be able to convey knowledge more quickly and efficiently than the historically accepted, long-form training.
Many training professionals have heard of micro-learning and understand the value of breaking learning material down into concise, organized, easily accessible packets of knowledge for their employees. There are plenty of great statistics supporting micro-learning, including the way it increases knowledge retention, reduces training duration, and allows learners to pace their learning.
We can see the merit of micro-learning in general, but sometimes it is hard to pinpoint where or how to apply it to our learning and development program to make the most impact.
This article will discuss three areas of training where micro-learning can be effectively used in employee education to make a large impact.
What is the difference between micro-learning and macro-learning?
Two large categories that have emerged in online training are macro-learning and micro-learning.
Macro-learning is long-form content that is reserved for more in-depth, time-intensive training.
Example: A sales manager blocks out time in their day to take a 60 minute, online leadership course.
Micro-learning is short-form content that is split up into small, bite-sized concepts that can be quickly understood and utilized.
Example: A new sales associate needs a refresher on a specific product the company sells. They quickly look up a 2-minute video explaining the product's features and price.
Now that we have a clearer picture of what micro-learning is, let's dive in.
Here are 3 areas of training that can be combined with micro-learning to make a huge impact on employee training.
1. Performance Support
Research shows that if knowledge is not used immediately after being learned, a lot of it is forgotten. And although this fact has been known for a while, businesses still train as if employees understand and internalize all of the information after hearing it for their first time.
This is where performance support comes in. Performance support is training that is implemented on the job when the employee needs it and is motivated to learn it.
This immediate need for quick, concise answers means that micro-learning and performance support go together like peanut butter and jelly.
When employees have access to these concise performance support materials, they can learn quickly, work more efficiently and help prevent other staff from having to stop their work to answer questions.
A well thought out library of content, combined with a performance support tool allows training teams to effectively administer this on-the-job training, and track its effects.
2. Spaced Learning
Spaced learning is based on the concept that knowledge is remembered much more if time elapses and then the training is repeated. When training is first introduced to an employee, allow time to pass and then have them take a refresher course or a course that reflects and builds on the original information.
Spaced learning can be applied to any employee training and is very effective when combined with micro-learning. When creating training, make a few short refresher videos on the same topic that will be assigned in the upcoming weeks. If videos are not preferred, a simple, concise document highlighting the most important information, coupled with a short quiz can be very effective.
3 specific areas where combining spaced learning and micro-learning are particularly effective:
Product training
Compliance training
Onboarding
3. Preparation For Formal Training (pre-training)
An additional, effective way to implement micro-learning is by using it as a way to prepare employees for formal training. If employees are learning new concepts for their first time in an in-person training, you are missing out.
Make in-person training more effective by creating short, micro-learning modules that introduce the formal training topic before the class. This tactic means that training professionals don't have to spend their precious time going over the basics, they can instead focus on higher level concepts and applications.
A lot of training professionals are finding it challenging to get their employees to engage in pre-training. Although micro-learning helps with this, try to find ways to get creative in your implementation. Communicate with your learners to identify forms of pre-training that engage them the most.
Strategies, best practices, and technology in corporate training are evolving quickly and it can be hard to keep up. An important part of current training and development professionals is to be able to identify which type of training will be the most effective for different topics.
Long-form training still plays an important role in employee education. The areas listed above are a few areas where micro-learning can be combined with, or replace longer-form training content to make a high impact on employee training.
About Knowledge Anywhere
Knowledge Anywhere is an elearning company focused on providing flexible, modern learning and development solutions that enable organizations to harness the power of an engaged, knowledgeable workforce.
Our Learning Management System, Virtual Reality Training, and Course Development services, combined with our experience and customer support enables our users to create a learning and development program that boosts sales and drives company growth.
​
Stats To Inform Your Sales Training
There is a lot of information that salespeople are expected to learn during onboarding, and continue to get better at year after year. Great sales training is crucial for creating and supporting successful sales teams. This infographic highlights critical statistics around sales teams and their customers to help better inform the way sales training programs are developed.
About Knowledge Anywhere
Knowledge Anywhere is an elearning company focused on providing flexible, modern learning and development solutions that enable organizations to harness the power of an engaged, knowledgeable workforce.
Our Learning Management System, Virtual Reality Training, and Course Development services, combined with our experience and customer support enables our users to create a learning and development program that boosts sales and drives company growth.
2018 was a busy year for Knowledge Anywhere. We tripled our development budget to focus even more on producing new features and solutions that help our customers efficiently train their learners.
Here is a look back at some of our LMS feature highlights and products we released in 2018.
1. LinkedIn Learning Integration
Knowledge Anywhere is pleased to announce that an integration with LinkedIn Learning is available for our Professional and Enterprise customers. This integration allows your learners to access LinkedIn Learning content via your Knowledge Anywhere LMS. Click here to learn more.

2. "What's New" Feature News Feed:
Admins can now see LMS feature updates from inside the LMS. See quick snippets of information about new features via the admin site by selecting "What's New" in the user profile drop-down.
3. Configure Knowledge Anywhere LMS as SAML SSO Identity Provider (Beta):
Knowledge Anywhere LMS now has the ability to be a SAML Identity Provider. This means you can use your LMS to provision/login users with other SAML Service Providers. You can find this feature under Site > SAML Settings > Identity Provider Settings and please see our support article on How to Configure Identity Provider Settings.
4. Link Admin and Learner Sites:
LMS Super and Group Admins can now seamlessly login between the Admin and Learner sites of their LMS. When clicking on the user profile drop-down, users will see a link to the Admin or Learner site.
5. Knowledge Anywhere Now Has A Public API:
The Knowledge Anywhere Public API makes is easier to assists admins in provisioning users and connect external applications to the Knowledge Anywhere LMS. Learn more about how to use the Public API by clicking here.
New Product Releases
QuickQuiz Slack App
QuickQuiz is a Slack App that brings fast, easy quiz creation to Slack users. We now have over 800 organizations around the world using the app to test their users' knowledge.
Scormify SCORM Converter
Scormify is an app that allows users to quickly and easily convert their content into SCORM compliant files for their LMS.
About Knowledge Anywhere
Knowledge Anywhere is an elearning company focused on providing flexible, modern learning and development solutions that enable organizations to harness the power of an engaged, knowledgeable workforce.
Our Learning Management System, Virtual Reality Training, and Course Development Services, combined with our experience and customer support enables our users to create a learning and development program that boosts sales and drives company growth.
One-on-ones are a great opportunity to for managers and employees to connect. So much of our work communication is conducted over technology, but nothing can match the depth of a face-to-face conversation. This article highlights how to create a one-on-one that is "owned" by the employee, not the manager, and how this shift makes more of an impact on the employee, the manager, and ultimately the company.
Make the meeting employee-led
Make the switch to a one-on-one meeting that is led by the employee. Stress that it is their time to bring questions, concerns, and strategy discussions to the meeting. It should be the employee's responsibility to create and communicate the agenda.
An employee-led meeting is important for a couple of reasons:
Employees see aspects of the day-to-day business that a manager might not be aware of. If an agenda is set by a manager, they might not have the space to bring it up.
It shows that the employee is a trusted member of the team and that the manager values what they need to discuss.
It allows the manager to better understand what is important to their employees and organically discover issues that they might not have been aware of.
Set a consistent time
The purpose of a one-on-one is to build a relationship and offer support. If a manager is inconsistent or cancels a meeting, it sends the message that the employee isn't valued.
Dependable meeting times are also important because the consistency allows the employee to collect questions and concerns that they need to discuss and wait until the meeting to address them. With time, this will allow the big, persistent questions and concerns that stick with the employee to be brought to the meeting.
Keep in mind that the frequency of the meetings might not be right in the beginning, so be aware and adjust them as necessary. Depending on how fast the company pace is, a one-on-one could be held weekly, every other week, or monthly.
As stated above, these meetings are to build a relationship with and offer support to employees, and an informal setting will allow for the most success in these areas.
A few suggestions:
As much as possible, don't take notes during the meeting. Taking notes seems impersonal and makes it feel like an interrogation rather than a conversation.
Try changing up the setting of the meeting. Go for a walk, get a quick coffee, or take them out to lunch.
It is okay if the conversation strays away from the main meeting topic. The meeting topics should be addressed, but it is natural to have an organic conversation. They can lead to some of the best insights into your employee.
Communicate expectations with employees
Make sure to communicate your expectations with the employees. Everyone's time is valuable, so it is important for managers and employees to be fully present and prepared during the meeting.
Here are a few suggestions:
Ask employees to keep notes on important topics or questions that they would like to discuss during the meeting.
Some managers like to be sent a meeting agenda to allow for an opportunity to prepare.
Convey what types of questions should be held until the one-on-one, and what types of questions should be asked in the moment.
Let the employee know that once in a while, it is okay to cancel the meeting if they have nothing to discuss.
Managers that make the space and time for one-on-one meetings to connect with their employees will see a huge difference in both employee performance and employee retention.
Interested in learning more about how meetings can increase employee retention? Conduct "stay interviews" to get feedback from employees about their experience at the company and what suggestions they have to improve that experience.
About Knowledge Anywhere
Knowledge Anywhere is an elearning company focused on providing flexible, modern learning and development solutions that enable organizations to harness the power of an engaged, knowledgeable workforce.
Our Learning Management System, Virtual Reality Training, and Course Development services, combined with our experience and customer support enables our users to create a learning and development program that boosts sales and drives company growth.
Millennials are now the largest generation in the workforce, making it more important than ever to understand and motivate them in the workplace. Retaining millennial talent can be an ongoing challenge for employers. Only 50% of millennials plan to stay with their current employer long-term; willing to leave for better pay, benefits, or career growth. However, 86% of millennials would rather stay with one employer and grow than move from
new
job to
new
job. They recognize the benefits of
stability,
but are willing to look outside of their current employment situation to reach their career goals.
These statistics, combined with that fact that "80% of Millennials said that an emphasis on personal growth is the most important quality of a company's culture," tells employers that they have a great opportunity to make an impact with their learning and development initiatives.
Here are 5 strategies that employers can add to their learning and development program that can help engage and retain millennial employees.
Some millennial employees are trying to figure out what their career goals are, and some may already have career goals that they are working towards. Either way, incorporating goal setting into a learning and development programs is a great way to help ensure that millennials feel like they are learning and moving forward in their professional development.
eLearning is an excellent way to help your employees create, track and meet their goals. Setting goals allow managers to:

Better understand what employees need from them in terms of training opportunities
Provide the training opportunities employees are looking for so that they don't look elsewhere
Strategize with their employees to help them meet their goals while still aligning with company goals
Strategy #2: Connect Millennial Employees With Mentorship
As highlighted in G2's Crowd's article on 2019 HR statistics, 83% of employers believe attracting and retaining talent is a growing hiring challenge. One way to combat this statistic is by providing employees, especially millennial employees, with access to mentors. Whether your organization offers online mentoring or connects employees with on-site mentors, they can provide great growth opportunities for employees and employers.
What are some specific areas where a mentor can help more junior employees?

Mentors can expedite onboarding. Mentors can help with the informal aspects of training, like introducing the new employee understand their role and the company's culture to make onboarding an easier, faster process.
Mentors correct mistakes before they become big ones. A close mentor relationship allows an experienced employee to be aware of what the employee is doing and make corrections as needed to improve employee performance.
Mentors promote millennial employee retention. According to a study by Deloitte, "millennials planning to stay with their employer for more than five years were twice as likely to have a mentor (68%) than not."
Strategy #3: Provide The Material Needed To Promote From Within
An emphasis on developing employees and promoting from within is a great way to engage, motivate and retain millennial talent while benefiting the company.
Rewarding loyalty
Allows for a path to career growth
Faster training
Higher retention
Encourages employees to keep developing themselves and showing leadership
Millennials may learn differently from previous generations. They grew up with technology, which means that they are familiar and comfortable with it.
Strategy #4: Train Millennials In A Way That Is Meaningful To Them
Here are 4 points about millennial learning to keep in mind as you create or revamp a workplace training program.
Because millennials learn so much differently than previous generations, adapting workplace training to align with their learning styles can help make a significant difference in engaging and retaining millennial talent.
They are used to learning online
Their short attention spans mean shorter training is better
They want to be able to quickly search for an answer to their questions
They expect learning to be personalized to them
Generic company training can be necessary, but as technology becomes more advanced, it is possible to also personalize training offerings to specific employees.
Strategy #5: Personalize the Training You Offer
Tools like learning management systems help personalize training by allowing administrators to set specific learning paths for employees. The system can also facilitate the ability for learners to identify and take training that they think is most beneficial to their goals.
Personalized training promotes more engagement from millennials and shows them that the company cares about their professional development and career goals.
It can be a gradual process to create or revamp a training program, but these are some great strategies to keep in mind as you do it. Millennials are an important part of the workforce and they are very different than previous generations. Taking the time to build a training program the aligns with the way that they learn can be rewarding for the employee and the business.
About Knowledge Anywhere
Knowledge Anywhere is an elearning company focused on providing flexible, modern learning and development solutions that enable organizations to harness the power of an engaged, knowledgeable workforce.
Our Learning Management System, Virtual Reality Training, and Course Development services, combined with our experience and customer support enables our users to create a learning and development program that boosts sales and drives company growth.
From highly regulated industries such as manufacturing and healthcare, to general training in areas such as sexual harassment, ethics, and privacy regulations, compliance training is an important part of employee training initiatives.
Compliance training is not the most interesting topic. However, it is necessary to have concrete documentation and training on workplace compliance policies, procedures, and expectations.
Increasingly accessible tools are allowing businesses to put more emphasis on figuring out ways to create and refresh compliance training that is effective in mitigating risk and engaging employees.
This article discusses how to build effective compliance training programs using a combination of tried and true best practices with new, engaging online strategies.
Upgrade the training program to a Learning Management System Many companies start out tracking compliance training in an Excel spreadsheet, or use other manual, inconsistent systems for tracking employee training. This might work when there are only a handful of employees, but companies can quickly outgrow this method. A learning management system (LMS) provides a formal, easy way to track and administer all online company training, as well as in-person training. This tool can help training professional implement the next 3 compliance training tips.
Break up the learning for better comprehension One way to promote understanding and engagement in your company's compliance policies and procedures is by creating videos that implement the concept of micro-learning. It's no secret that videos have become a popular mode of training and are seen as more engaging than a traditional lecture. But a long, drawn-out training video can be just as ineffective as a long, drawn-out live lecture. Splitting training up into shorter modules will allow employees to more easily internalize critical compliance information. Micro-learning will also make it easier for them to go back and locate a specific part of the documentation that they need a refresher on.
Make compliance training material easy and fast to find Just-in-time learning is the concept of being able to look up and immediately locate a piece of training information when the learner needs it. This concept focuses on allowing employees to find the information they need, when they need it, promoting efficiency and productivity in employees' jobs. No one remembers every detail of their training. By incorporating just-in-time learning employees can quickly find answers to compliance questions that may come up, reducing risk.
Use short quizzes to increase learner engagement Using quizzes after training is pretty self-explanatory, however, there are different ways to use quizzes and different tools to build them in. Learning Management Systems often have the ability to build and track quizzes for your learners. Another great way to test comprehension and increase learner engagement is by creating a quiz on Slack (if your company uses Slack) using QuickQuiz. When using a quiz app in Slack, managers can spontaneously create quizzes to test employee compliance knowledge. This can be used as an informal way to test comprehension with minimal effort from administrators. TIP: If using Slack to build and assign quizzes to employees, try gamifying the quiz by providing a reward to the top quiz scorer. A great way to do this on Slack is by using a micro-bonus app like Bonus.ly.

The effectiveness of these 4 compliance training points can be greatly increased when they are supported through clear communication from management. This article on using marketing strategies to increase LMS user engagement talks about the role of management and company communication when creating an effective training program.
About Knowledge Anywhere
Knowledge Anywhere is an elearning company focused on providing flexible, modern learning and development solutions that enable organizations to harness the power of an engaged, knowledgeable workforce.
Our Learning Management System, Virtual Reality Training, and Course Development services, combined with our experience and customer support enables our users to create a learning and development program that boosts sales and drives company growth.
Top eLearning Trends Of 2018
eLearning statistics to help inform your 2019 training strategy.
This infographic highlights helpful training statistics from 2018 such as, top learning technology priorities of businesses, the top 5 barriers to successful modernization of training, and how millennials rank the importance of the inclusion of training and development in their jobs.
Top eLearning Trends 2018
About Knowledge Anywhere

Knowledge Anywhere is an elearning company focused on providing flexible, modern learning and development solutions that enable organizations to harness the power of an engaged, knowledgeable workforce.
Our Learning Management System, Virtual Reality Training, and Course Development services, combined with our experience and customer support enables our users to create a learning and development program that boosts sales and drives company growth.
When implementing a new technology into a business, it's easy to think after a new product is launched, the job is done. So why is no one is using it? Employees at every level of a business have a lot on their plates and learning to use a new technology can be easily ignored or put off.
A great way to increase adoption and encourage engagement from employees is by using marketing techniques.
It might sound a strange, but you are selling a new product to your employees. Although you understand the benefits, they need to be conveyed to your employees. Convince them that it is a good use of their time and energy to stop their daily work and learn how to use this new training platform.
How can marketing help increase LMS user engagement?
Sending out an announcement and putting up a poster in the break room is not enough to encourage people to take the time to learn and use a new tool.
Using marketing techniques will help employees:
Familiarize themselves with the idea of the LMS
Understand the goals and importance of the platform
See how it will benefit them
Know where to go to find support
Let's break these points down to understand their importance, then we'll discuss some ideas of how to convey these points to employees to encourage engagement.
Familiarize themselves with the idea of the LMS
Start with the basics. Maybe your team has never heard of a Learning Management System. This would certainly make them skeptical about why they should be using it. Help ensure that employees fully understand what the platform is.
If you are moving from a previous LMS, highlight how this system will be different and more effective than the last one.
Your new LMS company will be a great resource for this. They will have plenty of resources on what an LMS is and how their platform differs from others in the industry. This is skipped over by a lot of administrators, but it is very important for learners to understand the goals and importance of the new platform.
Understand the goals and importance of the platform
This is skipped over by a lot of administrators, but it is very important for learners to understand the goals and importance of the new platform. Seeing the bigger picture of why the LMS is being implemented can help your learners give valuable feedback and show them why they should make an effort to use the training platform.
See how it will benefit them
Make it clear how this platform is meaningful to them. There were clearly large inadequacies in the previous methods and processes, or you wouldn't be buying a new training platform. Tell employees how the LMS is going to change this for the better. Will training documents and videos be better organized? Will it save them time? Will training be tied to possible promotions or leadership positions? Will gamification get them any rewards or recognition? Ensure that learners know where to go if they have questions about the platform. Who is their contact at your company? If there is a more technical issue with the LMS, who do they email? Will there be a formal training for how to use the LMS?
Know where to go to find support
Ensure that learners know where to go if they have questions about the platform. Who is their contact at your company? If there is a more technical issue with the LMS, who do they email? Will there be a formal training for how to use the LMS?
Learners shouldn't have to guess about this stuff. Remove as much friction as possible with how to login, get support, and who to ask questions to.
Here are 3 ways to use marketing to effectively communicate the benefits of your companies' new learning platform.
1. Start communicating about the new platform well before it is implemented.
Employees should be seeing information about their new training platform well before it is implemented. The "rule of 7" in marketing suggests that people need to see a message or brand 7 times before they are moved to take action. Make sure your learners are familiar with the basics of the new platform before they login. Aim to make sure everyone: know what it is, where to find it, why they are using it, and when it will be launched.

2. Add a note of support from the CEO or other leaders in the company.
Support from top leadership can be a great way to add some more authority to the learning initiatives. Ask the CEO or other leaders to send out an email supporting the new platform and why they are excited for everyone to start using it.
3. Launch to a small group, then move to everyone else.
This idea is similar to creating a case study in marketing to convince other companies to buy your product. Try launching your LMS to a small number of motivated, creative people at your company who will take the time to learn and use the new technology. Ask for their feedback and implement their suggestions. Don't stop there! The next step would be to ask these adopters to be advocates for the platform. Get quotes from them to send to the rest of the employees and have them introduce the LMS to other people in their team.
The main takeaway from this article is to communicate as much as possible with your learners. Make sure that the platform feels familiar to employees by the time they log in.
If you can achieve that, you will get faster adoption and deeper learner engagement than the average business, allowing learning and development to become a competitive advantage for your company.
About Knowledge Anywhere
Knowledge Anywhere is an elearning company focused on providing flexible, modern learning and development solutions that enable organizations to harness the power of an engaged, knowledgeable workforce.
Our Learning Management System, Virtual Reality Training, and Course Development services, combined with our experience and customer support enables our users to create a learning and development program that boosts sales and drives company growth.
Performance support is an area that is often overlooked or under-emphasized to the detriment of productivity. Employees who receive consistent and relevant support while performing their tasks are more productive than those who lack the resources they need. Let's look at what performance support is, how it differs from training and how you can improve it.
What is Performance Support?
30 years ago, The Center For Creative Leadership developed a formula called the 70-20-10 Rule for Leadership Development that's still widely accepted today. The rule states that 70% of learning is experiential, 20% is social, while only 10% is from formal training. While this formula was specifically developed for leadership training, it really applies to any type of learning. Performance Support Tools are resources to help employees while they're on the job.
It's important to understand that performance support is not the same as training. Anyone learning new skills typically receives training to help them acquire new skills. A German psychologist named Hermann Ebbinghaus discovered back in the 19th century that people forget the majority of the information they learn.
According to the Ebbinghaus Forgetting Curve, people typically only remember about 40% of what they learned only a few days ago. After that, the percentage drops even more. That's why you can't count on education or training to teach people everything they need to know to perform a task. Performance support, unlike training, occurs while people are performing their jobs. There are several important benefits of this.
Saves time.
If employees have to stop work to find solutions, it wastes valuable time. Even though they may be able to find answers online or from co-workers or managers, it's much more efficient if there's a dedicated support system in place.
Prevents mistakes.
If there's no support available, people will sometimes make the wrong decision rather than stop work and try to find an answer. With better support, efficiency is improved and errors are reduced.
Supports or replaces training.
Performance support tools reinforce formal training. In some cases, they let you streamline formal training as employees don't need to memorize as much information when they can get live support.
7 Tips For Better Performance Support
Here are some of the most effective ways to offer support that maximizes employee productivity.
1. Let Your Training and Support Work Together
While training and performance support are distinct, they are both important for improving performance. The more familiar employees are with the system on which they work, the less support they'll need on the job. Training, like performance support, should be analyzed with an eye towards making consistent improvements. While it's true that people tend to forget quite a bit of training material, this doesn't render training obsolete. On the contrary, quality performance support can trigger users' memories of what they learned in training. When you identify areas where people typically get stuck, you can make adjustments to the training as well as performance support.
2. Make the Interface User-Friendly
When people commonly have trouble with a certain task or function, you need to offer support to help them get over the hurdle. You can also look into improving the training. However, it's also advisable to see if you can simplify the task. If you make the interface simpler and more intuitive, you may find that users won't require as much support.
3. Identify the Areas of Greatest Need
In order to provide the most helpful support, you need to be aware of where people need help. This requires you to analyze performance and identify the tasks where you see the most errors. There may be certain complicated procedures for which training is insufficient to fully prepare people. Look for those points where you notice delays, mistakes or confusion. Aside from analyzing performance, you can learn a great deal by asking people who are using the system.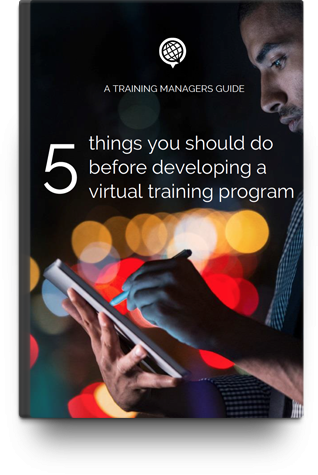 A Training Managers Guide: 5 Things You Sould Do Before Developing A Virtual Training ProgramLearn how to get your virtual training program up-and-running without a hitch with this free guide for Training Managers.
Microlearning is a powerful tool for both training and performance support. This is an approach where people are given small chunks of information that are helpful for a specific purpose. One of the challenges of traditional learning is that knowledge is imparted in broad strokes. Suppose, for example, that you need to learn how to use a program such as Photoshop. There are hundreds of applications to learn, each relevant to a different task. If you actually have to use Photoshop during a project, you need it for a specific purpose. What matters is that you can quickly access the chunk of information you need. Research indicates that, in the classroom, conveying information in bite-sized chunks makes learning 17% more efficient.
People are getting more and more accustomed to using their mobile devices wherever they go, whether for work, socializing, or entertainment. It, therefore, makes sense that offering support via mobile is intuitive and convenient. If employees can easily access information from their mobile devices they can find the answers they need quickly. Here are some of the options that can be integrated with mobile learning.
Videos - Whiteboard animations and other instructional videos are an efficient way to demonstrate tasks. Interactive videos are especially useful for support.
Audios - Webcasts, podcasts, and other audio files.
Interactive PDFs.
Chatting and texting. If you can provide real-time support via a mobile device, it allows users to solve problems quickly.
These and other mobile learning tools are all perfect for microlearning as well. For example, you can create short videos that users can watch on their smartphones or tablets.
6. Keep Support Timely
It's essential that performance support tools are relevant and up-to-date. Technology, programs, and knowledge in various fields advance quickly. If you're teaching any type of compliance training, regulations often change. Make sure your support is regularly updated to include any changes or advances.
To consistently improve performance support, identify your most vital metrics and track results. Whereas learning metrics are concerned with what people have learned, performance metrics focus on actual results. You can observe which support tools improve performance and which need tweaking or replacing.
About Knowledge Anywhere
Knowledge Anywhere is an elearning company focused on providing flexible, modern learning and development solutions that enable organizations to harness the power of an engaged, knowledgeable workforce.
Our Learning Management System, Virtual Reality Training, and Course Development services, combined with our experience and customer support enables our users to create a learning and development program that boosts sales and drives company growth.
The implementation of new technology, such as a Learning Management System can be a large shift for employees. People are used to their workplace routines, and changing their workflow is not easy. In this article, we will discuss how managers and executives can influence organizational culture to increase the value and acceptance of learning and development tools, such as an LMS.
Participation from management and executives:
Workplace culture and expectations are much more impactful when they are visibly adopted and exemplified by executives and managers. Simply telling everyone that they need to complete a training isn't very compelling. It becomes a part of the job but not part of the company culture. However, embodied excitement and participation of a new product by upper management is meaningful and infectious.
What can management do to participate?
Ask employees for their feedback
Recognize successes
Summarize the biggest takeaway from a training
What do all of these points have in common? They all stem from a focus on communicating with employees about the new technology.
How To Implement An Engaging LMS: Plan For LMS SuccessA step-by-step guide detailing the full journey of planning, choosing, implementing and evaluating an engaging LMS.
When bringing a new, complex tool into the workplace, businesses should approach it like they approach marketing for a new product. You need to sell your employees on the tool.
How does a marketing approach help acceptance of a new technology?
WIIFM- What's in it for me?
The first step in marketing a new tool is to identify and convey the benefit to your target audience. An LMS enables employees to further develop their current skill or learn new ones and can provide avenues for growth.
Explicitly listing the advantages to employees about learning and development will promote long-term, sustainable motivation to continually learn through an LMS.
Consistent communication keeps it top-of-mind
Make sure to communicate the value of learning and development to get employees excited. Create multiple announcements from different seniority levels explaining how the learning and development will benefit them.
Don't be afraid to tell your employees that you are excited to make this investment in their professional development and what your goals are with the implementation of this new tool.
Check out this article to learn about other ways to create an impactful virtual learning environment.
Familiarity leads to more use
Once you have sparked the interest of your employees, it's time to get them engaged. Often times, we shy away from trying new things because it takes more conscious effort. To overcome this barrier, employees need to spend time on the platform and get familiar with the tool.
Encourage employees to spend time in the platform by designating a few hours a week for them to do so. Management can also create fun competitions or give rewards to employees who have learned the most on the platform.
One easy way to test this is through a free slack application called QuickQuiz which allows you to build and deploy quizzes to your team via Slack.
These three points show that influencing organizational culture is a process. It takes consistent messaging and familiarity to engage users. Once you start to see the engagement, the next step is to listen to feedback.
Ask for and Listen to Employee Responses
As employees start to engage with the LMS, make sure to ask for and listen to their feedback.
Issues will occur and it is important to listen to employees complaints and act quickly to avoid frustration. Employees want to feel valued and heard. By asking for their feedback and making a conscious effort to fix any problems, you will be supporting the development of a culture that values learning and development.
Implementing a new system is a difficult process and engaging your audience can be even harder. However, being proactive and quickly handling any issues that arise will satisfy your employees and create a culture that values continuous learning.
About Knowledge Anywhere
Knowledge Anywhere is an elearning company focused on providing flexible, modern learning and development solutions that enable organizations to harness the power of an engaged, knowledgeable workforce.
Our Learning Management System, Virtual Reality Training, and Course Development services, combined with our experience and customer support enables our users to create a learning and development program that boosts sales and drives company growth.
Knowledge Anywhere Is Now A LinkedIn Learning LMS Integration Partner
As part of Knowledge Anywhere's commitment to continuous innovation, we are excited to announce that we are part of the LinkedIn Learning Integration Partner Program.
"We're excited to launch this program with our inaugural partners, like Knowledge Anywhere. Organizations will now be able to automatically upload and update all LinkedIn Learning content directly in Knowledge Anywhere's systems, providing a streamlined experience for companies, administrators, and learners, alike," says Scott Roberts, LinkedIn VP of Business Development.
Knowledge Anywhere Learning Management System users can now access more than 13,000 expert-led professional courses from LinkedIn Learning directly from their elearning platform. This integration creates a great opportunity to jump start a new training and development program or add additional value and flexibility to an existing one.
"It is important for organizations to offer quality training opportunities to their employees to help grow their skills and support their success," said Charlie Gillette, CEO of Knowledge Anywhere. "We are pleased to combine LinkedIn Learning content with our Learning Management System to provide increased value to our mutual customers."
Opting in to this integration allows administrators to select applicable courses from the vast, professional, continually growing LinkedIn Learning library and distribute those courses to selected learner groups.
Get your new LMS up and running instantly with quality, off-the-shelf content, or reinvigorate your current training program with this new integration.
See a video explaining this integration here.
Schedule a time to chat about the integration here.
About LinkedIn Learning
LinkedIn Learning aims to provide a solution that fits seamlessly into people's daily work, transforming the way they learn. More about LinkedIn Learning here.
About Knowledge Anywhere
Knowledge Anywhere is an elearning company focused on providing flexible, modern learning and development solutions that enable organizations to harness the power of an engaged, knowledgeable workforce.
Our Learning Management System, Virtual Reality Training, and Course Development Services, combined with our experience and customer support enables our users to create a learning and development program that boosts sales and drives company growth.
It is exciting and daunting to get approval from your boss to move forward with the search for an LMS. An LMS can vastly improve the efficiency and effectiveness of a learning and development program, but it is important to choose a platform that will work best for your organization.
There are the basic question of pricing and features that you will, of course, be asking potential vendors. Be sure to read up on the many great articles and checklists that can help you decide what you are looking for regarding your more straightforward, base needs. However, there are some deeper questions that you should take the time to ask potential LMS vendors to help determine if they will be a good fit for a long term partnership with your business.
Here is a list of 5 critical questions you and your team should ask when talking to LMS vendors.
1. What is on the road map?
An LMS is a long-term, high-value piece of technology, and it will (hopefully) be used across your company for many years.
Because of this, it is important to look for a company that is not only growing, but growing in the same direction as your company.
Go into your search with short-term and long-term training goals and needs to ensure you both match up. You could find the perfect LMS provider for your business now, but you quickly outgrow them. On the other hand, there could be a fantastic LMS company that is lacking a few features you were hoping for, but is quickly growing in the same direction of your training needs.
Going into your search with a plan of what you want out of your LMS in the short term and the long term will help ensure a successful partnership.
Learning Management System Evaluation ChecklistThis checklist will guide you through selecting the right elearning training solution for your organization based on your unique needs.
2. How do we scale?
Along the same lines as our first point, the right LMS should be able to grow with you in a way that makes financial and strategic sense for your business.
Three areas you could grow in that is good to ask about are:
Pricing models for more users
Extended Enterprise for training external stakeholders (customers or contractors)
eCommerce for charging for content
The four most frequent cost structures you will see from LMS providers are:
Pay per registered user and pay per active user
Pay per registered user: Paying for every customer that has registered and made an account in your LMS. You are not paying based on how many employees you have.
Pay per active user: This structure allows you to only pay for users who utilize your system during that billing cycle. Or, you have the option to pay a one-time fee per user when they first sign up on your system.
Licensing
Pay a set monthly or annual license fee for the LMS. This includes a predetermined number of users and specified list of features.
Purchase
Some LMS providers offer the option to buy their product for a flat fee, allowing you to have as many users as you would like.
Free options
Freemium: A basic, free version of their services. The users have to start paying when they utilize certain paid features or exceed a certain amount of users.
Open-Source: This option requires a lot of technical knowledge. Open source LMS providers publish their programming online for free and companies can take that programming and configure it the way they would like and use it.
Whichever pricing model an LMS provider uses, be sure to ask them what happens if you exceed the user limit so you can ensure it is possible for you to grow with the platform.
The extended enterprise LMS feature allows a company to create additional, white-labeled LMS sites that can be used to train external stakeholders like customers, distributors and contractors.
The learning management system's branded look, content and access can be modified to create an separate-feeling, customized experience for learners.
An example of this would be:
Your company manufactures makeup. You bought your LMS to train internal sales representatives. Now you want to expand with an LMS specifically branded for your Nordstrom distributor partner training. You also want to create a separate platform that will be used to train your end users on how to best apply your product.
Extended enterprise would allow this company to create tailored, meaningful content to each external stakeholder with the same LMS.
Be sure to ask potential LMS partners if they have extended enterprise and what the cost is for this feature.
eCommerce is the transaction of products online. Your business' training courses can be sold to employees, external partners and customers in order to generate revenue from the content you are creating.
If selling courses on your LMS is a possible future need or want for your company, be sure to ask if it is possible to enable eCommerce and how much that will cost.
To learn more about eCommerce and extended enterprise, download the free ebook, Grow Your Business Through External Training.
3. Are there any extra perks with the LMS?
Going through the vendor selection process, you might find that a lot of the providers are very similar in the features they provide. One way a provider can distinguish itself is with the extra tools that come with the LMS.
There are a variety of tools but specific ones to look out for are built in content creators, deals on partner products and access to other free elearning tools or apps.
4. What is support like?
Great support is essential for the initial setup and ongoing use of your LMS.
Here are some questions to ask that will give you an understanding of what a provider's LMS support will look like.
Do they have a knowledge base?
Do they have training videos?
Is there a limit to support?
What type of support do they provide? (email, phone, ect.)
Do you get a Project Manager?
There is no specific right or wrong answer; however, you do want to make sure that it aligns with your expectations and needs.
5. What integrations does the LMS have?
Integrations are important for streamlining the elearning process and tracking the understanding of your training impacts.
Single Sign On (SSO)
SSO gives your audience the ability to use a different software for user authentication and login. Your user therefore does not have to create a whole new account with a unique username and password. They could use their same login from, for example, your HR software which simplifies the learner login process and reduces work for administrators.
xAPI
xAPI allows for deeper tracking of your training campaign. xAPI goes further than the current standard, SCORM (Shareable Content Object Reference Model), in its capabilities of interacting with elearning content outside of the LMS.
To learn more about xAPI and how Knowledge Anywhere is using it with the new xAPI bookmarklet called Knowledge Mark, watch this video.
Software and Apps You Already Use
When talking with potential vendors, it is important to make sure their product will be able to connect to other software and apps that you currently use or will be using in the future.
You can save your team a lot of time, headaches and money if you know which tools can connect with your LMS and how you should prepare for that.
It is difficult to search for a new, complex piece of software for a business. There are a lot of variables to consider and a lot of expectations to meet.
The questions listed above will allow you to go past the surface questions about features and pricing and try to make sure an LMS vendor will fully fit with your business needs and goals.
​We know our LMS admins have a lot on their plates, and too many emails to count coming into their inbox. Because of this, helpful and important LMS feature updates can go unnoticed.
We want our LMS admins to know what's new in their LMS so they can get the most out of their elearning system. This is why we have implemented a "New LMS Feature" news feed.
This new news feed will be available in the admin side of the Knowledge Anywhere LMS. Users can conveniently scroll through and see what new features have been recently added, as well as learn about upcoming feature improvements.
To access the news feed, go to your user menu drop-down at the upper left side of your screen and click on the "What's New" menu link. There will be an option to rate the Beamer post as good, neutral, or not helpful. Please feel free to give us your feedback.
Admins will see this update in their Knowledge Anywhere LMS in October 2018.
As always, we are pushing to consistently improve our elearning products to make sure our solutions match what our customers need. We've been listening to user feedback and updating our road-map. ​This quarter we have some great new updates to share with you. Take a look!
Knowledge Anywhere LMS Feature Updates
We have implemented some great feature updates this quarter for both admins and learners.
Some of these updates include:
Simplifying the learner creation process for admins
Adding advanced text editor features to Manage User emails
We will also be implementing Beamer in our LMS for admins to help better communicate our latest LMS feature updates. Learn more about our Beamer update here.
See the full list of updates here.
eLearning Tool Feature Updates
QuickQuiz eLearning Slack App
If you haven't tried out QuickQuiz yet, now is a great time. We just updated the app with some new features that make creating and administering quizzes an even better experience.
In addition to the functionality of the original QuickQuiz, users can now:
Specify a quiz's pass/fail percent
Customize quiz completion notifications
Enjoy improved quiz analytics
Have easier access to support
What is QuickQuiz?
QuickQuiz is a Slack App that allows administrators to quickly create and distribute quizzes to other Slack users.
How could I use QuickQuiz?
QuickQuiz is perfect for HR managers or team leaders of any kind to test knowledge. Send a piece of content to employees in Slack, along with a quiz to ensure the knowledge has been comprehended.
Learn more and add QuickQuiz to your Slack account today!
Scormify SCORM converter
In Scormify, elearning professionals can upload their learning content and quickly and easily turn it into SCORM compliant courses for their SCORM compliant LMS.
This quarter, we implemented a large user interface update, making it even easier to create an account and convert your elearning content.
As a side note, we now offer a free, unlimited Scormify account for our LMS customers. Ask us about it!
About Knowledge Anywhere
Knowledge Anywhere is an elearning company focused on providing flexible, modern learning and development solutions that enable organizations to harness the power of an engaged, knowledgeable workforce. Our Learning Management System, Virtual Reality Training, and Course Development services, combined with our experience and customer support enables our users to create a learning and development program that boosts sales and drives company growth.
QuickQuiz was released in the Slack App Directory in April 2018, bringing fast, easy quiz creation to Slack users. Over 500 organizations across the globe are now using QuickQuiz to test their users' knowledge.
Knowledge Anywhere, creators of QuickQuiz have just released a new version of the app with even more functionalities.
QuickQuiz is a Slack App that allows administrators to quickly create and distribute quizzes to other Slack users.
In addition to all the features of QuickQuiz 1.0, users can now:
Specify a quiz's pass/fail percent
Customize quiz completion notifications
Enjoy improved quiz analytics
Have easier access to support
QuickQuiz for elearning.
Managers and team leads can utilize the quiz app as a free elearning tool for their teams. Administrators can send a piece of content to employees in Slack, along with a quiz to ensure the knowledge has been comprehended.
In this way, administrators can quickly assess their team's knowledge and learners don't have to leave their regular workflow to do it. Everything can be done right from a company's Slack channel.
Find more information about QuickQuiz and add it to your team's Slack here.
Knowledge Anywhere consistently strive to improve their elearning products, as well as create new tools for elearning professionals. Follow the link to learn about another free elearning tool they have created called Scormify, a SCORM converter app.
To help the elearning industry function smoothly, there have been standards put in place to allow elearning content and systems to work smoothly together.
The standard that is currently most widely used is called SCORM (Shareable Content Object Reference Model). Looking forward, there is a new standard called xAPI that is being reviewed and refined.
Although xAPI is not standardized or widely adopted yet, LMS professionals and LMS companies alike are excited about the possibilities it brings.
Why are people excited about xAPI?
xAPI allows for interaction with a wide array of objects. It is not limited to interacting with elearning content within the LMS.
xAPI creates activity stream data, enabling deeper tracking capabilities
What is an example where xAPI could be used for elearning purposes?
Say you are working at a cutting edge solar panel manufacturing facility and you find a helpful research paper on a new type of material. If that company is using an xAPI enabled LMS, that employee can read the paper and add it to their LMS learning records.
How is Knowledge Anywhere using xAPI?
Knowledge Anywhere has created an xAPI bookmarklet that allows learners, like the solar panel worker, to have a button in their internet browser that records selected pages in their LMS transcript.
Want to learn more?
Here is a short video explaining xAPI capabilities and Knowledge Anywhere's new xAPI bookmarklet called Knowledge Mark.
Knowledge Mark xAPI explained.


About Knowledge Anywhere
Knowledge Anywhere is an elearning company focused on providing flexible, modern learning and development solutions that enable organizations to harness the power of an engaged, knowledgeable workforce.
Our Learning Management System, Virtual Reality Training, and Course Development services, combined with our experience and customer support enables our users to create a learning and development program that boosts sales and drives company growth.
Learn more about Knowledge Anywhere's other elearning tools and applications.
​If you have worked with an LMS before, you know that in order to upload eLearning content into the eLearning platform, it needs to be in a SCORM compliant file format. Today, Knowledge Anywhere has released its second generation SCORM converter, Scormify.
Scormify was created to help training professionals easily take their current content and convert it with the click of a button.
The app allows administrators to convert videos and documents. Convert content from:
Vimeo
YouTube
Rehearsal VRP
Generic video streaming files
PDF
DOCX
More about SCORM
SCORM is a universal standard that the eLearning industry has decided to adopt to facilitate consistency in instructional content. The standard ensures that SCORM compliant content can be used in any LMS that is also compliant (most of them).
A lot of people explain the concept by thinking of an LMS as a DVD player and the SCORM file as a DVD. There is a standard in place that requires all DVD's to play in all DVD players. Without SCORM, Learning Management Systems would all have different requirements for a piece of content to work with their system.
A SCORM compliant file also allows for tracking withing the content. So eLearning administrators can track how much of a video a learner watched, or if they successfully opened a PDF.
How is it typically used?
An eLearning professional will usually create and design their content in a course authoring tool (we like Articulate Stroyline). Then they will need to convert it into a SCORM package in order to upload that content into their SCORM compliant LMS.
Have a video or document ready to convert into a SCORM package?
"Why are you leaving the company?"
This is the question commonly asked during an employee's exit interview. It is great to take the time to conduct an interview with an exiting employee, but it won't (99% of the time) change the fact that you are losing that employee and everything you have put into them. Instead, improve processes and prevent employees from wanting to leave in the first place with "stay interviews."
Stay Interviews and Their Purpose
What is a "stay interview"?
A stay interview is an interview conducted after the employee is onboarded and settled into their new position. It focuses on getting feedback from the individual about their experience at the company thus far and what suggestions they have to improve that experience.
This interview session will provide a couple of key benefits:
Your new employee feels valued and heard
Their feedback can help improve efficiencies
Stay interviews can be conducted several times throughout an employee's career at a company. However, it is best to conduct the first stay interview after the employee is settled in and familiar with processes but is still new enough to have an outside perspective.
Although there is no exact time that works for every business and employee, 3-4 months after hiring is a good time to start thinking about conducting a stay interview.
Who should conduct the interview?
It is important that the interview is not conducted by the employee's manager or anyone else they are close to. Instead, try having someone from HR, or a third party do the interview to ensure that the employee feels comfortable sharing their genuine feelings.
What is the most important part of a stay interview?
By far, the most important part of a stay interview is that the employee feels safe sharing their feelings and suggestions about their onboarding process and current business procedures.
Your business will not receive valuable, usable feedback if you are not ensuring a safe, emotional environment.
Top 5 Questions to ask during a Stay Interview
The purpose of these questions is to highlight the potential problems before they become an issue worth leaving over. Rarely can you change an employee's mind when they are ready to leave because they are dissatisfied with their job, so it is important to be proactive.
What is most satisfying or what do you like best about your job?
How do you feel you are contributing to the company's success?
What would you change about your job, the company, the culture?
What is one change you would make to your onboarding process?
Do you feel you have the tools, resources, and working conditions to be successful in your job? If not, which areas could be improved and how?
Why are Stay Interviews Crucial for the Success of your Business?
According to the US Bureau of Labor Statistics data, three million employees have voluntarily left their job every month for the past year. The top reasons employees are leaving are due to poor onboarding experiences, not acquiring proper directions or support, and inaccurate job descriptions or expectations. This is extremely problematic due to the cost of replacing an employee.
For any position, turnover is expensive. It costs an average of $4,000 to hire any new employee according to a SHRM study, and recent research suggests that the cost of replacing a highly-trained employee or executive exceeds double their annual salary.
The best way to lower the costs of turnover is to lower your rate of turnover. Stay interviews are a great way to achieve this as well as a modern onboarding training program to ensure new employees are off to a good start.
Stay interviews are a proactive and efficient way of checking in with your employees and your onboarding and training processes to increase employee satisfaction and lower turnover. If suggestions are brought up during a meeting, be sure to listen and implement them when you are able. Even little changes can have a big impact on the attitude of that employee and future employees.
About Knowledge Anywhere
Knowledge Anywhere is an elearning company focused on providing flexible, modern learning and development solutions that enable organizations to harness the power of an engaged, knowledgeable workforce.
Our Learning Management System, Virtual Reality Training, and Course Development services, combined with our experience and customer support enables our users to create a learning and development program that boosts sales and drives company growth.
Reaching out to your external partners is critical for the success of your business. Having an extended enterprise LMS feature gives you the ability to expand and be more involved with your external stakeholders. An Extended Enterprise (EE) LMS feature gives your platform the flexibility to be used for different training scenarios without needing to create multiple different LMS platforms.
What is an Extended Enterprise LMS?
An extended enterprise LMS is a training platform that is capable and optimized for use in training people outside of the immediate organization. For example, this might include product training for vendors, outside sales reps, or customers.
Here are the top 6 features to look for in an extended enterprise LMS.
1. Customization and Personalization
Customization and personalization in your extended enterprise LMS are important for both your company and your customers.
Branding for your own company:
Having the ability to customize and personalize the user interface allows for the integration of branding and messaging. Being able to choose the images and color scheme that are used on the site enables the learning platform to become a seamless extension of your company.
Branding for external partners:
Larger partners may require the creation of their own branded extension of your learning management platform. If Safeway is a distributor for my wine business, I will probably need to have a learning platform branded for Safeway specifically. In this way, having the ability to customize and personalize your EE learning platform is crucial.
2. Reporting and Analytics
Your job doesn't stop once you have the extended enterprise LMS set up. Data needs to be calculated and analyzed to make sure that your investment is effective and what areas can be augmented to be even better.
In order to do this, the LMS needs to have the capability to analyze and run reports on the extended enterprise platform data in a meaningful way.
Make sure the reporting has the ability to fulfill your company's needs. Ask about automated reporting and delivery, report integration and reporting visualization.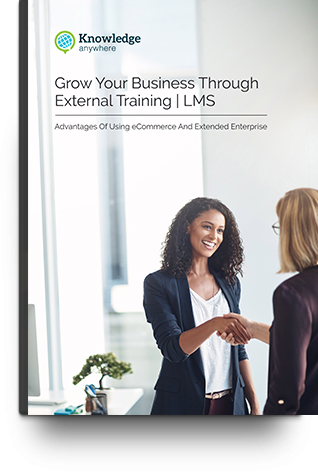 Grow Your Business Through External Training: Advantages of using eCommerce and Extended EnterpriseBecome an expert on how to use eCommerce and Extended Enterprise LMS features to train external partners.
3. Compatibility and Integration
An extended enterprise LMS must be able to work with your current software and content. Your team will a lot more work if the system does not integrate or work with current business processes.
The extended enterprise LMS must have the ability to use integration features such as Application Programming Interface (API). Being able to integrate webinar courses into your training curriculum and manage the engagement results through API allows for deeper learning tracking.
4. Single-Sign-On
Single-Sign-On gives your audience the ability to use a different software for user authentication and login. Your user, therefore, does not have to create a whole new account with a unique username and password. They could use their same login from, for example, your HR software.
This simplifies the learner creation, authentication and login process, reducing barriers for your users and encouraging the use of your extended enterprise LMS. Because the trusted authenticator managing the sensitive information of your users, there is reduced work for administrators as well.
5. Mobile Friendly
External stakeholders are normally geographically dispersed, and they need to access training programs on the go. With mobile learning capabilities, your company can develop and distribute learning courses on any device enabling users to access these courses virtually anywhere. Look for a responsive LMS that automatically scales to meet any screen size.
Mobile learning also supplements the concept of microlearning. Microlearning gives users quick and specific information anywhere at anytime. One of the top benefits of microlearning is it is ideal for Just-In-Time learning which provides learners the information they seek at exactly the right time.
6. Localization Support
As your company expands, you may need to be engaging with different audiences around the globe. When distributing content to global audiences, localization must be an element of your extended enterprise LMS. Having the ability to use a multilingual user interface which can be translated into any language, lets you focus on researching and developing the specific content that matches the needs of the target country or market.
These features will allow extended learning to quickly and effectively reach all of your external partners which will allow your company to scale.
If your company is looking to make an investment which will lead to an increase in revenue, decrease in costs, and improvement of productivity, expanding your learning beyond the internal walls of your organization with an extended enterprise LMS is a must-do.
Schedule a Demo to learn more about our extended enterprise LMS feature.
Owning a small business is not easy. The business is trying to grown with minimal resources and every decision to move forward in one direction might close a door for another direction.
A learning management system can be a great decision that allows your company to streamline training and catapult growth. Or, if it is not used properly, or the cost of resources isn't properly planned out, it could hurt your business.
This article is an great resource to help you be informed about finding a training solution that fits your needs and your budget as a small business.
We will go over:
The different types of elearning options for small businesses
6 reasons that an LMS can be worth the cost, even when you are a small business
Now, let's start by defining what cloud-based training is so that you can articulate its benefits to your leadership team as you rally support for a learning management system for your small business.
What is cloud-based training?
Cloud-based training, unlike in-person training, is learning that is delivered via the internet. A cloud-based LMS, or SaaS (software as a service) LMS is a training platform that helps a business organize, assign, delivered and track that cloud-based training through their personal online portal.
Similar to in-person training, cloud-based e-learning helps facilitate the exchange of knowledge between subject matter experts (or instructors) within your organization, and less knowledgeable employees or new hires. The primary difference is in how that knowledge is delivered, tracked, and managed.
Cloud-based training makes the training process more accessible, reliable and consistent within your small business.
How To Implement An Engaging LMS: Plan For LMS SuccessA step-by-step guide detailing the full journey of planning, choosing, implementing and evaluating an engaging LMS.
Now, that we've covered what cloud-based training is, let's dig deeper into what the options are for a small business looking to move from traditional, in-person training to online, cloud-based e-learning.
Cloud-based e-learning options for small businesses
If you've started searching for an affordable LMS, you've likely come across an array of online training software options ranging from $0/month to upwards of $10,000 or more a month. While this array of options can appear overwhelming at first, as a budget-conscious Training Manager you'll want to get the most bang for your buck. In this case, there are two clear options to evaluate—an open source learning management system and a SaaS learning management system.
Open source learning management system
An open source learning management system is a low cost, or free downloadable LMS software.
Open source LMS includes basic learning management features and can often be download directly from the providers website and start using it right away. If this sounds like a good option for you, Moodle is a good place to start. There are other free alternatives available as well, like CourseSites by Blackboard, Sakai, Latitude Learning, Dokeos, eFront, Schoology, and ILIAS. All of these options provide a basic cloud-based e-learning option for free.
The biggest upside: Using an open source LMS is FREE! It won't cost your organization anything to download the software.
The biggest downside: Although open source LMS solutions don't require an initial investment, they only offer the most basic learning management features—making it difficult for organizations to get what they need out of the system without customizing it. Often, corporate customers that use Moodle invest a large chunk of change into integrating it with other software programs and making it more applicable to their business needs.
SaaS learning management system
As described earlier, a SaaS (software as a service) LMS is a cloud-based learning platform.
For most, a SaaS learning management system is going to be the best platform to deliver corporate training materials. This type of LMS often has more robust functionality, with the ability to integrate with other software programs that your business uses every day. You will also get access to onboarding training and customer service representatives.
There are many options for a SaaS-based system in the market, though many of the options are catered toward medium to large organizations with a bigger budget for cloud-based training delivery. However, there are a variety of LMS providers that offer reasonably priced options for small businesses. Let's look at the best LMS options available for organizations with less than 500 employees to see the cost of implementing an LMS.
Five SaaS Options for Small Businesses
Knowledge Anywhere: For 500 active users it is $799/month, or $1.60/employee/month. Learn more about all the features included in our LMS pricing.
Litmos: For 500 active users a month it is $1,500, or $3/employee/month.
Digital Chalk: For 500 active users it is $699/month, or $1.40/employee/month.
MindFlash: For 500 active users it is $599/month, or $1.20/employee/month.
Unboxed: For 500 active users it is $799/month, or $1.60/employee/month.
The five SaaS options mentioned provide an affordable and feature-rich option for a cloud-based training system for a small business on a tight budget.
Still not convinced that paying for a cloud-based training system is doable for your small business? Keep reading to learn why an LMS is worth the cost.
As a small business with less than 500 employees, you're running on a much tighter budget than the giants. As such, you may wonder whether or not a learning management system falls under the list of things your business genuinely needs or if it's something that you can do without. Here are 6 benefits an LMS can provide to your small business.
1. Keep All Your Training Materials Together and Easily Accessible
A learning management system allows you to more effectively manage employee access to vital training materials—that is, it allows them easy access to everything they need to know at any given time. Not only are all the materials in the same place, which means there's no need to go digging through several people's offices to find the relevant materials, organizing your training materials in a learning management system offers some other benefits.
Ensure that you can always find the materials when you need them, rather than needing to "wing it" or recreate them every time you offer the same training
Offer employees who have been with the company longer the ability to access information from old training modules, refreshing their knowledge and understanding when necessary
Ensure that every employee is using the most up-to-date version of your training materials, rather than the outdated version they just happened to get their hands on
2. Streamline the Training Process
In many training sessions, employees find themselves listening to information they don't need to get the information that they do. For example, the employee may already be familiar with safety regulations in the industry (and able to pass a quick quiz to prove it) but struggle with the specific procedures for your organization.
By providing only the information that employees need to know in a smooth, efficient manner, a learning management system makes it much easier for employees to complete the training process. That means they can get back to work faster!
3. Cut Organizational Costs
When you decide to use a learning management system, don't just consider the initial cost of the project. Consider the costs that it saves you in the process! This might include:
Travel costs for a trainer
The cost of hiring a trainer in the first place
The cost of printed materials
The up-front cost of a learning management system is designed to be manageable for businesses of all sizes. Before deciding that it's "too expensive," consider what you're spending on training already. You might be surprised by what you can manage!
4. Track Your Training More Effectively
Some types of training, like safety training, are required on a regular basis, whether by your business or by your industry. Other types of training are mandatory for new employees to complete within a specific period. Still, others must be completed by all employees before they can use new equipment or engage in new processes. Learning management systems don't just allow you to provide the information to your employees. They also make it possible to track it! They can:
Show you how employees scored on assessments
Send employees reminders of the fact that they need to complete specific training modules
Determine which employees have completed training and which ones still need to do it
Give you the dates when specific employees last completed annual training requirements
5. Offer Better Feedback Opportunities
Learning management systems allow you to provide the same training to every employee in your company. They also provide you with the opportunity to collect feedback from your employees as soon as they finish a course.
Rather than bringing it up in the discussion later or telling them to submit information that they might later forget, you can assess employees' understanding of each module along with their final material assessments, completing it as a natural part of the process. This will allow you to refine your training to offer exactly what employees need to be successful, ensuring that there's less wasted time both throughout the training and after, when employees may need to go back and revisit information.
6. Update Training Materials More Easily
When you use a learning management system, updating your training materials is as simple as altering the document, then making the new copy available. Updating paper training materials can be complicated: you have to track down every copy of the materials and replace it with a new one, then make sure that everyone knows not to use the old copy of the materials.
That means that small changes are more trouble to make than they're worth, and big ones get put off for as long as possible! With a learning management system, however, you can update your training materials with ease and get them in your employees' hands fast, whether you're creating an update in answer to a common question, correcting an error, or providing updated information.
Conclusion
If you take the time to do your research and find a platform that fits your current and future needs at a cost you can afford, a learning management systems is a great option to increase efficiency and consistency in your small business.
About Knowledge Anywhere
Whether you are just starting your search or have already looked at some platforms, sometimes it is nice to talk to an expert to help prioritize needs and see what your options are. If you would like to talk with someone about your needs, feel free to reach out to us.
With over 20 years in the elearning business, Knowledge Anywhere is happy to help you achieve your training and development goals.
Regulatory compliance training has a bad reputation for boring presentation, being little more than a box-checking exercise. While that in itself may not concern many managers, the fact that bored learners don't remember much from the training should raise eyebrows.
With all the advancements in technology and the recent focus on employee satisfaction and engagement, businesses are putting an emphasis on their compliance training.
Here are some tips for creating enjoyable, effective compliance training.
Keep It Real, Keep It Relevant
Employees retain information better when they see how it is relevant to their lives and jobs. One way to achieve relevance and be sure your learners stay engaged is to use scenarios. Create every day, recognizable situations employees face in their jobs. Portray these scenarios with sympathy for the frustrations your workers face and you'll have their attention and appreciation. This process makes your employees more receptive to the information while making it clearly relevant, easier to remember and easier to apply.
Because the content you need to present in compliance training can be boring, present short chunks of information mixed in with relevant portrayals showing workers using the information in action. Present a variety of media and interactions to switch focus from reading to hearing, to responding, to watching. You can use short, fun videos that aren't necessarily educational to give their minds a brief rest before going onto something more in-depth. Keep their senses engaged and you will minimize boredom.
Takeaway Tools
Even the most engaged learners don't remember everything from a training they watched once. Try creating takeaway tools that they can easily download and refer to later. This could be as simple as a procedural checklist, or an infographic.
Keep It Conversational
Yes, the information in your training course is stuffy and dry. So the last thing you want to do is use stuffy and dry language when you present it. A conversational tone in simple words keeps your learners engaged and listening. It also increases course effectiveness by making it easier for them to absorb the material.
It's true that compliance training is serious business, but that doesn't mean it can't be engaging. The more effort you put into making the training fun and engaging, the better compliance results you will see.
Tailored Learning
There is nothing worse than generalized training that doesn't apply to an employee. Take the time as much as possible to assign learner specific training. One of the best ways to do this is through a Learning Management System. These systems are cloud-based platforms that allow administrators to keep training organized as well as create custom learning paths for employees and record and report on learner data. Learn more about a Learning Management System here.
Knowledge Anywhere can help you prepare effective, engaging and relevant compliance training.
With some of the best minds in the business, Knowledge Anywhere offers the experience and expertise needed to improve your compliance training materials and outcomes. Our Learning Management System gives you the tools you need to implement, track and manage your e-Learning objectives.
The 5 steps to effectively implement microlearning into your training strategy are:
1. Develop Microlearning Training Goals
2. Create a Comprehensive Lesson Plan
3. Encourage Employees to Continually Use Microlearning
4. Make Your Microlearning Easily Accessible Anytime, From Anywhere
5. Evaluate Results To Improve Your Employee Training
With the various advantages of microlearning, it is essential to learn how to effectively implement these strategies into your employee training. This article explains how these 5 steps will improve your employee training program.
What is Microlearning?
Microlearning is a type of learning that consolidates and delivers short, targeted nuggets of information to the user. It allows the user to get the information they need in a short period of time, usually 2-5 minutes. The modern learner is estimated to have 1% of the work week available to dedicate to training and development which makes it necessary for a business to provide training information in short and informational bursts.
Microlearning has various advantages for both learners and businesses. A few of the main advantages that microlearning can offer your business are:
Improved Knowledge Retention
Reduced Costs
Compatibility with Mobile Learning
Different types of microlearning that can be used in your business.
A rising misconception is that microlearning can only be in the form of video clips. Even though short videos are a great way to deliver information to your employees, microlearning can be more than quick YouTube "how-to" videos and TED Talks. Other forms of microlearning can include:
Interactive modules
Gamified activities
Short Articles
Infographics
Questions/surveys: QuickQuiz is a great application that allows you to quiz employees on their comprehension of learning content via Slack
These forms of microlearning enable you to easily implement microlearning into your training strategy.
Now let's discuss the ways to effectively use microlearning.
Here are 5 Steps to Effectively Implement Microlearning Into Your Employee Training
1. Develop Training Goals
When developing any training course, it is most important to figure out your goals and how you want to use it. Microlearning can be used for quick questions that employees might have, continuing educational modules, and tips and trick for success.
Some basic questions that should be outlined and answered before you start to create any content are: What problems do you want to solve? What behaviors do you want to address? How do you want to track results?
Learn more about how to create employee training goals.
2. Create a Complete and Cohesive Course
After your main goals have been decided, you can start creating courses that incorporate learning objectives or pinpoint a behavior you want users to learn through your course. Courses must not be fragmented nor have cliffhangers, and it is NOT effective to cut up a long video into shorter pieces. Instead, there should be a full concept covered in each piece of content.
3. Encourage Continual Use
Microlearning is most effective when it is implemented into a training and development program continuously, improving knowledge retention. Users should have the ability to easily access these informational training courses any time to boost their long term memory, and quickly find an answer if they do not remember it.
Some tricks you can use to ensure that your microlearning content has the most impact and are accomplishing your goals are:
Spaced Repetition: Practicing a new topic over increasingly longer intervals in order to deepen memory.
Retrieval Practice: Strengthening memory by using questions to recall information.
Confidence-based assessment: Improving memory and self awareness by distinguishing what you think you know vs. what you actually know.
4. Make Microlearning Content Easily Accessible
Employees often wear many hats at work and are swamped with heavy work loads. To increase productivity, training courses should be able to fit in their day-to-day workflow. Pairing microlearning courses with mobile learning can allow users to access and complete training courses anytime and anywhere.
A great tool to look for in creating accessible content is a Learning Management System. Learn how it can streamline training and help users easily access microlearning and other training content here.
With company wide acceptance and continuous use, you will be able to collect a large amount of data about your learners. Microlearning allows managers to see the exact information that employees have or have not learned and how this knowledge connects to their job performance. Analysis of these results will allow you to track the successful areas of your training program, pinpoint the problem areas and continuously optimize training.
Of course, a business needs a tool that can track results and help managers assign customized content to the right learner. This again is where a learning management system (LMS) is critical to success.
Microlearning is not the perfect fit for all of a business training needs. The purpose of microlearning is to provide short, targeted nuggets of information and not all training subjects can be delivered in this fashion. In order to have an effective employee training strategy, it is important to think of microlearning as a part of the overall toolkit for your training program.
Interested in including Microlearning in your Training program?
See how Knowledge Anywhere, Inc. has helped Siemens Healthcare Diagnostics deploy a Microlearning program to efficiently education its point-of-care professionals.
There are four basic aspects a potential employee will look for in a company- fare payment, good benefits, a healthy environment, and a good fit for their skills and goals. However, in today's world those four aspects may not retain all employees. According to the Bureau of Labor Statistics, the national unemployment rate has hit a low of 3.8% in May 2018. Because of this, employees feel that they have more flexibility to explore the workforce and leave a job if it is not satisfying their needs and goals.
To avoid high turnover, it is important that any new employee starts off with a strong base of knowledge. This starts with an effective onboarding training program. An effective onboarding training program improves employee engagement encouraging them to stay for the long run. When an employee begins their role with a secure foundation, your company will see improved employee retention rates resulting in less turnover costs and improved productivity.
Before we get started:
First things first, it is necessary for every company to have a training plan that is written down. A company is setting the standards and expectations for the employee during the onboarding process, and it is a major red flag to them if a company does not have an organized, documented training plan ready to go. Be aware that training might have to be tweaked to fit the needs of different roles. One size rarely fits all for onboarding across a company.
These are four aspects make a modern onboarding training program successful.
1. Increase Knowledge Retention by Extending Training
People can not retain all the information they learn in a couple days of intensive training. Spreading the training out over three weeks and adopting micro-learning techniques is the best way to engage new employees and ensure that the expectations of the job are being upheld.
The reason for this is no one can remember the "welcome to the company" training that goes for eight hours straight on the first day. It is not realistic to invest in three weeks of 100% training plan before the employee is up to speed. An effective training program should be moderated with a cadence of things to do for the first two or three weeks.
2. Modern Delivery and Methods
As technology advances in our daily life and in the business world, employees have expectations that they will be trained with modern methods through modern delivery. Businesses that train using outdated classroom sessions can be a major warning sign for new employees. Onboarding should include methods such as online learning, videos, podcasts, and webinars. With shortening attention spans, it is a good idea to try to implement micro-learning, where learning is shortened as much as possible and split into several modules.
In addition to modern methods, modern delivery is just as important. eLearning platforms have made drastic changes in the last twenty years, and if a company is not utilizing the tool, it is an indication that the organization is not keeping up with the times. eLearning platforms, such as an Learning Management System (LMS) creates the ability to easily customize learning plans for employees and keep track of what they have learned and how well they know it. It upgrades an onboarding program to be more organized, efficient, and effective.
This being said, a majority of people find a blended approach as a rich way to learn. A mixture of deliveries and methods of training such as video based, hands on, and in person collaboration, encourages an effective training program for a variety of modern learning styles.
3. Basics Up Front
The immediate questions a new employee will want answered are Who their manager is? Who their teammates are? How will they get paid? What are the values of the organization? How will their performance be measured? In order to satisfy these questions, a company's training program must include the basics up front. These type of questions should be answered in the first hours of the first day because they are what the new employee wants to know right away. Even though the other aspects of training are important, these basic questions should take precedent due to the fact that they are the vital questions the new employee wants answered immediately.
4. Ongoing Resources
When a person joins a new organization, they are inundated with new information. No one can remember everything that is covered in the first week, or even the first month when they start their new job. In order to solve this problem, there needs to be ongoing, available resources in order to allow employees to revisit trainings when they have forgotten a concept or process.
Some resources to make available to new and established employees could include webinars, ongoing elearning, and opportunities to sit in on cross functional training. The onboarding training program should also include daily or weekly check ins for the new employees to make sure everything is going well and to give them the opportunity to ask any questions that have come up during the training process.
Nothing is worse than having an employee get off to the wrong start by not understanding something or interpreting how things work incorrectly and then leave. It is difficult and expensive to recruit a new employee, so a company should not want an employee to leave due to an unsuccessful onboarding training plan.
An effective and ongoing onboarding training program gives substantial value to your employees and company. A modern onboarding training plan that includes these four aspects can make a new employee more productive while reducing turnover giving your company a competitive edge.
Ready to take the next step in saving money and boosting new hire productivity with a Learning Management System? Learn the steps to training success by downloading our free ebook, How to Implement an Engaging LMS: Plan for LMS Success.
When a sales team knows their product offerings inside and out, potential customers can tell. The better your sales team knows your products, the more effectively they can recommend the items and services that will work best for your customers. They can better answer questions about the products and develop a customer's confidence in the company and in the product.
This article explains how establishing an online product training program is an efficient and effective way to create and maintain a sharp, talented sales team.
Why Spend The Resources To Move Sales Training Online?
Put simply, because of: Flexibility, efficiency and effectiveness.
Flexibility:
Online training gives a businesses the opportunity to easily construct and tailor a sales training program for a particular person or group of people. Moving training online also opens up the opportunity for blended learning. People learn in different ways, exclusively learning from a classroom setting or online might not work for everyone. Having a blend of learning mediums such as, some training done through video, some through a slideshow, other training done in person, will help drive home the training for different people. Flexibility is also introduced with online learning through the opportunity to learn from anywhere with internet, any time.
Efficiency:
Having in-person training can be great for some topics, but most of the presentations would be just as effective if they were recorded and put online. That would also free up the instructor to make new training curriculum, or improve the current one. Documents that need to be distributed to every employee can be kept in one, easily-accessible place for learners. Online training also provide in-the-moment training when a sales person is on a call and needs an immediate answer to a product question.
Effectiveness:
As stated above, not all learners internalize knowledge the same. In addition to the way they receive knowledge, consistency is also very important. Learners should not be expected to remember everything they are taught when they see it one time. With in-person learning, it would be hard to revisit a topic. With online learning, it is easy to reassign learning after a certain amount of time, or make a series of videos, spaced out over a period of time to ensure a concept is learned.
Key Advantages That Online Product Training Offer Your Employees And Administrators
Online product and services training can offer employees a number of key advantages, that can be passed on to customers. Consider these key benefits:
Easily spread announcements about—and a better understanding of—new products as they are released.
Ensure consistent messaging across sales channels that will enable customers to receive the same experience no matter how they choose to interact with your company.
Decreasing the need for calls to support personnel, since employees have the answers themselves and know exactly who to call when they have questions or concerns.
Increased understanding of products, how they work, and what their shortcomings are in order to make it easier to answer key customer questions.
When your employees know more about the products they're selling, they're able to pass that knowledge on to the customers they're working with—and that means more satisfied customers who are more likely to turn to your company for their purchasing needs.
Solid product training can help boost sales by 45-50% or more for one simple reason: employees who know what they're selling are in a better position to help customers find the product they're looking for. Firms that use this strategy will be more likely to see sales teams that are able to regularly meet their quotas, ultimately leading to more satisfied customers.
Online Training: The Key to Product Training Success
Online training offers a number of key advantages, here are some things to keep in mind when you are building an online sales training program.
Open Communication:
Keep open communication with your sales representatives. What do they like and dislike about their current training procedures? What do they want more training on? This will ensure that you are putting resources in the right place and are continuing to move your training program forward.
Getting The Content Right:
Content is a huge part of starting up a new online training program. Take the time to think about the content you will be requiring for your sales team and try to make it as engaging as possible. Not every training concept can be exciting, for those topics, try to make it as short as possible.
Micro-learning:
Micro-learning is the concept of splitting training up in to manageable, bite-sized pieces. The introduction of the internet into our daily lives has shortened peoples' attention spans. Be attentive to current trends in training and try to split up your content into smaller modules.
Interactive Training Scenarios:
Something that we have found to be extremely effective is interactive training scenarios for training sales teams. For example, an administrator will make a video of a customer scenario. The sales person will watch the video and record how they would respond to this person. This form of online training introduces an engaging, effective form of learning that allows sales people the chance to practice in a fairly real scenario. Then the administrators can watch the response and give feedback, improving their skills.
Implementing an online product training system is one of the most effective ways to increase salesperson knowledge and, therefore, increase your overall sales. If you are looking to build an online training program for your sales team, Knowledge Anywhere can help you achieve your goals.
About Knowledge Anywhere
Knowledge Anywhere is an elearning company focused on providing flexible, modern learning and development solutions that enable organizations to harness the power of an engaged, knowledgeable workforce.
Our Learning Management System, Virtual Reality Training, and Course Development services, combined with our experience and customer support enables our users to create a learning and development program that boosts sales and drives company growth.
Building content for a new learning management system is not exactly a walk in the park. Choosing, creating, and implementing the right elearning content takes time and resources in order to make sure that each lesson is consistent, engaging, and packed with useful information. You need learning material for everything from basic company policies to highly specialized in-line training and collecting the right content doesn't happen overnight.
But while you're wracking your brain for more dynamic ways to convey content, have you ever considered incorporating the trend of employee-sourced video learning? With just a few nudges in the right direction, you could go from a one-person-content-machine to floating on a tidal wave of original company-specific educational content spanning every department and employment level. The key is knowing how to ask, and how to make it easy.
Peer Learning is Always Present
Peer learning occurs when one coworker takes time out of their day to explain something to another coworker. In other words, it happens all the time in every industry. There is always on-the-job training even when official training happened in a little classroom far from where the work actually gets done. Old hands train rookies and those rookies eventually graduate to guide the next wave of new employees through "the ropes."
However, when employees enact peer learning on their own, the time lost to the explanation is lost every single time. They can only provide training to people who are there even if their explanation was particularly good and would be worthwhile for all new department members to hear. That is where the video aspect comes in.
Let's take a look at seven effective approaches to gathering more high-quality and highly-relevant training video material than you have ever dreamed of.
1. Make an Introductory Video to Introduce Peer Learning
You are about to ask your entire team to start making videos with mobile phones or webcams. Many will find this strange and a little embarrassing at first. Show everyone how the platform works and what a good example looks like.
It's okay if you're not movie-star perfect because neither will everyone else. All you have to do is point the camera at yourself and speak with confidence about what peer learning is, why you're implementing this plan, and that it's going to be great. Using helpful tools to create videos also helps!
2. Take a Few 'Test Flights'
While everyone's getting used to the idea of making educational videos for each other, set up a workstation to do just that and take a few brave volunteers. It doesn't matter at first what they talk about and they could recite tongue twisters or quote their favorite movies during this first part. What matters is that the team together starts to become comfortable with the technology, the platform, and the idea of making videos. Show the team how to access created videos by playing back your 'test flights' and everyone can have a big laugh together about whatever was said in testing.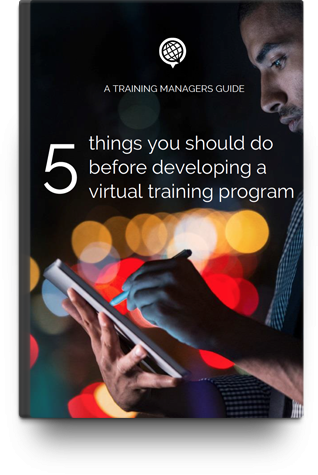 A Training Managers Guide: 5 Things You Sould Do Before Developing A Virtual Training ProgramLearn how to get your virtual training program up-and-running without a hitch with this free guide for Training Managers.
3. Encourage Everyone to Share Something Interesting or Useful
Now that the ice is broken, encourage everyone to either take a turn at the one station or go back to their personal workstations to make at least one video about something useful or interesting to the team. This time, it needs to be work-related but don't over-direct.
This could easily be the first time some of your employees have ever pointed a web camera at themselves so privacy and decorum are surprisingly important during the introductory phase. Sit back and watch the videos appear on the platform as they are submitted. If you watch the videos right away, do so quietly without getting the team's attention while they finish up.
After the first round, make it clear that part of the peer learning program is the belief that every employee has something to contribute to the training archive and consider scheduling time at least once every couple of weeks for employees to make at least one informative video. Not all the content will be golden, but some clips could be good enough to use for years.
4. Encourage the Team to Watch All New Videos
Now that you've established that there will be a steady influx of new videos, encourage everyone not only to make videos when they think of something that should be shared, but to stay current by watching any new videos that appear on the platform.
While the number of videos will eventually be massive, for now, you have just introduced a new social media style bonanza of content, laughs, and deeply interesting little missives. You might be surprised just how eager, if strategically understated, your team will pick up on both making and watching each other's videos.
5. Identify Team Experts and Encourage Them to Make Lessons
Now that you have the entire staff committed to videos and sharing their best information on the public platform, it's time to identify your best contributors. Approach these expert resources quietly and talk to them about taking on a side-project to fully lay out a few larger concepts related to their department. Unless they want guidance, leave the first few videos up to their discretion on topic and length to see what comes out of it.
6. Suggest Long Explanations Go Into Video Lessons
Every workplace in every industry occasionally features a Speech. When the manager is fed up with getting paperwork that's filled in wrong, when the team lead is tired of the new hire submitting assets in the wrong file type, or when the safety manager has to explain what the tape on the floor means for the 800th time. These are important speeches, ones that are often remembered by all who are there because of the frustration-fueled passion with which they are delivered.
Some of these speeches should be saved so that even if the same mistake is made again, there can simply be a video to refer to.
7. Approve videos for posting or Implement an Invisible Rating System
For our final tip, let's acknowledge that not all videos will be equal in either quality or content. Some videos will be incredibly valuable to your training archive while others have little to offer.
There are a couple ways to ensure that the most valuable videos get seen. One way is to create a policy that content has to be approved by the manager before it is published for all to watch. Depending on the amount of submitted videos, this could become very time consuming. So, a more hands-off solution would be to put this into the employee's hands.
To promote organization of content, let team members add topic tags to help each other find the right video for a training task. To help ensure the quality, consider a subtle rating system that prioritizes videos watched more often while quietly shuffling less popular (and likely lower quality) videos to the bottom without hurting anyone's feelings.
Peer to peer learning is a powerful and effective strategy for improving employee knowledge and efficiency. With the prevalence of tools like the LMS, that knowledge can and should now be recorded and made available for all employees. The other great side effect of this employee-sourced video training is that it takes some of the pressure off of the LMS administrators to create all of that content.
If you start receiving employee-sourced training videos and realize that you could use some additional help creating those modules, feel free to contact us at Knowledge Anywhere and inquire about our Course Development services.
About Knowledge Anywhere
Knowledge Anywhere specializes in providing organizations with a variety of elearning solutions, such as their Learning Management System, Virtual Reality Training solutions, and Course Development services.
They have also created elearning tools such as QuickQuiz, an elearning Slack App, and SCORMify, an app that turns videos and documents into SCORM compliant courses.
Welcome back to the second half of our detailed two-part article on how to increase opportunities, engagement, and the success of your in-line professional development with Learning Management Software (LMS). If you missed part one, click here.
Professional development is something that many employers work hard to provide in order to keep their best talent interested, challenged, and constantly gaining skills they can apply to valuable company tasks. Providing all the classes and coursework necessary to create a comprehensive professional development program can be exhausting. Fortunately, with the help of an LMS, you can get you can provide easy self-directed and well-supported solutions to professional development, saving yourself and future trainees more than a few headaches.
In part one, we talked about building a learner's profile, using lessons to strengthen employee weaknesses, refreshing the teams each week with useful industry material, and keeping all of your professionals up to date on the latest practices and regulations.
Let's continue with the last five ways to enhance professional development with an LMS.
1. Personal Coursework Recommendations
Many professionals want to pursue career advancement learning but just can't find the time or the right courses for their needs. They mean to look into new professional courses but between work, commute, and family time at home, it just never happens. Or they mean to find the right courses but after skimming lesson names for five minutes, it all turns into a useless blur.
An LMS can solve this by taking all the seeking and guess-work out of the equation. Because an LMS is backed with all the latest personalization and content-serving technology, it can assess the career path and personal learning preferences of each professional and suggest the courses that would be the easiest to pursue and the most beneficial for every one of your employees.
2. Custom Coursework for Internal Positions
Another thing LMSs can manage for you is training for both internal and external hires. With the ability to build your own coursework and serve it in multiple dynamic ways to employees, you can create custom lessons for each internal position that needs to be filled. For new hires, this personalized the onboarding process in a way that a classroom with hand-outs never could. They can go through training that prepares them not just to be a company employee, but to fill the specific role they have been hired for. And with an LMS, new hires will be constantly connected to supporting HR staff who can answer questions and provide guidance at any time.
Of course, this is equally if not more useful for current employees who want a new internal position. Through the LMS, they can put themselves through position training courses on their own time, a dedication both their managers and HR will be able to see and encourage through the LMS.
3. Building Teams for Future Projects
LMSs can also be communication platforms that promote collaboration between teams and communication with HR instructors. This can serve a number of purposes, one of which is preparing and building teams for a project that has not yet begun. Through an LMS, the future members of a team can practice working together and collaborating with similar tasks and build their team dynamic before any budget or effort is put into the project they will eventually be working on. By the time the project is ready to begin, the team will already work like a well-oiled machine because they've been doing practice runs for a month or more beforehand.
4. Group Studies on Industry Issues
In some cases, professional development may not require any new information at all, simply the opportunity to discuss current industry issues with other professionals in order to develop ideas, in-depth understanding, and possible new solutions. Group discussions, round-tables, and shared studies are an integral part of both school-age and professional learning. With an LMS, your professionals will be able to come together and essentially create their own coursework by challenging each other and the LMS can keep track of who shows leadership skills, has the best ideas, or even who is best at implementing the ideas created by others.
This is a form of professional development that, if provided, would put you in a rare category of excellent employer. One thing that professional development almost never includes is the idea that the learners have something to each other and that those lessons can be as or more powerful than pre-made coursework.
5. Personal Assistance for Challenged Learners
Of course, not all professionals are self-starters or high-flyers. Sometimes, you may note that an employee is struggling to succeed at lessons or advance even when they are provided with material that is designed to help. While this is a problem for any manager who is concerned about their employees, an LMS provides a real solution to professionals who are challenged by their professional development journey.
The LMS not only tracks personal achievements, it can also help to identify where the problem is and connect struggling employees to the HR staff or others who can provide personal help where automated lessons weren't doing the trick. With connection and guidance, you may see new and unexpected advancement from professionals who seemed to previously be stuck in a rut.
Providing the Personal Touch
Finally, the most notable benefit of a full-featured LMS is the personal touch. Instead of simply serving lessons and talking at your employees, an LMS encourages a culture of learning inside your business. The tool helps your organization create a knowledgeable, challenged workforce, allowing the leaders to emerge and your organization to flourish.
Knowledge Anywhere specializes in providing organizations with a variety of elearning solutions, such as their Learning Management System, Virtual Reality Training solutions, course creation offerings. They have also created elearning tools such as QuickQuiz, an elearning Slack App, and SCORMify, an app that turns videos and documents into SCORM compliant courses.
Creating eLearning content that's easily accessible and quick to consume isn't enough for on-the-go learners. In this article, I will share 8 ways to revamp your mobile-friendly eLearning course for your modern audience.
How To Revamp Your Mobile-Friendly eLearning Course For Modern Learners
You already know the advantages of mobile learning and launched a mobile-ready eLearning course that offers your modern learners the "moment of need" support they require. It allows them to refresh their knowledge and skill sets whenever, wherever. Thereby, improving their engagement and motivation so that they get more from the eLearning experience. But there are ways to raise the standards and make your mobile-friendly eLearning course even more impactful. Here are 8 tips to transform your mobile-friendly eLearning course into a modern eLearning experience for every member of your audience.
1. Clear Out The Visual Clutter
Modern learners don't have the time or patience to sift through the visual clutter to find the key takeaways. As such, you may want to do a clean sweep of your graphic elements and omit extraneous content, such as image or charts that are no longer relevant for today's audience. Visual clutter is a bigger distraction on mobile devices because it occupies valuable screen space.
2. Rethink Your Navigation
A large aspect of mobile-friendly eLearning is how quickly and easily a user can find what they need. One way to help ease any friction between learner and their content is to make sure navigation is intuitive to use. Are users going to understand how to get to their course and start learning with minimal instructions?
3. Incorporate A Mobile Learning Micro Library
Mobile learners are often looking for "moment of need" online training tools that bridge gaps quickly. For this reason, you might consider adding a microlearning online training library to your mobile-friendly eLearning course design, which can feature everything from bite-sized online training tutorials to serious games. This way, modern learners can build their knowledge and skills whenever the need arises. As an example, on their way to work in the morning, so that they're fully prepared for a client meeting.
4. Refresh Your Responsive eLearning Template
eLearning templates save time and resources. But only if they still resonate with your target audience and align with the subject matter and learning objectives. Analyze your current responsive design master template to see if it still caters to your modern learners' needs. Use the built-in previewing tool to evaluate the eLearning course layout on different devices. Look for graphics that seem out of place or too large for the small screen, as well as the readability of fonts and the contrast of the color scheme. For example, does the creative font make the key takeaways difficult to decipher? Do the borders or sub headers fade into the background?
5. Integrate Learner-Controlled Multimedia
Mobile learners must have the ability to control the audio and playback on any device. Videos, serious games, and other multimedia should also include subtitles for when mobile learners need to mute the eLearning course in crowded spaces or when the audio may be too much of a distraction for nearby co-workers. For example, if they're accessing the online training content in the break room or sales floor.
6. Convert Links To Finger-Friendly Buttons
Hyperlinks are difficult to click on a smaller screen. But every mobile learner should have the same opportunity to access the valuable online training resources they need. As such, you may want to convert all your links to finger-friendly buttons with brief descriptions. Include a sentence or two below the button that explains who the online training resource is for and how it can help. For example, your "dress code FAQ" covers the basics of company attire so that employees can stay within compliance.
7. Optimize eLearning Content To Reduce Download Times
Some of your mobile learners may be working with slower download speeds. Which is why you should optimize your eLearning content to avoid time-outs and, ultimately, mobile learner frustration. Ensure that all your videos and images are compressed so that those with slow Wi-Fi connections still benefit from your eLearning course. You should also remove larger files and replace them with links or buttons that mobile learners can access later. For example, they may not necessarily need to participate in a 20-minute serious game or involved simulation on their device. Instead, they can wait until they have more room in their schedule and login to the LMS platform from their PCs or laptops. At which point, they can give the eLearning activity their full time and attention without having to worry about bulky files slowing down their mobile learning experience.
8. Provide Downloadable eLearning Content
Many Learning Management Systems now give you the opportunity to provide downloadable eLearning content to your mobile audience. They can simply download the file, complete it offline whenever time permits, then resync to the system. The LMS automatically updates their profile and gives them credit for completing the eLearning activity or grades their assessment to provide immediate feedback. This is the ideal solution for mobile learners who have unreliable internet connections or are venturing into a WiFi-free zone. For instance, one of your employees is staying at a hotel while attending the big industry conference. They want to brush up on their product knowledge so that they're fully prepared for the networking opportunities that await them. Downloadable eLearning content allows them to refresh their memory and learn about your newest product line, even if the accommodations don't provide free internet.
These are 8 ways to revamp your mobile-friendly eLearning course and modernize your eLearning course design. Most of these improvements are budget-conscious and quick to implement, which means that you can start transforming your eLearning course as soon as possible so that modern learners get the maximum benefit.
Download a PDF version of this post to take with you.
Whenever you hire new employees, it's important that you get them up to speed as quickly as possible, without sacrificing the quality of their learning. You also want to make a good impression on these new employees, and so forcing them to sit in a conference room for several hours a day, while someone lectures to them, is probably not ideal.
With eLearning, you allow your employees to work through interactive lessons at their own pace. It's an incredibly effective way to pass along information to your workforce, and makes the training process easier for the heads of departments, as they don't have to spend their time training each new group of employees.
But putting together an eLearning course takes time and money. You're not going to find a course out there already made that perfectly suits your company and its needs. One of the ways to make assembling an eLearning course cheaper is by using some free eLearning tools. Using these tools, in conjunction with a Learning Management System, will transform the way you train your employees, and hopefully, save you some money in the long run. Here are a few free eLearning resources to get you started:
Free Video Sources
VideoPad Video Editor - First up, we have a piece of software that is perfect for people who need some basic video editing tools. While this software package won't blow you away with its advanced features, it's perfect for beginners who just need to do some simple editing.
Pexels Videos - If you need some stock footage to use within your video, then start your search with Pexels. Pexels provides thousands of free stock videos, that you can easily download and add to your video.
OBS Studio - OBS, or Open Broadcaster Software, is a tool that allows you to record your computer screen. This is particularly handy if you want to demonstrate how company software works, or how certain procedures should be handled. Rather than typing out step-by-step instructions, you could simply show your new employees an example of how it's done.
Free Image Sources
Pexels Images - Just like with video, Pexels offers free stock images. Your eLearning courses will be a little boring if they are all text, so it's good to break them up with some images. Stock images are a great way to find generic images, and if you don't want to pay for them, Pexels has a wide variety to choose from.
GIMP - For photo editing, consider trying GIMP. GIMP is essentially the free version of Adobe's Photoshop. While it may take a little while to learn, once you get the hang of it, you'll find that you have a powerful tool at your disposal, all for free.
Paint.NET - If you want something a little simpler than GIMP, we recommend Paint.NET. This free tool is perfect when you just need to do some basic editing and is easier to learn compared with GIMP.
Free Fonts
FontSpace - When you want to change up your eLearning course a bit more, you might consider using a new font. Rather than buying a new font that you'll only use this once, you can find plenty of free fonts on a site like FontSpace. There are currently over 30,000 fonts available on this site, so you have a nice selection to choose from.
Font Freak - Another place to find free fonts is Font Freak. While the selection is not as large as FontSpace, there are over 9,000 free fonts on this site, so you should be able to find something that you like.
Learning Management System Evaluation ChecklistThis checklist will guide you through selecting the right elearning training solution for your organization based on your unique needs.
Slack Apps for eLearning
QuickQuiz Slack App - QuickQuiz allows you to build and deploy quizzes to your team via Slack. These quizzes can be used to reinforce and confirm knowledge on product, policies, technology, company direction, market trends, etc.
Free Project Management and Collaboration Resources
Putting together an eLearning course isn't simple, and you'll likely need a team of people to help you accomplish it. To get all of these people on the same page, and to help them communicate, you'll want some decent project management software. Luckily, there are a few free options for this as well.
Bitrix24 - First up, we have Bitrix24. This project management system is entirely free to use unless you want to upgrade your storage past 5GB, in which case there is a small fee. With Bitrix24 you can plan out employee workloads, communicate in real-time, share documents, and even track time. It's one of the more powerful project management tools out there, and you don't even have to pay for it.
Freedcamp - Our second project management tools, Freedcamp is right up there with Bitrix24. With Freedcamp, you get unlimited users, projects, and storage. It comes with an iOS app if your company uses Apple products, and an optimized mobile website if not. With Freedcamp you'll also get templates, time tracking, and invoicing, making it a very comprehensive tool.
Virtual Reality
Headjack.io - If you want to take your courses to the next level, and introduce Virtual Reality, there are apps that can help you out. We recommend starting with Headjack, which will allow you to create VR video apps in a matter of minutes, and then you can incorporate these into your eLearning course.
InstaVR - Another VR tool, InstaVR is very similar to Headjack. InstaVR is a popular tool, used by companies such as Toyota, Expedia, Redbull and CBS. The tool is free to try, but if you want more of the advanced features, you'll have to pay for it.
Putting It All Together
SCORMify - When you need to put it all together, a great tool to help you out is SCORMify. SCORMify makes it easy to quickly turn documents and videos into SCORM compliant courses. With responsive design and advanced style options, you can ensure your course looks exactly like you want it to, and appears great on a wide range of devices. Once you're done, you can easily upload it to any Learning Management System.
Make the Most of the Tools Available to You
Just because you are assembling an eLearning course for your company, doesn't mean you have to spend a lot of money. From free eLearning authoring to free stock images and project management software, there are plenty of great tools that you don't need to pay for.
Even though of the above tools are a great way to make assembling your eLearning course easier, you still need a tool to put them all together. For that, you want a Learning Management System. With our corporate training system, you can easily deliver eLearning courses online, and the free tools mentioned above will help to keep down the total costs of the project.
Modern employees value professional growth and development, it's not just about the paycheck. If a company doesn't want to see high turnover of their best and brightest, it's important to offer satisfying opportunities for professional development.
Of course, employee turnover is not the only reason that professional development is important. Companies can see substantial advantages when they integrate a robust learning and development programs, such as, cultivation of leadership, more internal hiring ability, increase in job competency and efficiency, and happier, challenged employees.
One of the most flexible, modern, robust ways to enhance professional development at your company is through the implementation of an Learning Management System (LMS).
A brief explanation of an LMS
On a high level, an LMS is a platform that allows administrators to upload learning content, assign that content through personalized learning paths, and track and analyze user data.
Learn more about the capabilities and limitations of an LMS here.
Now let's look at the ways a new LMS can enhance and provide professional development for your valuable professionals.
1. Introductory Assessments Build a Learner's Profile
Because an LMS is built to not only provide content but to track and assist each learner individually, the first step toward professional development is to build a learner's profile. This might include preferred learning styles, their current level of knowledge and skill, test-taking affinity, and certain personality quirks that can affect a professional's ability and preferences for learning.
When each current and new employee takes an introductory assessment, you can create a detailed profile for them within your LMS that will serve to support their professional development efforts in the future.
2. Personalized Lessons to Strengthen Weaknesses
Every professional has strengths and weaknesses, and often professional development is about building on both in a positive way. An LMS can be used to assess the exact areas where each professional could use a little extra improvement and then provide the right training material for the job.
Let's say you have a programmer who's great at writing code but their documentation is disorganized or often missing, something often complained about by their team. A properly equipped LMS can make it possible to run this developer through a friendly training program that prompts them to document test-code in an organized and predictable way.
After a few weeks of practicing 15 minutes a day with the LMS, your programmer now habitually remembers to document in a way that can be read and used by their team and increasing their total value as a professional programmer.
3. Weekly Refreshers
An LMS can be used to provide personalized refreshers for information that is known but often slips over time. Weekly refreshers can be reminiscent of quizzes in school. They can be short assignments every Monday, for example, to get everyone in the right mindset for work after the weekend.
Refreshers help employees keep goals, knowledge and policies fresh in the mind. From remembering safety procedures to financial best practices, an LMS can keep track of the skills each professional and team need to focus on, in an interesting new way, instead of the same old hand-out nobody reads anymore.
If you team uses Slack, check out this elearning quiz app for Slack called QuickQuiz. Users can send a fun quiz to their learners along with a piece of content to for instant learner feedback information.
4. Staying Up-to-Date on Industry Knowledge
Technology continues to propel the world forward and every industry is consistently changing to keep up with these advancements.
From medicine to law to cyber security, it is vital to build in forms of professional development to ensure that the organization and the employees who run it are staying competitive in your industry.
An LMS is a great tool to use in this regard because of the fast and flexible nature of it. Administrators can quickly update the platform with new, updated learning material in a matter of seconds, and can also incorporate pre-built courses from elsewhere on the web for their convenience.
You may have noticed that this is only the first four of our ten promised ways to enhance professional development through the integrated use of an advanced LMS.
We invite you to join us for the second half of this two-part article where we'll cover points 5-10 ranging from making smart coursework recommendations for your employees to adding that special personal touch with live chat and in-lesson communication techniques.
If you'd like more information about how the capabilities of a Learning Management System can help your business enhance your employees' professional development, contact us today!
Convincing your executive team that your company needs a Learning Management System (LMS) is easier said than done. While the many benefits of an LMS may seem blatantly obvious to you, most decision-makers will need to be convinced that the return on investment of an LMS will justify adopting a new style of training. You will need to craft a compelling, well-organized pitch that will diffuse any potential objections and earn their confidence.
1) Present the key reasons why an LMS is needed for your organization.
"When making your business case for an LMS…You won't get anywhere unless your LMS business case crafts a careful persuasion to relieve their biggest concerns." - Brian Westfall, Senior Market Research Associate at Software Advice
The first step in persuading an executive team to adopt an LMS is to craft an enticing pitch. Make sure that you are clear, succinct, and specific as you outline the reasons why your organization needs an LMS. Here are some examples of some points to emphasize:
• "We spend $30,000 annually on paper training manuals and instruction, yet our employees are not retaining content."
• "By adopting an LMS and switching to paperless training, we will reduce our carbon footprint, and improving customer perception."
• "We are losing production time with current manual training methods. By adopting a training platform that can be used anytime, anyplace, we reduce lost revenue."
• "Updating an LMS can occur easily in a matter of seconds while updating paper training manuals is time-consuming and costly."
Be sure to highlight all of the research you are doing to become an expert in the requirements of an LMS.
How To Implement An Engaging LMS: Plan For LMS SuccessA step-by-step guide detailing the full journey of planning, choosing, implementing and evaluating an engaging LMS.
2) Clearly explain how LMS implementation will unfold.
Resistance to LMS platforms is often related to a fear of the unknown. The prospect of abandoning your organization's long-standing, classroom-style training in favor of an LMS can seem intimidating to finance, operations, and sales executives. Some executives may worry that the process of adopting an LMS will be lengthy and challenging. Others may worry that implementing an LMS will interfere with production or supply chain performance. In order to secure buy-in for an LMS, you will need to explain how quickly and easily an LMS can be implemented by emphasizing the following points:
• Because nearly all LMS platforms are cloud-based, implementation is a seamless process
• Highlight the areas that the LMS can be used for, such as, onboarding new employees, cross training, leadership training, compliance training, and sales training.
• With the help of a small team comprised of in-house employees, you can create a simple LMS implementation plan
• Implementation snags can be minimized with a product trials prior to official implementation
3) Outline the estimated ROI for an LMS.
"The Research Institute of America concluded that e-learning boosts retention rates by 25 to 60 percent, compared to retention rates of 8 to 10 percent with traditional training." - Stacey Pezold, Chief Operating Officer, Paycom Software Inc.
In order to provide an estimated ROI for an LMS, you must first calculate the costs of your current training and development program. You will need to include the cost of materials such as paper, in addition to the cost of training space, instructor fees, travel expenses (if the training sessions are offsite) and printing costs. Estimate the revenue that is lost because employees are unable to perform their duties because they are participating in a traditional training session.
Once you have calculated the costs of your current training platform, you can subtract the estimated costs of implementing an LMS from that figure. Be sure to include upfront costs of the LMS and any ongoing costs that are associated with the LMS that you propose. Finally, remember to reference the added benefits of an LMS such as improved retention rates, higher gross profit margins, and fewer interruptions to productivity during peak times (with an LMS, learning can occur at any time from any location).
4) Be prepared to respond to objections.
As you pitch the benefits of an LMS to decision-makers at your organization, you need to be ready for resistance and objections to your proposal. These objections are likely to be related to cost and will often paint an LMS as an unnecessary "want" as opposed to a "need" for your company. Examples of some potential objections and appropriate responses are as follows:
• Objection: "Our organization cannot afford to buy an LMS."
• Response: "The cost of an LMS is far less than what we spend on our current training initiatives" or "I've compiled a list of ways why having an LMS can save the company money."
• Objection: "Our company is small, so we do not need an LMS."
• Response: "An LMS will positively impact employee learning at companies of every size. In fact, there are many affordable LMS options designed to address the unique needs of small businesses."
• Objection: "What if there are problems when we implement the LMS?"
• Response: "We can eliminate most problems by scheduling a small trial launch before our official launch."
5) Mention thriving competitors who use an LMS.
No manager or company owner likes to be overshadowed by the competition. As you bring your presentation to a close, cite your sharpest competitors who are now using an LMS. If possible, present a few details linking your competition's recent increase in sales to their implementation of an LMS. You also may wish to cite examples of well-known companies in related industries who have thrived upon introducing an LMS.
What is the single best way to convince management to invest in an LMS?
As outlined above, there are many steps that you can take to secure buy-in from management for an LMS. However, we have found that the most effective strategy is to simply ask some of your favorite vendors to provide some statistics on how they have helped other companies. It is also very effective to invite your decision makers to a meeting with a few of your top vendor picks to ask questions they may have.
We are here to help.
Knowledge Anywhere has the tools and expertise to transform your workplace into a well-oiled productivity machine. With 20 years of success in the online training industry, Knowledge Anywhere will provide your management team with a complimentary demo that will inspire them to invest in state of the art elearning software.
Schedule a demo to learn more about their Learning Management System, Virtual Reality Training, and Content Development offerings.
Compared to how we were onboarding and training twenty years ago, modern elearning platforms are truly incredible. The ability to build custom, innovative, and engaging courses has been a game-changer in the corporate world. Boring videos are becoming outdated with new engaging features like gamification and social achievement sharing making corporate learning much more engaging, interactive, and independent all at once.
The Challenge of LMS Content Creation
The technology of modern Learning Management Systems (LMS) has made it possible to design and implement an effective and enjoyable corporate learning experiences. Of course, even if you have the best LMS on the market, the biggest challenge of HR managers today is actually creating the content to upload into the LMS.
Creating all that content is a bigger job than it seems from the outside. How many hours of writing lessons can you budget into your weekly schedule? How many videos can you make, presentations can you design, or diagrams can you commission? When you compare this amount to the sheer volume of unique training material needed to onboard employees for every department and level, not to mention in-line and specialty training, the task can seem pretty daunting.
Most HR managers don't have a lot of time to create the content, but there is a lot of pressure to do so and get the LMS up and running. There is also the need to continue training in the workplace while you are populating the new LMS, which only increases the demand and takes up more of your time. The good news is that there are a number of ways to get over the hump to the point where your LMS is actually making you time to create more and better content.
Where to Get the LMS Content You Need
As stated above, most LMS administrators and trainers struggle to find the time to plan out and create engaging content. When you first launch the LMS, higher-ups are going to be wanting fast results. Here is a list of 3 easy sources of LMS content that you can most likely find, spruce up and upload quickly, with minimal time and effort.
These content pieces don't have to be a final solution, but it will help give you the room to breath and create more in-depth, dynamic content.
Three Easy Sources of LMS Content
Content Source 1: Upload the PDFs and PowerPoints You're Already Using
The first place to look for content to populate your snazzy new LMS is with your current educational material. Most HR managers who handle training have a collection of charts, resources, PDFs, infographics, and diagrams. Anything that you would normally print as a hand-out, email to a learning group, or use in a classroom is a likely candidate for LMS content.
Even if it needs to be expanded on, at least those existing PDF's and PowerPoints can serve as a starting point for your elearning content. Also remember that you can add voice-over into your power points to turn them more engaging for learners.
Administrators can convert their existing documents and videos into SCORM compliant files in the Scormify app.
Content Source 2: Record Live Lectures and Classes
HR managers often dread recording themselves. We all know they are important, engaging, and inclusive for audio and visual learners but actually sitting in front of a camera and speaking the lesson perfectly is surprisingly difficult and undeniably time-consuming. But wait, there are useful live presentations on important work subjects on a semi-regular basis. Every time someone gives a lecture or holds a class on a subject, set up a well-placed camera and record the event. This can create TED Talk style videos that can include both the lecture and the interactive discussions afterward.
Content Source 3: Record All Webinars and Online Classes
Finally, modern business communication and collaboration technology mean that we are holding online discussions and presentations quite often. Webinars and online classes are an incredibly common form of in-line training in particular because they are easy to tune into and take part in both during work hours and off hours. Whenever your business hosts or participates in one of these online educational events, simply record the proceedings. The audio and sometimes even audio-visual record can immortalize these lessons as part of your LMS.
Because this content is not recorded and accessible, you can now use the time you would have spent in that webinar to create and polish a new course!
Time to Perfect Your eLearning Content
Once you have uploaded all the training content currently available, you might be surprised just how well-filled-out your new LMS has become. We know that many HR managers will look at this collection and think with some dissatisfaction, "I can do better", and we support this! As you start adding this content into the LMS you will start to see your time free up, giving you more breathing room to come out with the 2.0 version of those classes, as well as think up new training processes you can streamline by adding them to the LMS.
If you start creating new training content plans and realize that you could use some help creating those modules, feel free to contact us at Knowledge Anywhere and inquire about our Course Development.
Knowledge Anywhere specializes in providing organizations with a variety of elearning solutions, such as their Learning Management System, Virtual Reality Training solutions, course creation offerings. They have also created elearning tools such as QuickQuiz, an elearning Slack App, and SCORMify, an app that turns videos and documents into SCORM compliant courses.

Corporate training does not have a great reputation. They can be tedious and boring, and they pull employees away from their busy schedules and large workloads. When employees feel this way toward their corporate training materials, they are more likely to lose motivation and interest in their training, lowering knowledge retention.
How do we change the preconceived notions around corporate training to make them more effective?
Here are five ways to make your corporate training materials more immersive and impactful for your employees.
1. Deliver Training Based on Skill Gaps
One sure way to get under an employee's skin is to have them complete corporate training materials on topics they've already mastered. For employees, this feels like a waste of time. If they've already mastered the information, there's no need for them to re-learn it.
A great way to avoid this is to implement a "pre-test" that quizzes your employees before they begin the training materials to see what they already know. By taking inventory of an employee's existing skills, you can prescribe training content through your LMS that is more relevant to them—ensuring they get the information they need without using up any more of their time than necessary. A pre-test can also help your organization pin down common skill gaps that exist in your organization so that you can deliver more targeted training to close them.
2. Use Virtual Coaching to Instill a Culture of Learning
One-on-one coaching can become costly and time consuming for organizations to maintain when they have hundreds of employees scattered across several office buildings or even different states. However, there is no doubt that mentorship and coaching is one of the best corporate training tools an organization has to keep employees motivated to continue learning. By utilizing an LMS and other modern training technology, businesses can scale back the cost of coaching by leveraging the power of a virtual coaching platform, such as Rehearsal.
Virtual coaching software works by giving employees the opportunity to watch scenarios and prompts, rehearse, and when they feel confident with how they would respond they can record a video response to be graded by a virtual coach or instructor. With this virtual coaching format, employees are given the opportunity to make mistakes in a non-menacing environment and to improve the way they respond to challenges through repetition.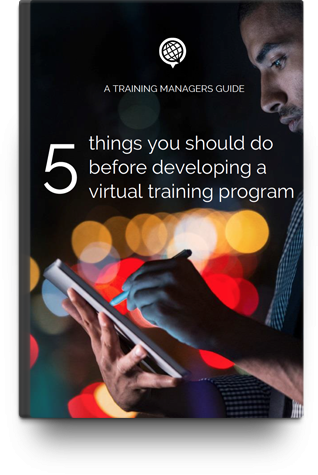 A Training Managers Guide: 5 Things You Sould Do Before Developing A Virtual Training ProgramLearn how to get your virtual training program up-and-running without a hitch with this free guide for Training Managers.
3. Make Training Portable
Besides just allowing your employees to complete training from their desk, you can also let them complete training while they are on the go. By incorporating mobile learning into your training materials, employees will have the option to get the required work done during their commute, or while they are traveling for work. The more options you can give your employee, the less likely that they will see the required training as a burden.
4. Try Gamification
Another great way to give your corporate training materials more of an impact is by turning them into a game. Gamification—or the process of incorporating game mechanics and designs with the goal of motivating people—is a proven method for improving employee engagement. Find ways to turn your training lessons into a game, such as assigning points or badges, or creating a leaderboard to foster competition.
Here is a great example of gamification: the Starbucks Rewards Program. Customers are given points whenever they make a purchase at Starbucks, and when they have accumulated enough points, they are given a small reward. This turns shopping into a small game—in which you see how many points you can rack up—and encourages customer loyalty by giving them a reason to keep coming back. You can utilize a similar system for your employees, but rather than purchasing a product, they are completing training materials or performing some other positive action at work.
5. Make Training Bite-sized
Lastly, no matter how you present your training materials, your goal is for the employees to spend as little time on it as possible. Aim to have it be as short as you can. Look for ways to reduce redundant information, and give your employees more ways to access the materials.
Employee attention spans are getting shorter and if you make your employee training is too long, they are likely to lose focus during the course of it. A strategy to try is microlearning, the concept of breaking training up into small, bite-sized sections that are easier for employees to digest.
Start Implementing These Strategies Today
Now that you know the best ways to improve your corporate training materials, the next step is to work these items into your training program. Take a look at your existing corporate training materials to see where improvement is needed.
If you decide that you need some help sprucing up your corporate training materials, Knowledge Anywhere can help. We specialize in helping companies build engaging, flexible learning and development programs through our Learning Management System, Virtual Reality Training and Content Development Services. Contact us today to learn more!
Experts don't just suddenly appear. Only practice makes perfect. Especially in the complex world of sales, you have to make sure that you get your training mechanism right to maximize your conversions and grow your customer base.
Any former and current sales rep knows that to be successful in this field, you have to train yourself in multiple dimensions. Brand expertise matters, but so does understanding how to react to unexpected situations, questions, and roadblocks. To master your engagements and conversations, you have to build the perfect mix of technical expertise and people skills.
That's where a sales LMS enter the equation. The right solution helps sales rep build both their tangible and intangible skills. But not every platform is created equal. The right training system needs to be engaging, streamlined, and customizable. These are the 7 most important features of an effective sales LMS.
1) Built-In Live Video Capabilities
Online training systems have a number of advantages for your sales reps, but they also come with limitations compared to in-person training. Video coaching and mentoring capabilities can mitigate some of these issues.
Video role-play comes with a number of advantages for your sales professionals:
It simulates real-life environments.
It encourages and builds creative problem-solving abilities.
It saves on in-person training costs.
It improves listening and communication skills.
It minimizes time and location restrictions.
All of these benefits can be vital to train your sales team. Set it up right, and it can transform the effectiveness of your sales training solution.
2) xAPI and other Integration Opportunities
Experienced managers and training professionals know that not all development actually takes place within the LMS. Valuable informal learning can take place as your team reads books, watches videos, chats with their peers, or looks for solutions for problems they encounter on an everyday basis.
An effective training solution recognizes these limitations. Rather than confining the learning experience to its own platform, an xAPI-enabled LMS can help you track a number of activities outside its own platform, including from sources such as
Performance Management
Knowledge Base
Online Forums
Group Platforms
Help Desk
Talent Management
Data Management
Additional integrations also matter. For instance, a direct connection to your customer relationship management software (such as Salesforce) helps to improve your tracking and provides a clear bridge to implementing newly learned topic in real-life sales situations. The more you can integrate your learning management system with the rest of your digital infrastructure, the better.
3) Social Engagement Capabilities
Good sales professionals want to talk. In fact, that's what makes them good at their job. Does your training platform encourage them to actually engage and interact with each other?
Research shows that training becomes more effective when the professionals being trained are able to talk to each other, exchange information, and work together on potential solutions. The right learning environment should facilitate this type of collaboration.
For a sales LMS, that means including discussion boards and groups that encourage engagement and information sharing. It also makes sense to include live chat capabilities, which helps instructors easily communicate with individuals or groups of people.
Learning Management System Evaluation ChecklistThis checklist will guide you through selecting the right elearning training solution for your organization based on your unique needs.
We're competitive beings. Studies repeatedly show that while we love working together, we also tend to look for opportunities to distinguish ourselves from our peers. Depending on the right environment, that competitive instinct can be either productive by compelling us to new heights, or destructive by pitting a team against each other.
Your online learning solution should ensure that the latter is the case. The easiest way to accomplish that feat is building gamification possibilities into the training modules. For internal performance rewards, provide badges that show when your reps have learned a vital new skill or completed an important module.
5) Customized Learning Paths
Generally speaking, your sales team should emerge from their learning path with the same general knowledge about their job and the everyday situations they encounter. But at the same time, not everyone starts from the same baseline. Continual training for experienced sales reps might look different than the path that entry-level trainees should take.
As a result, your LMS needs to include customized learning paths. The more relevant you can make your modules and path to the individuals on the learning journey, the more effective the training will become over time.
6) Mobile Support
The mobile revolution is already here. The majority of adults in developed countries now use their mobile devices to surf the web, read their email, and complete digital tasks. Is your online learning solution up for that development?
Mobile optimization means making sure that the training is just as accessible and user-friendly on a smartphone or tablet as it would be on a desktop or laptop computer. Touch-based navigation, visuals, and other elements all work toward making sure that happens. This type of mobile optimization should not be separate from your sales training platform as a whole, but tightly integrated into the regular flow of modules, tasks, and engagement opportunities.
7) Reporting and Tracking Features
Finally, don't underestimate the importance of effective tracking within your LMS. Without it, you risk not knowing whether your sales team actually gains the knowledge they need, making them more effective at closing deals and increasing your customer base.
Ideally, these reporting capabilities should be visual to provide you with a good and quick overview each time you need to evaluate success. But it also makes sense to focus on data you can dig into deeply, allowing you to understand the nuances of how your team works through the training platform, and which modules can be made more effective.
We've reached a point where more sales managers recognize the importance of effective training. However, not every learning platform can actually support that effectiveness, which is what makes it so important to find an LMS that actually helps your team reach its sales goals.
Knowledge Anywhere can be that solution for your team. We build our platform based on years of experience in working with clients that range from Microsoft to Denny's. Schedule your demo today to learn how our online sales training solution can help your team close more deals.
Nobody really pays attention to compliance online training after they get their certification. Is there any way to help your team retain knowledge once they pass the test? In this article, I'll discuss 6 creative ways to refresh their memory and improve knowledge retention
How To Refresh Compliance Knowledge In Online Training
The purpose of compliance online training is to improve industry standards. It often covers things like safety, quality control, and relevant work skills. Sometimes, it covers more thorny matters, like gender and sexual harassment. Unfortunately, most employees see it as a pointless exercise in bureaucracy. They pay just enough attention to pass the online training course and get their documentation. But they leave their knowledge in the testing room and never apply it in their day-to-day work. Some of this information is crucial for smooth business flow and higher profit margins. How do you get your team on board and fully invested? Here are 6 ingenious ways to refresh compliance knowledge in online training.
1. 5-Minute Memory Refresher Modules
Compliance documents are often developed by legal teams, so they are full of clauses, sub-clauses, ifs, ands, or buts. This means compliance online training can often contain voluminous documents and a million different scenarios. It's important for your team to spot and deal with loopholes. But they don't have to do it all at once unless they're lawyers. For the rest of your team, summarize the general compliance principles, breaking them down into consumable chunks. Rather than an endless droning lesson, use separate 5-minute sessions. Let them finish one at a time rather than squeezing everything into one seating. A quick video, interactive game, or spaced eLearning works well. Include an independent index for more complex matters. They can refer to the appendix whenever they need to.
2. Real-World Examples, Minus The Fear Factor
Contextual training is the most effective kind. While the typical approach is to follow the FUD (Fear, Doubt, Uncertainty), it's not always best. You might shock your employees into compliance, but worst-case scenarios rarely play out. Besides, they may be so focused on avoiding a million-dollar fine that they overlook a typical five-dollar-fine scenario. For instance, you could terrify employees with the prospect of a jail term for accepting a thousand-dollar bribe. So, they'll never accept cash, they know better. But they might agree to reservations in that fancy French restaurant, which is just as bad. Use realistic branching scenarios to show your team typical iterations and consequences of non-compliance. Apply context and keep it real.
3. Multiplatform-Friendly Video Demos
When you're developing a compliance online training course, you'll probably start with a desktop platform, but you shouldn't stop there. You should include a cloud-based platform and mobile apps for multiple devices including Windows, iOs, and Android. People are more comfortable using their native mobile apps. By letting workers study on their tablets, mobile phones, or home computers, they're likely to revisit the online training material more often. They might glance at it during their commute, or while waiting in line for coffee. The more they engage with the online training material, the better they retain it. One of the best ways to get them engaged and refresh compliance knowledge is to turn your compliance online training into an immersive video demo. For example, use animated characters to act out a common compliance challenge and show employees the best way to resolve the problem.
4. Incorporate Advertising Techniques
We all have that one annoying jingle we can't get out of our heads. It's probably from some TV show or radio ad in our childhood. We may not even remember what the product was for, but we can hum the tune and yell the tagline. Use this principle to refresh compliance knowledge and enhance knowledge retention. Include a catchy jingle as a memory trigger. Give the compliance online training course a catchy slogan.
In fact, you can turn all key information points into memorable taglines. Things like "When in doubt, check it out" to remind sales teams to confirm inventory before pushing a product, or clever little catchphrases like "what would your mother say?" make training fun and easy to apply.
5. Turn The Tables
One of the most effective ways to remember something is by teaching it. Encourage your employees to create compliance online training materials on their own and upload them to the online training library. This gives them the opportunity to refresh compliance knowledge and put it into their own words, as well as share their insights with peers. They can create anything from interactive presentations and videos to downloadable guides. Just make sure to assign topics so that you don't have redundancies in your online training repository.
6. Add The Element Of Mystery
Invite employees to participate in a group collaboration project or online training simulation that offers the element of mystery. They must use all their skills to solve the problem or figure out who committed the "grievous compliance crime". For example, the online training simulation exposes them to three different persons who handle the same compliance issue differently. Then they must determine who followed the protocol and who violated regulations. These interactive online training activities also give employees the ability to mimic favorable behaviors they see in the simulation and reflect on their own performance.
Compliance online training doesn't have to be dull and boring. It's possible to push your employees past the motions and into a daily application of their compliance online training. Make it memorable and fun, rather than a grueling task they can't wait to get over with. Shorten the online training, sectioning it into bite-sized chunks. Contextualize it with realistic examples drawn from their daily work activities. Allow them to access the online training materials on their electronic devices. Spice it up with some tips and tricks from the world of advertising. Make compliance an engaging process rather than a duty. This way, they're more likely to learn, retain, and apply its principles, which is good for everyone.
Simulations help employees tackle on-the-job emergencies and build essential skills. Read the article Safety First: 7 Tips To Use Simulations For Health And Safety Online Training to discover more tips on how to take advantage of simulations in your health and safety online training program.
The unemployment rate in America has declined steadily in recent years and the decrease in national unemployment gives qualified talent a wide range of job opportunities, and employers have to compete more to attract and retain the top people, who are aware that they have many employment options. In fact, as of 2017, more than half of currently employed people are actively looking for new jobs.
The High Cost of Employee Turnover
Even without the added pressure of a low unemployment rate, employee turnover carries a high cost. Losing a seasoned employee and replacing them with a new one affects several budget areas:
Separation costs: Every employee who leaves an organization incurs some degree of cost. The costs associated with losing an employee include any severance pay, unemployment insurance, the cost of continuing benefits, and so forth. There is also additional labor involved in removing or changing payroll and benefit status, technology and physical access procedures, exit interviews, etc.
Recruitment costs: It costs time and money to fill vacant positions. HR and hiring teams need to update or assess job descriptions, post-employment ads, review resumes, check references, and conduct job interviews. These costs can be even higher if your organization requires pre-employment skills testing, multiple interviews, or has additional recruiting procedures.
Onboarding costs: New hires also always incur some costs. Again, there is updating of employment records and payroll rosters, benefits plan adjustments, and physical facility and technology access. New hires often come with needs or preferences that should be addressed: they many need slightly different software, or a new chair or office equipment that wasn't needed by the previous employee. The new hire also requires employee orientation and training, and will take some time to develop into performing at the same level as the employee they replaced.
Productivity costs: All of this impacts productivity for your existing team. When one employee leaves, the remaining employees need to adjust to redistribute the extra work and cover the vacant position. When a new employee is hired, the time spent training the new hire and answering questions requires even more time and investment from existing employees. The new hire won't have the experience and expertise that the previous employee did, so the change can impact whole teams and departments for some time, and creates additional stress and lowers morale for existing employees.
Cumulatively, the cost to replace a single employee is generally estimated at 33-100% of the annual salary for that position, and an average of $15,000 per employee.
Causes of Employee Turnover
For all those reasons, retaining skilled and experienced employees is a high priority for most organizations. Here are some of the most-cited reasons why people leave their jobs:
Poor relationships with management or coworkers. You've heard it said that "people don't leave their jobs, they leave their boss". Employees who don't get productive feedback, helpful recognition, and build good relationships with the people they interact with on a daily basis are more likely to leave their jobs.
Bored and unchallenged by the work. An employee spends more than a third of their time at their job. If they find the work boring or repetitive, they are likely to look elsewhere for more enjoyment and satisfaction at work.
Lack of growth opportunities. One of the primary reasons employees stay with a job or a company is when they can see growth opportunities or career progression. Even when they aren't thrilled with their present role, if they view it as an investment in their future, they are likely to stay.
Lack of engagement. Engagement can be driven by multiple factors: good morale in the company or in their team, work that they are excited about and interested in, a company or leadership that they feel passionate about, a sense that their work has meaning and significance. Engaged employees are more productive with their time, help others work better and more effectively, make stronger contributions to the company, have better attendance, and are more willing to go that extra mile to improve results.
While no company can control or eliminate all these factors all the time, companies that spend time and resources improving their culture and creating a happier work environment not only improve retention, but they tend to also see real, measurable improvements in productivity, length of tenure, and skill level and expertise of their talent pool. Now, more than ever, it's important to invest in building a company where employees want to stay.
How eLearning Improves Employee Retention
An intelligent Learning Management System (LMS) offers many ways to improve employee satisfaction, lengthen retention, and increase productivity. Good elearning systems can:
Ease the strain of onboarding new hires. Your new hire training can be tailored to deliver not just knowledge and job training, but reflect your company values and culture. Training can be immersive and dynamic, building new hire engagement from the very beginning.
Develop the skills of existing employees. Training shouldn't stop at onboarding. Whether your goal is to advance the strength of your talent pool by honing their existing skills, or cross-train to enhance collaboration, innovation, and teamwork, your learning initiative should be an ongoing effort.
Improve recognition. Recognition is a key factor in job satisfaction. By creating certificates, incentives, or reward programs, your most highly-trained employees can demonstrate their value and have their efforts acknowledged.
Provide avenues for growth. You can use your elearning platform to map out a plan for growth and advancement that helps employees invest in their long-term future with your company. Growth opportunities deepen motivation and engagement.
If you aren't using a learning management system, or only using in-person training during a new hire period, you are missing out on opportunities to deepen and strengthen your existing talent pool and improve productivity. An LMS is a large commitment, but it can give you huge returns on investment when you use it to create a culture that keeps employees committed to staying and growing with your company.
If you would like to learn more about how to use an intelligent, immersive, dynamic, and flexible LMS to benefit your employees, your company, and your customer every day, get in touch.
At Knowledge Anywhere, we recognize that learning has to be measured, permanent, applied and encouraged not just on the first day, but throughout the employee lifecycle. We designed our learning management software to help companies directly, manage and track all training activities through one centralized platform. In this way, your employees can easily meet compliance standards, new hire requirements and have ongoing employee enrichment. If you're interested in learning more, feel free to schedule a tour of our eLearning suite.
With over 100 LMS features out there and 1,000+ LMS Vendors globally, making the decision on which vendor to choose and why can be daunting for even the savviest of LMS buyers.
It is vital to have an LMS that not only satisfies your administrative and analytical needs, but also an LMS that works great for your learners. Organizations can spend a lot of time and money on a new LMS, but if it does not meet the needs of the learner, then it won't be used (or it will be difficult to get people to use it—not fun…).
Based on our 20 years of experience, we have collected and ranked a list of key LMS features from critical importance to nice-to-have.
*This feature ranking may vary depending on an organization's industry and their specific goals for their training program.
Must-Have LMS Features
The ability to add, edit and manage the following training types:
Online training - SCORM 1.2- and 2004-compliant courses
Instructor-led classroom training (ILT)
The ability to apply or enable the following details or characteristics of a course:
Course description – WYSIWYG HTML Editor
Course prerequisites
Course retake restrictions
Course Levels –Required vs. Elective (Public)
Grading (If applicable)
The ability to add, edit and manage course catalogs, groupings or series by:
Assigning courses to course catalogs, groups or series based on predefined user roles
Share courses across catalogs and course series
Manage course catalog or series display date range
Make a course catalog or series public
The ability to add, edit and manage user groups, company divisions, business units and brands with:
Automated user enrollment or user import (Excel upload)
Automated user deactivation
Administration of registration codes for user enrollment
Creation or modification of user information/user profiles
Hierarchy for the training structure based on organizations, departments, user roles and location
Ability to mark a user complete
The ability to manage user progress and performance with:
Course reports – Course completions, course enrollments, etc.
Classroom enrollment reports – Course completions, course enrollments, etc.
User reports - Active users, certification completion, compliance completion, user login activity, user transcripts
The ability to communicate with users and collect and manage user feedback with:
Course surveys
System announcements
The ability for learners to access the following from their learner dashboard:
Courses and learning plans
Course transcript/progress page
Course catalog (for Public courses)
Profile/preference changes – Login information, language preferences, etc.
The ability to deploy the LMS on the cloud
Learning Management System Evaluation ChecklistThis checklist will guide you through selecting the right elearning training solution for your organization based on your unique needs.
Good-to-Have LMS Features
The ability to add, edit and manage the following training types:
The ability to apply or enable the following details or characteristics of a course:
Inclusion of supplemental resources with the course
Wait list (If applicable)
Discussion Board
The ability to add, edit and manage course catalogs, groupings or series by:
Assigning courses to course catalogs, groups or series based on predefined user identification codes
The ability to add, edit and manage user groups, company divisions, business units and brands with:
Predefined user roles (Staff, Manager, Supervisor, Instructor, Guest, etc.)
The ability to manage user progress and performance with:
Course survey reports- Course satisfaction
Report export/download
Automated report delivery
The ability to communicate with users and collect user feedback with:
Automated notifications – email
Direct mail
Course comments
The ability for users to communicate with each other with:
Discussion boards/social communities
Other
Multi-lingual User Interface
White labeling
Integrations with relevant software –Salesforce, HRIS systems, etc.
Nice-to-Have LMS Features
The ability to apply or enable the following details or characteristics of a course:
Designate a course image – Image library
Read & sign compliance tracking
Self-certified completion
The ability to manage user progress and performance with:
User reports- User ranking on Leaderboard
System survey reports –System usability
Ecommerce reports – Course payment by a form of payment, courses sold, etc.
Real-time reporting dashboard
The ability to communicate with users and collect user feedback with:
Automated notifications –SMS
Course rankings
The ability for learners to access the following from their learner dashboard:
The ability to create your own courses within the LMS (built-in course authoring tool)
The ability to generate revenue through your LMS – E-commerce
Other
Serious games (Badges, Points, Awards)
3D Simulation
Extended enterprise –Multi-domain
Open API
SSO
Blog engine
Offline learning
Virtual coach/mentor
Podcast management
Keep in mind that this list of features is not comprehensive of every feature available on the market, but it does include what we deem as the main features to keep in mind as you decide which LMS provider to select, or which features you'd like to upgrade your LMS with.
We would also recommend taking a look at this step-by-step guide detailing how to plan, choose, and implement an engaging LMS.
If you have any questions about the list or want to know how our Learning Management System stacks up, please give us a shout at 1-800-850-2025, or fill out our Contact Us form.
One of the biggest trends in online education and training is known as microlearning. This refers to learning that occurs in small chunks rather than in long, drawn-out sessions. This is in accord with today's fast-paced world where people are extremely busy and have short attention spans.
This article describes how microlearning benefits your online employee training program for both learners and your business.
An Introduction to Microlearning
The concept of microlearning is quite simple. Traditionally, people learned by sitting through a class, watching a long video or reading an article or book. While these methods still have their place, they aren't really in tune with the digital world and people's shortening attention spans. A recent study by comScore found that millennials only have a 5-second attention span for ads. While this study was about advertising rather than learning, the principle is the same. In the age of smartphones, apps, and texting, people have less and less ability to concentrate for long periods of time.
Online microlearning is the ideal solution for training people in this age. It not only gives learners information in short chunks, often as brief as 5 minutes, it also gives them the freedom to access training materials at their convenience. This is something that many people do today even if they've never heard of microlearning. When people watch TED Talks or instructional YouTube videos, or consult Google to find out how to do something they're applying this principle. That's what makes microlearning such a powerful tool for today's businesses as well as learners.
Benefits for Learners
Here are some of the top benefits of online microlearning for employees.
Modular Content The latest evidence supports the idea that people learn most efficiently in chunks. This means that people absorb brief, pinpointed material better than long-form content. Shortening content into concise modules gives busy employees the opportunity to learn by introducing flexibility. You don't have to spend hours and hours to master a concept. A learner could get what they need in as little 2-3 minutes, instead.
Easy to Update The fast pace of technology means best practices and recommendations can change rapidly, employees benefit from receiving the most relevant information. With the small module sizes of microlearning, it is generally easier to keep content up-to-date.
Ideal for Just-in-Time Learning Just-in-Time training or learning is aimed at providing learners with the information they need at exactly the right time. Because microlearning can be delivered quickly and to many types of devices, it's easy for people to access what they need, when they need it.
Benefits for Businesses
Online microlearning is equally beneficial for businesses that want to train employees as effectively as possible.
The flexibility is affordable: Short videos, webinars, written content, audio files, and other microlearning formats can be produced quickly and cheaply. Businesses don't have to take the time and resources to create long courses on every topic. Microlearning, of course, doesn't completely replace traditional content. For many purposes, however, it's a cheaper and more efficient alternative that helps companies lower their costs for training.
Expands learners' ability to fill the skill gap: Employees will be more likely to participate in professional development if they know that they don't have to take a huge chunk of their workday to complete a training. They can get the information they need on their own time, with targeted, easily-digestible modules.
Better results: Microlearning is in sync with how people learn today, employers can achieve better results with this method of training. If people are forced to sit through long training sessions, they are likely to find the content boring and are more likely to forget it.
The Importance of the Right LMS
We've explored some of the advantages of microlearning for both learners and businesses. However, it important to have a way to deploy your lessons with an easy-to-use, flexible user experience. This last, vital piece of the puzzle should be implemented through a Learning Management System with these qualities:
User-friendly
Customizable
Mobile-Friendly
We live in an age when people are accustomed to learning by Googling and watching short videos. At the same time, companies are seeking faster, less expensive, and more efficient ways to deliver training. Microlearning, when combined with an appropriate LMS, is the ideal framework to meet the learning needs of both learners and businesses.
About Knowledge Anywhere
Knowledge Anywhere is an elearning company focused on providing flexible, modern learning and development solutions that enable organizations to harness the power of an engaged, knowledgeable workforce. Our Learning Management System, Virtual Reality Training, and Course Development services, combined with our experience and customer support enables our users to create a learning and development program that boosts sales and drives company growth.
When management says that they want to start using a Learning Management System (LMS), resistance from the training staff may occur. Some people may feel that their job is being taken away by this new LMS, but we can ensure that is not the case. Effective training can be a combination of in-person and online learning also known as blended learning.
What is Blended Learning?
The business world and training teams throughout it can thank technology for a lot, but what about instances that require a little more than looking at a screen?
This is where blended learning comes into play. Blended learning options are ideal for situations that call for digital learning strategies which integrate some level of face-to-face training programs alongside their own course content.
Many industries today are advancing rapidly—it can be tough to keep online coursework updated. Leaving the basics to online learning and keeping teams up to speed on details in person is one way to get around this. In other cases, learners and course creators alike may find that personal or hands-on attention is really required to be devoted to a subject to understand it fully.
Blended learning also makes an excellent option in situations that involves product training. Employees who need to learn about a new product, for example, can get some hands-on experience using it and asking unique questions about it before being directed to an online learning module. This module can contain a more thorough explanation of product features to give learners a more in-depth understanding of the product.
Here are 6 Ways to Combine In-Person & Online Learning
1. Preparation before classroom learning
Have a lecture assigned for learners to complete on the LMS before the classroom time. This could include background information, definitions, or questions to think about before the in-person learning, allowing for richer in-person discussions. Lecturers can do this through documents, PowerPoint slides, or videos.
2. Post classroom follow-up
Instructors can drive their messages and concepts home by following up with learners after a classroom session. This can help highlight important points, as well as helping the learner recall material and think about applications.
3. Material during class
eLearning can be used while in class to shake up a presentation and make it more interactive. After explaining a concept, an instructor may ask the learners to complete an activity on their LMS.
Remember that with an LMS, an instructor can see which learner completed the assigned materials.
eLearning is very useful, but there are still some concepts and learner experiences that are more effective in a classroom. Here are some topics that your company may want to consider keeping in-person.
4. Cultural learning and interaction
Leave the compliance and policy training to be watched or read on the LMS. Use the in-person time to introduce and reinforce your company's culture to the learner.
5. Team building
There is some social learning that can be done through an LMS, but the deeper team and trust building in a company is great to do in-person. If most of the training is moved online, then there will be time to spend on this aspect of training in the classroom. Team building and strong company cultures can significantly reduce employee turnover, saving time and money for the company.
6. In-person discussions and questions about the online material
Try using the LMS to introduce concepts and subjects to the learner, then come together for deeper discussions and to answer questions. Although online forums can be used, sometimes it's just better to get together and discuss.
About Knowledge Anywhere
Knowledge Anywhere is an elearning company focused on providing flexible, modern learning and development solutions that enable organizations to harness the power of an engaged, knowledgeable workforce.
Our Learning Management System, Virtual Reality Training, and Course Development services, combined with our experience and customer support enables our users to create a learning and development program that boosts sales and drives company growth.
The new age of flexible, fast elearning.
Professional development through continuous workplace education is an important aspect of keeping an organization's workforce satisfied, engaged and productive. Many successful organizations achieve this by providing convenient and engaging learning opportunities with elearning through the utilization of a Learning Management Systems. The Learning Management System industry has been continuously updating their user interface and delivery options to fit the advancing landscape of elearning.
Some of the most recent trends in elearning are:
Micro learning
Social learning
Mobile learning
Just-in-time learning
User interfaces that looks modern and are easy to use
Even more important than the above elements is the big picture need to have elearning become part of the employees natural everyday workflow.
With all of this in mind, Knowledge Anywhere created QuickQuiz for Slack.
For many organizations, Slack is an integral part of day-to-day work activity as an instant messaging service with easy connectivity to other services like Google Drive, Salesforce, and Microsoft Dropbox, just to name a few.
QuickQuiz creates the opportunity to bring fast elearning into users' Slack channels. Administrators can quickly create a quiz to send along with a piece of elearning material in order to request feedback and see which employees saw the content and how well they understood it.
Here are some examples of when a business might create and assign a quiz in the app;
Product knowledge confirmation
Policy understanding
Company direction thoughts
Gamification – post-learning quizzes with incentives for "first person with the right answer"
QuickQuiz is command-based application, allowing for a flexible, simple, user-driven quiz creation experience.
Find more information about QuickQuiz here, or add QuickQuiz to your Slack channel now by clicking on the button below.


In addition to QuickQuiz, Knowledge Anywhere offers a host of elearning technologies, such as their Learning Management System, Virtual Reality Training solutions, Course Development services, and an online video converter for SCORM video compliance, called SCORMify. Contact Knowledge Anywhere today to see how these solutions could help elearning in your organization.
The Learning Management System (LMS) started out as a technology solution that provided a way for in-person training to migrate online. Since then, it has evolved as a tool to deliver, manage and track all learning that takes place at a user level—helping organizations develop a consistent and reliable way to transfer knowledge and ensure employees retain the material.
You've seen how well it is working for others who have decided to move their current training library into the digital world or, you may have come to realize that your present vendor isn't providing an LMS platform that meets all your needs. So, where do you begin to find the right product to fit your organization? This article will help you start to think about what is important to your business and what to look for in an LMS provider.
In addition to reading this article, a great resource to help you recognize attributes in an LMS that matter most to your organization and simplifying the research and comparison process is the FREE LMS Evaluation Checklist. It provides a helpful visual grid with a criteria rating system to help you easily narrow down your LMS provider list.
Cost
First, the vendor needs to provide an pricing plan that gives you unlimited course uploads and support at a reasonable price. Also keep in mind that as the number of active users increases, the price will most likely adjust accordingly. If you don't know these variables going in, improper LMS selection will drain resources, create headaches and you will find yourself spending more money than you expected. Not all systems will fit your needs but, keep an eye out for vendors that offers transparent pricing and perks such as multi-year discounts, a one-time setup fee and a way you can turn your LMS into a revenue-generating platform.
Product Features
The right LMS vendor will offer you a modern, user-focused solution because they recognize the importance of providing an intuitive and engaging learning interface. Four valuable features in an LMS that will make learning more convenient for your learners are:
Single Sign-On (SSO): With SSO, users can access the LMS solution from a secure portal without creating new usernames and passwords.
Centralized LMS platform: An LMS that delivers learning, webinars, instructor-led training, assessments, certifications and compliance content to multiple devices.
Flexible Reporting: Real-time data so you can instantly see how effective your training program is and provide feedback promptly; this will encourage people to learn more.
Connectivity: The ability to connect your LMS with other applications and tools that you use in your elearning process is important.
Support
The LMS product features are important but, the vendor's ability and willingness to help you after you've purchased their LMS should be a major factor in your decision-making process. You are probably going to want help transitioning to your platform with extensive training on how to optimize and use your new LMS so you can get the most out of this new purchase. Limited, unresponsive support can hinder your success with the LMS solution. Look for vendors with resources that include a personal customer success representative, phone support, unlimited email support, articles, guides and videos.
Integrations
Do you want to sell your e-learning courses within the LMS? Do you have a need to connect your LMS to another program like your HR system? If so, you need to make sure that the vendor's product is capable of doing this. To satisfy individual needs, the right vendor will have a way for you to turn your LMS into a revenue-generating platform so you can sell your valuable content as a subscription or by individual course if you choose. Or, to easily connect to the software programs that are vital to your organization.
Location/Localization Capabilities
We know that training is more difficult and time-consuming particularly in medium to large organizations where employees working in different roles across a variety of physical locations. The right vendor will help streamline this administrative effort, making it easier to ensure that each staff member is receiving the appropriate training they need. Their LMS solution will be available on multiple devices so that employees from all locations can access their assigned training. You should also consider a learning management software that is capable of supporting a multi-lingual audience if your organization operates on a global level.
Learning Management System Evaluation ChecklistThis checklist will guide you through selecting the right elearning training solution for your organization based on your unique needs.
See How Knowledge Anywhere Can Help
At Knowledge Anywhere, we provide every key feature and service we have mentioned today. When you contact us, we'll help you prioritize what you need so you can identify your main "pain points." These could include a vendor you now use who provides poor system support; a difficult interface you're trying to use; inadequate reporting in your present learning system; lack of key features; or, a product that is difficult to integrate with your existing software programs. We are also happy to help people who need expert guidance and are deciding on a system for the first time.
Schedule a live demo to see the Knowledge Anywhere LMS in action.
What if, the first time your employees accomplish an important task, they've already walked through it multiple times? It seems like a contradiction, given that there's a first time for everything. Through VR-based training, though, that contradiction can become a reality.
Regardless of industry, the right type of training plays a vital role in preparing your workforce for their jobs and enhancing their skills and expertise over time. Traditionally, much of that knowledge is theoretic, words or images on a screen that can be applied to a real-world situation after the fact. Virtual reality training changes that equation, dynamically simulating the environment your workforce actually faces ahead of the first time they encounter that specific situation.
In other words, virtual reality is far more than a concept embraced by gamers and technology geeks. In the right context, VR training for employees helps your company improve productivity while building more engaging and relevant programs for your workforce.
Here are 6 Ways to Incorporate VR Training Programs into Your L&D Strategy.
1) VR Training in a Manufacturing Context
Imagine working on your individual tasks, and being able to see the finished product in action, before you ever step toward the assembly line. That's the promise virtual reality training brings to the manufacturing industry, which has been eager to take advantage of it.
Manufacturing jobs take place within a larger context. The sights, sounds, and environment of the factory floor are impossible to simulate in a traditional training environment. Through virtual reality, employees can be better prepared for these situations, improving their skills and productivity from the moment they start on their actual tasks.
2) VR Training in a Sales Environment
Sales and retail professionals constantly encounter situations that are unique and require appropriate reactions as part of snap decisions. Unhappy customers, Black Friday rushes, and other scenarios can be addressed through words and images, but are unlikely to resonate until experienced by a new employee.
Walmart has been an especially eager adopter of the technology. Through its VR-based training, employees are prepared for situations better than they would be otherwise. The goal is to incorporate the concept in every Walmart store across the world within the next couple of years to improve both onboarding and continuing development.
3) VR Training in the Medical Profession
Perhaps the most steadfast evidence of the success VR training can bring to a profession exists in the medical field. Here, a number of studies have shown that professionals trained through this opportunity improve their performance, and keep patients safer, as a result.
One study, for instance, focused on how VR-trained technical skills transfer to the operating room. The result was significant. Surgeons who were prepared using the technology were able to dissect a gallbladder 29 percent faster, while professionals not trained using the technology were five times more likely to injure the gallbladder. In short, virtual reality training significantly improved operating room performance.
4) VR Training in Law Enforcement
Like the medical profession, law enforcement requires both theoretical and practical expertise. Encountering unexpected situations is just as important for a successful officer as is fast reaction and decision time.
VR-based training can help with both. In a study of football quarterbacks that are expected to be applicable across industries, individuals prepared for unique situations through VR were able to make decisions that were both faster and better. Replicating a potentially dangerous situation in a safe environment allows law enforcement professionals to better prepare and make better, faster, decisions.
5) VR Training to Right Fit Job Candidates
One unexpected example of VR training programs comes from Germany, where the transportation giant Deutsche Bahn is using the concept to right-fit potential job applicants. Here, candidates for a variety of jobs are shown and trained in the skills for various positions that range from infrastructure management to technical support. Their performance in these virtual environment drives not just the general hiring decisions, but what area they will be hired in as well.
The Deutsche Bahn example could apply to numerous industries, but it's also interesting because it highlights ancillary benefits of VR training companies. Employees value training, and they want to be engaged in it for maximum success. Highlighting your VR development capabilities might just give you a competitive advantage when recruiting top-end talent.
6) VR Training to Prepare for Space Exploration
Finally, NASA has long been a pioneer in using virtual reality to better prepared its astronauts for space. The technology allows future space explorers to prepare for their mission by preparing the exact tasks they will be expected to accomplish in a safer but authentic virtual environment.
NASA specifically uses the concept to train potential astronauts in spacewalking, which describes the concept of moving outside the space station to accomplish specific tasks. This activity would be impossible to simulate if not for VR, which provides the environment needed for more authentic training possibilities.
Building a Better Training Program for Your Organization
Of course, these are just a few of the examples that show virtual reality as an opportunity to improve your training approach and mechanisms. Virtually every industry that includes at least some hands-on work can benefit from the technology to maximize their employees' readiness and productivity.
To maximize the impact of these potential benefits, you need to be strategic in finding the right virtual reality training software for your needs. Knowledge Anywhere has been a leader in the space, helping organizations of all sizes both build traditional training modules and adding VR training courses into the equation. Visit our website to learn more about our capabilities, and take your Learning and Development strategy to the next level.
Schedule a Demo to learn more about our Virtual Reality Training Programs.
Online certificates are quickly rising in popularity. They help individual employees increase and showcase their expertise in a specialized field while contributing to professional development efforts. Through improvements in technology, it is possible for corporations of all sizes to offer their own, tailored certification programs.
Of course, simply putting together a PowerPoint presentation and finishing it up with a few multiple choice questions is not enough. A better understanding of how online certificate programs benefit both employees and their employers helps provide you with the motivation to engage in this comprehensive, rewarding undertaking.
How Online Certificates Benefit Employees
Almost 90% of millennials consider professional development and career growth opportunities very important. Additionally, almost 70% of the entire workforce considers training and development documents the most important workplace policy. An online certification program helps satisfy both of these areas in a number of ways, including:
Targeted pathways to professional development.
An organizational emphasis on improvement.
A 'badge' process that helps participants showcase their newfound expertise.
All of these aspects of a certificate program will help satisfy and retain employees while giving your business the added benefit of a better qualified and prepared workforce as well.
How Online Certification Benefit Employers
Employees who are more engaged in professional development will become more engaged, qualified, and ultimately more productive. This is especially true for compliance certifications, which might be necessary for specialized jobs in the financial, healthcare, and manufacturing industries. But the advantages don't end there. Certification programs can also increase your profitability by setting your front-facing employees apart in the eyes of customers because of the additional training they received through the certificate program.
Third, you have the opportunity to open up your certificate program to external audiences beyond your employees. Now, the benefits begin to branch even further:
Build brand awareness to professionals in the field, who might become future customers or employees.
Add a new revenue stream by adding an e-commerce element to the certificate program.
Increase authority and credibility in your field by positioning yourself as a thought leader in the topic of the certificate.
Whether the program is open to the larger community or limited to your employees, you will build a community in its participants. The result is greater company loyalty, longer employee tenures, and increased customer revenues.
3 Steps to Create a Great Online Certificate Program
Of course, the advantages above sound great. Build the right program, and both your company and your employees can benefit significantly. But how do you get to that point?
Creating a great certificate program requires a strategic plan that will take you from the beginning of the process all the way through the implementation, and beyond. With these 3 steps, you can create a great online certificate program that benefits everyone involved.
1) Define Your Focus
This stage in the process makes sure that you take the program in the right direction and that you will be getting the most return on your investment in the program. Some questions to start with:
Who is this certificate program for?
What do you want them to get out of it?
How will this help further the goals of the company?
Keep in mind that you can start with a few certificates in areas that are most needed, and would provide the most benefit, then grow the program from there.
2) Build the Curriculum
Once you have defined the focus of your certification, decide how comprehensive you want the certificate to be. Answering that question helps you define whether or not you are looking at a single "course" that
focuses on one specific topic, or a multi-course certificate.
C
onsider the total time spent to certification, as well as the ways in which you will test the learned knowledge at the end. At this point, you should also decide who will be the creator and/or teacher of the course. You might have an internal expert easily available, or draw from outside expertise. Either way, find a professional who is inherently credible to your audience to maximize effectiveness.
3) Optimize the Delivery Method
Finally, it's time to think about the exact channels through which you plan to deliver the curriculum. This step is often overlooked, but absolutely crucial to the success of your online certificate program. Meet them where they are, which means visual content delivered in a
mobile-friendly
way. Simply uploading and hosting a piece of content will not be sufficient. You need a way to track your learners, give access to the courses, assess if they earn the certificate and administer that certificate. Here is where a Learning Management System (LMS) enters into the equation. A well-fitting LMS helps to streamline the delivery of the certification program, allowing you and your students to track their progress and dynamically access new modules. The right LMS also helps you track the success of your program. You can easily determine the total number of participants, and how many of them actually complete the certification. That, in turn, allows you to make adjustments to improve the user experience to maximize successful participation and completions.
There is a lot to be gained for both employers and employees when a company takes the time to implement a thoughtful, effective certificate program. Employees value professional development opportunities, reducing turnover costs, employers can see a more engaged, productive workforce, and you can start to get a better feel for the members of your company with the data you collect through your LMS. The right strategic approach, along with the right software, can make all the difference in building a certificate program that company and employees will love equally. Learn more about Knowledge Anywhere's

learning management solution

, and how it can help you streamline and focus training and professional development for your stakeholders.
Imagine your boss has scheduled another training session where you know the most exciting portion will be the free coffee. You fill your first cup and trudge into the bland conference room preparing yourself for the battle ahead of staying awake while trying to latch on to your boss' talking points.
Before your boss begins to speak, you can already feel yourself nodding off, and you sip your coffee to combat the impending boredom. Then, however, the stage in the conference room explodes with laser lights, fog machines cloud the foreground, and out bursts Tony Robbins. His energy, charisma, and personal anecdotes keep you engaged, laughing, and most importantly, learning.
Over the next two hours, your brain absorbs more information than you thought possible and when the training session ends, it leaves you wishing there were more to learn. Finally, you remove your VR headset to find your coffee cold, and you're still in your pajamas. This is the world of virtual reality training.
In this article, we'll explain how to easily scale VR training to make it as affordable as it is impactful.
Using scalable VR training with 360° images and video capturing in a mobile format.
When investing in scalable VR training, there needs to be a strategy behind it. Identify learning situations that would be more valuable in a VR setting, such as; a difficult conversation that your HR team may need to have, or a way to train your sales team in a real-world setting. More than delivering a novel experience, the world of virtual-reality learning is a way to engage people in their training like never before.
When using a mobile format, this type of VR training is easy to use, accessible to the smallest of companies and frees up precious time that monotonous presentations can devour.
If your company is looking to train its employees with the use of VR headsets, your initial research will likely lead you to sticker shock. At hundreds of dollars apiece, it would make little sense for a small company to invest so much in premium headsets. They're expensive, liable to be dropped or broken, and buying more than one or two can absorb a large chunk of a modest budget. Luckily, not all VR headsets are priced the same.
The creation of affordable VR systems has been on the march since they were first introduced. Now, the market offers affordable headsets like Google Cardboard and Homido, making virtual reality training more accessible. With these less expensive options, smaller companies can use the technology at an affordable price and have decreased financial risk with dispersal to employees.
Investing in your company's future.
Training employees today using cost-effective headsets and custom-made VR courses is as accessible as it's ever been. Whether you're looking to inspire your employees while training them in a unique way, or simply looking to make a sound investment in the productivity of your company, using a 360° format is a reasonable first step.
More important than the headset itself is the VR training program and the VR course creators that you decide to work with, who can teach you how to reap the benefits of virtual reality.
Knowledge Anywhere is a learning management system company that makes custom virtual reality training programs. With their focus on VR development and course creation, they take training your employees to the next level. If you're looking for custom-tailored user interfaces and training programs, Knowledge Anywhere has the solution.
Connecting with students emotionally means bringing real-world communications online.
Someday, eLearning may cover all levels of curriculum, not just college courses or enterprise training. Already, many K - 12 children use online learning for homeschooling. As the technology improves, eLearning will become a more realistic, immersive and personal experience.
Strong Emotional Bonds between Teachers and Students
We all remember at least one teacher who inspired, motivated and excited us to learn. Those feelings came from personal connections developed in the classroom, but not through the course materials. In the real world, these connections develop through random classroom banter and unexpected interactions. As eLearning evolves, teachers are learning that they can make the same emotional connections with students via social media.
Developing Emotional Connections Online
Connecting with students in a virtual setting is much like making online friendships. These connections spring from our interactions on blogs,forums, social platforms and other web spaces. Certain features of these web spaces help us bond. They include:
Profile photos
Personal profiles
Frequent updates
Social timelines
Location-based services
Photo sharing
Social media interactions give us small glimpses of another person's life. Sooner or later, an update comes through that we identify with. When we respond to those updates, we sow the seeds of a new connection. When the interaction continues and grows, it develops into a stronger emotional bond.
How Teachers Can Us Social Media to Make Deeper Student Connections
While it's true that teachers can use eLearning technology chat rooms to facilitate on the fly, unexpected communications, real-world communities stretch beyond the classroom walls. Interactions between students and teachers also take place in the hall, outside the school or perhaps at the local grocery store. Similarly, teachers should be available outside of eLearning spaces.
Facebook- By using site controls to determine what types of communications students see, teachers make themselves more accessible without being vulnerable to excessive unwanted intrusion.
Twitter -Teachers can also host twitter discussions centered on a television program or video related to the classroom materials.
Instagram- Becoming increasingly popular with student populations, teachers can use this photo-sharing service to send subject-related images to students that help anchor important key lessons and open up lines of discussion.
Google Plus - With the "circles" feature, Google Plus may be the best way for teachers to interact with students without giving up too much personal privacy.Teachers can put all participating students in a specific circle and share certain items just with that circle.
Video Chat - Google, Skype and other group video chat services put faces, voices and body language to names, deepening emotional connections. Virtual classroom teachers can use group video chat sessions to get to know the students better while helping students feel more connected to each other.
Remember that these communications can't be forced or faked. When teachers try too hard to connect, the value of the interactions is lost.
Use Knowledge Anywhere's Learning Management System and Course Builder to build your virtual classroom.
Knowledge Anywhere offers virtual hands on training (vHOT) and rapid course development software (ICE) that help teachers and trainers develop and present effective social learning programs. Call us at 1.800.850.2025 or complete the online contact form to talk to an eLearning expert for a free consultation.
Whether you are tech-savvy or an average consumer, this digital age in which we live always gives you a chance to learn new technologies. With the massive growth of technology such as learner analytics, micro-learning, and artificial intelligence, the future holds something great for us! These new learning opportunities seem exciting, but for some people, new technology can be daunting and seem too complex to implement. However, people who take the time to explore and adopt new technologies will often be able to simplify and streamline their work.
This article will discuss the seven tech-driven learning trends that will rule in 2018.
1. Collaborative Social Learning
eLearning has a lot of buzz around it, and for good reason. Organizations are looking forward to utilizing social and collaborative learning to become more productive and efficient in the competitive market. Social and collaborative learning not only provides an opportunity for employees to learn new modules and training courses, but it also offers great flexibility to access them anywhere, anytime. This type of learning process has simplified various tasks like introducing personalized learning plans and earning microdegrees, exchanging ideas and sharing information.
2. Learner Analytics
Evolving technologies are complex and collect a lot of data. This data needs to be collected, analyzed, and learned from so that it can be effectively implemented into our businesses. With learner analytic tool, organizations can prepare reports and analyze data based on learning performances. These reports help organizations to track the learner's progress and at the same time, promote better learning opportunities. In 2018 organizations will be pushing to use their data to provide an optimized learning experience for their employees and targeted learners.
3. Video Learning and Interactivity
Video learning is already a popular method of dispersing useful information in an interesting way. Most people prefer watching videos rather than reading through lengthy content in order to grasp knowledge and information. In future, companies are expected to take video a step further with more interactive video and even augmented and virtual reality experiences. It is expected that interactive videos will be able to make learners more involved and engaged in their learning endeavors. Instead of simply watching, these advanced video learning lessons will allow their learners to test their knowledge and make their own decisions.
4. Learning Apps
Today, people are highly dependent on their smartphones for everything from work, to entertainment, to being social. Why not turn a smartphone into something useful and give people an opportunity to learn from it? In 2018 we will see more developers designing mobile-friendly learning apps and employee training software. This way, people can learn when and where it is most convenient for them.
5. Micro-Learning
To make learning more effective, organizations need to adopt new learning technologies. Micro-learning is one such technology that helps learners to understand the new concepts by breaking them down into small lessons that keep a learners attention. This way, learners are able to focus more on the topic and grasp the useful information. Instead of providing long lectures, companies are adapting to provide learners with small pieces of content that can be retained easily.
6. E-Learning Software
It is difficult to effectively and consistently train a large workforce. For this reason, most corporations and big organizations are adopting eLearning software solutions to train their employees in a shorter time-span. It not only provides personalized learning but also offers an interactive experience to the learners by means of media and gamification. The best part of using learning software is that it is cloud-based and is accessible from anywhere. Learners can attend training courses from the comfort of their own space. Employers can also assign tasks, analyze the performance of individual learner and make changes as needed.
7. Artificial Learning
AI is one such technology that is fast, quick and responsive in terms of learning and reasoning. Although AI is not yet fully developed, it is expected that it will be used in various industries due to its outstanding benefits. In fact, it will not only aid in researching data about specific subjects but will also come up with valuable conclusions to help improve eLearning lessons and learning efficiency.
The Bottom Line
The above-mentioned tech-learning trends are expected to rule in 2018. These techs-trends will not only help to improve your business but will also allow you to compete with other similar companies. All you need to do is research more about the functionality and maintenance of these technologies and invest in one that you think is the best fit for your organization. So, what are you waiting for? Start researching and get onboard as quickly as possible to build a competitive edge in the global market.
About Knowledge Anywhere
Knowledge Anywhere is an elearning company focused on providing flexible, modern learning and development solutions that enable organizations to harness the power of an engaged, knowledgeable workforce. Our Learning Management System, Virtual Reality Training, and Course Development services, combined with our experience and customer support enables our users to create a learning and development program that boosts sales and drives company growth.
Workplace issues are not just all over the current news cycle, they are the current news cycle. Sexual harassment, assault, bullying, communication breakdown and discrimination are topics of conversation and condemnation from Hollywood to Washington to major corporate boardrooms.
This article will explain how employee relations training can help ensure a healthy work environment for everyone in the office.
What is employee relations training?
Employee relations training is professional coursework offering a variety of insights and solutions to issues affecting the human factor in the workplace. Employee relations training empowers businesses to proactively identify potential conflicts and resolve them before they become complex problems, and provide guidance and navigation through laws and regulations governing the handling of disciplinary, diversity, labor, performance and conduct issues.
What purpose does it serve?
The training offers regularly updated guidance for attorneys, HR professionals and managers on the practical aspects of laws governing employment, compliance, investigations, litigation, grievance procedures, and other management issues.
10 Reasons To Train Staff In Employee Relations
1. Legal Issues
Offering the training (and providing refreshers through regular quizzes or courses) impacts your staff when legal issues arise. Their understanding of the law and their role in its administration can resolve a disagreement or misunderstanding before it becomes a lawsuit or national media story.
2. Training strengthens trust between employees and HR
Employees know HR will listen and take the necessary steps to settle a situation, without fear of personal or professional repercussions.
3. Dealing with grievance
An employee with a grievance and no guidance has no confidence in an untrained HR department. Staff who choose to file complaints need a non-judgmental employer who offers help and support.
4. Healthy Work Environment
Employee relations training fosters a healthy work environment. This means increased trust and confidence in the company's ability to do the right thing legally and a larger investment in common work goal.
5. Multiple HR personnel trained = increased employee comfort
Not every employee feels comfortable or confident going to a single point person on the HR staff. And while there are many HR challenges, training multiple HR personnel well provides employees with a choice.
6. Eliminates the "water cooler" exchange
The training eliminates the "water cooler" exchange of information, which often leads to misinformation, discontent and disagreements. Trained HR staff have learned the tools to step in and act quickly to defuse tensions, initiate discussions and find solutions.
7. Combats online workplace harassment
Workplace harassment is no longer limited to face-to-face interaction. Much of it occurs online, through emails, texts, and phone calls. When these communications are unwanted, threatening in tone or action and interfere with job performance, a trained HR staff is capable of handling digital harassment as competently as any other adverse situation, including clearly defined policies and an online anti-harassment course for all employees.
8. Keeping up with change
Laws and regulations change constantly with court case decisions, new government administrations and the revelation of even more new and unfortunate means of harassment. Regular training, especially online training, with its ability for rapid update and delivery to HR staff, keeps personnel current with the newest laws and proper response methodology.
9. Emphasizes a positive message
Employee relations training spreads a positive message: "we are here if and when you need us, for any reason." And while employees tend to come to HR only when they need something critical and immediate, it is good to know that their HR staff is fully trained and willing to hear both complaints and compliments with compassion and consideration.
10. Employee relations training goes beyond the current harassment issues
Today's multi-generational workforce works together, but their needs differ as much as their life and employment experiences, which can cause friction and conflict. Bridging this gap means avoiding stereotypes, engaging workers with training designed to build communication and encourage the formation of small inter-generational teams to work on projects, exchange ideas and even perform volunteer work outside the office as a team-building exercise.
How does our eLearning platform help?
Knowledge Anywhere's Learning Management System offers a flexible, modern, cloud-based training technology for your staff to use anywhere, anytime and on any device. Customize it for instructor-based courses, virtual classes, certification or assessment seminars; the platform provides everything from basic skill building exercises to digital completion certificates.
Our platform's success in the healthcare, technology, manufacturing and financial industries speaks for its effectiveness and efficiency. Visit us online, meet our staff and learn more about our products, services and commitment to your success.
Technology has transformed every aspect of our lives, including the way we learn. No longer is it necessary for people to gather in a physical space for learning or training. Virtual learning provides an exciting, efficient, and economical alternative to traditional learning. For businesses and all types of organizations, this offers a great opportunity to deliver training faster and more effectively than ever before. What are the benefits of virtual delivery?
Engaging. With people increasingly spending time online, it's often easier to hold their attention in a virtual environment.
Flexible. Training can be tailored to any purpose or industry. Tech companies can train people on how to use new software. The hospitality industry can train employees on how to interact with clients. Financial companies can create virtual compliance training.
Interactive. In many ways, it's actually easier for participants to engage with each other and with instructors in a virtual environment than in live sessions. For larger groups, you can set up smaller specialized online rooms where people can chat and ask questions.
Economical. With traditional training, either instructors or employees have to travel. Virtual training saves you the time and expense of having to move people around.
Easy access. Virtual training sessions can easily be recorded and stored online, making it simple for participants to access and review the information whenever they need to.
Empowering. Improve your training approach to empower your employees, giving them the ability to learn hands on in real-world situations.
Here are the top 7 ways to get the most out of virtual training.
1. Be Clear About Your Objectives
In order to reap the benefits of virtual classroom delivery, it's important to identify your goals. This is the case for any type of training, of course, whether traditional or virtual. However, some people become so enamored by the technology that they forget that is is a tool. While you can create a virtual training program for just about any purpose, it is still up to you to pinpoint your objectives. Make your goals as specific as possible, such as "Increase sales by 25%" or "Achieve 95% success in compliance training." When you outline clear performance goals, you can measure the effectiveness of the training and, when necessary, make improvements.
2. Conduct Many Tests and Rehearsals
Before actually training people on your learning management system, be sure to go through plenty of test runs. You want to be sure that the technology is working smoothly and that the material is appropriate. Test the training on knowledgeable subjects who are already very familiar with it. For example, if you're planning a virtual learning course to enable employees to obtain compliance training certification, run the material by experts who can ascertain if everything is covered and that the information is delivered in an efficient and user-friendly manner. Your trial audience may give you valuable pointers on how to make the training more effective.
3. Provide Thorough Training on Using the Technology
In order for participants to get the most out of virtual training, it's essential that they're comfortable using the technology. No matter how user-friendly your setup might be, there is always a learning curve. People will start out with different skill sets when it comes to using such systems. Whether people will be accessing the training from home or at work, make sure they get a tutorial on using the system before the training begins. They should also have access to support personnel, either in person or online, where they can ask questions on how everything works.
4. Encourage Engagement
It's essential to understand the importance of training delivery dynamics. The more people interact with the training, the more they'll get out of it. That's why it's vital to design training in a way that maximizes interaction. There are several ways to do this, including testing, gamification, online chatting and Q & A, and video role-playing (which is covered in more detail below). Ask questions that encourage responses, such as "What are some of the most common objections a customer might raise?" Presenters can also "call on" specific people in the audience, the virtual version of teachers calling on kids in the classroom to make sure they're paying attention.
5. Leverage the Power of Video Role-Play
Video role-playing exercises illustrate the advantages of virtual classroom system training. Whether you're teaching sales techniques, providing compliance training, or covering potential harassment scenarios, this type of video training allows people to act out likely scenarios in a virtual environment. Video training is effective for delivering all types of information. Role-playing, however, takes it to the next level. For certain training, it's not enough for people to passively absorb information. They need to participate in order to solidify the knowledge and work through common problems.
With video role-playing, you can cover the same information and situations as you could in live training. The advantage, of course, is that you can deliver the training from any location. As new requirements arise, you can update the training and provide employees access to it without the need for anyone to travel.
6. Create Customized Training
One of the keys to succeeding with virtual training is to make sure the material is well targeted to the audience. If people have different levels of knowledge or experience, there is no reason for everyone to access the exact same training. Advanced learning management systems make it easy to create specialized training. For example, you might give everyone the same introduction but then create separate virtual classrooms for people with different needs. Creating these customized learning plans keeps learners engaged and ensures that you are utilizing their time wisely.
7. Solicit Detailed Feedback
One way to measure the effectiveness of virtual training is from measurable results. Have sales improved? Did employees successfully complete compliance training? Another way is to solicit thorough feedback from participants. Ask people what they liked and didn't like about the training and for suggestions on making improvements. This type of feedback isn't always 100% reliable, of course. People may say that the material wasn't presented clearly while, in truth, it might just be difficult for some people to learn. However, by accumulating responses and comparing them to measurable results, you can get helpful tips on how to improve future training.
About Knowledge Anywhere
Knowledge Anywhere lets you redefine the training experience with a variety of cloud-based training solutions, including Learning Management Systems and Virtual Reality Training. Schedule a demo to learn how Knowledge Anywhere can create an effective, customized training program for your company.
With any enterprise deployment, it is always helpful to review how the implementation went. Your organization most likely invested a significant amount of time in researching, vetting, and selecting a new LMS provider. In addition, there is the total investment of the system which includes the amount paid to the vendor and costs associated with data migration, integration, internal support costs, and the development expense of new courses.
To get the most out of your LMS moving forward, take a look at where you have come from by completing a five-point checkup.
1. What was the total cost of the implementation compared to the budget?
Remediation: If the project was over budget, what caused the overage and what can be done to minimize the spend going forward.
2. How many learners have accessed the system thus far?
Remediation: If the usage is lower than expected, is there a lack of communication, support, or engaging content?
3. How many courses have been completed?
Remediation: Along with the items mentioned in number 2, we find the creation of new online learning material often overwhelms training team and thus quality courses are slow to come.
4. What is the level of feedback from the learners?
Remediation: First, it is critical to collect quantitative and qualitative learner feedback. If the feedback is less than stellar, do the low feedback scores relate to the system or the content. What can be addressed?
5. Has the system delivered an increase in revenue, productivity, adherence to policies and or reduce the overall costs?
Remediation: This is most likely not an issue with the LMS, but an issue with checklist items 1, 2, or 3. It is good to audit the training paths to determine the connection to the business results.
If your new LMS failed one or two of these checkpoints, make it a goal during the next 12 months to improve with quality content, communication and responsiveness to feedback.
If your new LMS failed all the checkpoint items, it might be time to reconsider the decision and switch to a different LMS. This can be a painful realization and decision. Before you go down the path of switching out the LMS, ensure the cause of the failure is with the LMS and not related to the content or organizational issues.
Starting with the end in mind is the key to planning a successful learning management system (LMS) implementation.
However, this can be difficult to do if you don't know what to expect with an LMS implementation timeline. Here's a breakdown of what is typically included as part of an LMS rollout plan.
The Big Picture
From a high-level view, there are six steps to an LMS implementation:
Planning
Configuration
Integration
User Testing
Go live
Before working on these, there are a few questions that must be asked first:
Who's on your team?
A core implementation team of decision makers should be established early on to contribute insights from all sides of your organization's operations. This team will be responsible for creating the implementation plan, communicating all necessary updates and challenges, and keeping the project on task.
Smaller businesses might not have the resources for an implementation team. If working alone, establish a group of stakeholders you can rely on for quick checks and balances while progressing through the LMS rollout plan.
What's your implementation goal?
Although it's a good place to start, an implementation goal isn't quite the same as the reason for purchasing the LMS.
An implementation goal should address:
What the LMS will be used for
Which business processes will be impacted
Who needs access to the LMS once implemented
It's a good idea to define and document the implementation goal for reference in unexpected circumstances. If a change isn't urgent, don't be afraid to save it for a potential Phase 2.
How To Implement An Engaging LMS: Plan For LMS SuccessA step-by-step guide detailing the full journey of planning, choosing, implementing and evaluating an engaging LMS.
Have you set a ballpark timeline?
Typically, the vendor will have an idea of how long implementation will take. This should be adjusted accordingly as you carve out your own implementation plan, creating small time buffers for any implementation problems that occur. Having a ballpark timeline defined early on will help you plan and prioritize tasks.
Planning for Success
No matter if you're new to buying an LMS or updating a legacy training system, planning an LMS implementation isn't an easy task.
Here are a few things to discuss with your core team or business stakeholders to ensure a smooth implementation:
Configuration
The bulk of the implementation process will be configuring the LMS to your company's needs. To make sure all the requirements are met, a vendor may ask you to make some decisions about user profile data, security permissions, course and curriculum structures, and other configurations early in the implementation.
Avoid being caught off-guard by discussing your business operations with your implementation team and stakeholders beforehand, along with what data is critical to those operations.
LMS System Integration
Many modern LMS solutions can integrate with other business applications, making updating and accessing information simple. When narrowing down your LMS choices, keep a list of systems the LMS will need to integrate with. Ask each vendor if its solution can integrate with your list of systems to make your final decision easier and implementation smoother.
Data Migration
Migrating data and course materials is a complex process. Chances are, you don't need to transfer all your learning data and materials to the new LMS. Migrating as little data as possible will help prevent errors that prolong your implementation.
Before getting to the migration step, review all your learning materials and data to see what doesn't need to be migrated, including outdated information or data that isn't critical to your operations.
Learning Assets
Not all learning management software requires the same formats for data and files. If your corporate training materials (e.g., training documents, presentations, videos) aren't SCORM compatible with the new LMS, the migration stage will become tedious and time-consuming.
Ask the vendor about formatting for your learning assets as early as possible. You can work on making the formats compatible while the vendor works on other preliminary tasks before getting to data migration.
Resource Budgets
From people to funding, not having enough resources for each step of the LMS implementation can bring the whole project to a screeching halt. While creating your implementation plan, discuss your organization's available resource budget for each step, such as people to complete tasks, necessary equipment or software, and what allocations must be made for different costs.
Ongoing LMS Maintenance & Training
Many times, organizations get so bogged down with planning and executing LMS implementation that they forget to think about when it's over. This can cause issues down the road when maintaining the LMS or training new users on the software.
In the implementation planning stages, make someone responsible for keeping up with LMS updates and licenses. And during user testing and training, confirm how long the vendor's training resources are available.
The Positive Effect
Implementing an LMS is a complicated process. However, if you know what to expect and tailor your efforts to focus on these areas up front, you can make a better plan that will save you a lot of headaches down the road. To have a step by step guide, try our FREE ebook on an LMS Checklist.
For a moment I want you to think back to your first job in the corporate world. You probably went through a new hire onboarding program before you could get to your role-specific duties. Did you feel prepared? What elements of the training program made you more successful in your role? You may not remember the specifics, but after a few job changes, you can probably attest to the preparedness (or lack thereof) that you felt after participating in different training programs.
As someone responsible for putting together new employee onboarding programs, you understand the importance of developing a well-rounded onboarding plan for new hires. To assist you with your charge, we've come up with ten essential training topics that should be included in a new hire training program to set your employees up for long-term success.
Here are 10 Topics for Training New Employees You Should Include in your New Hire Training Program:
1. Introductions
On the first day, greet these new employees with enthusiasm, introduce yourself and tell them about your position in the company. Have them introduce themselves and make it more fun by asking questions to discover interesting facts, talents or skills. This will give them a chance to chat and laugh with low pressure, which immediately starts building relationships and shared experiences.
2. Onboarding Schedule
Onboarding includes a lot of information about the company, industry, product, customers, and new tools. Some companies with complex businesses report onboarding that lasts a full year. During the first few days of a new hire training program, lay out an onboarding plan that is broken up into manageable pieces. Each section of the onboarding process should include a goal for the new hire. Example: by month 2, a new hire should have watched videos 1, 2, and 3 and be able to give a full product demo.
3. Important Policies and General Procedures
Policies and procedures should include information regarding hours of operation, dress code, attendance, security, and technology regulations. Also discuss travel, compensation, and benefits, and allow them to sign any necessary paperwork at this time. Some details about policies and procedures can be communicated by creating a video to increase onboarding efficiency.
4. Company History, Goals and Mission
It's important to offer company background information, providing a link between the past, present, and future so that new hires can understand the direction the company is heading. Explain who your customers and competitors are, how the company differs from other organizations, as well as its vision, values and short- and long-term goals.
When new employees have a better understanding of company goals and priorities, this gives them a greater sense of purpose and helps them feel more connected.
5. Workplace Culture
Company culture and norms are hugely important for new hires to learn to be successful in the organization. Explaining details about the company's culture during training will give new hires an understanding of their work environment. The more they know about the culture, the better they are going to be able to fit in and grow with the company.
Including information about compliance and what is expected of new employees will help avoid confusion as well as any future costly legal problems. Start with a talk about information security and make sure that they know about the organization's code of ethics and code of conduct. Knowing which compliance laws are specific to your organization will not only protect the company but the employee as well. This area of onboarding is also an opportunity to utilize videos. When videos are used with an online training platform, HR can efficiently assign the compliance training to the new hire and track if they have watched it.
7. Performance Management & Performance Reviews
Consistent performance management is an important part of successful employee onboarding and continued employee satisfaction. Millennials are the largest generation of employees in the workforce today, and they want more frequent performance feedback. Your company can set itself apart from the competition when it creates an environment of timely, specific and helpful feedback. Introduce one-on-one meetings with managers, as well as peer-to-peer feedback to new employees from the very beginning.
8. Stay Interviews
Many organizations perform exit interviews with employees to see what they could have done better for that employee. A "stay interview" is an interview that is conducted while the employee is still working at the company to get feedback on how the organization can improve. After a new employee goes through the onboarding program, it is a great time to conduct a stay interview. A manager can ask how effective they thought the onboarding process was, what they might still be confused about, and what areas would have made their onboarding faster or easier.
9. Introduction to Team Leaders and Immediate Supervisors
Connecting these new employees with key people as soon as possible helps encourage a smoother new hire onboarding experience. Each team leader or supervisor should provide a tour of the immediate work area, introduce the new hire to co-workers and explain departmental procedures. They should also review the individual's job description, summarize primary job responsibilities, clarify expectations and go over the first day's schedule.
10. Onboarding Mentors
Have supervisors or leaders match new employees with a mentor in their department for a few days. The mentor should be an employee who leads by example, helps guide the new employee and gets them "up to speed" quicker. Mentors can help "break the ice" between colleagues, ensure that employees feel like they fit in and foster open communication. As you can see, employee orientation has changed over the years and isn't simply about filling out paperwork or reading a handbook anymore. Learn more about the role of mentors in onboarding here.
These 10 essential topics for onboarding will help new hires become familiar with the company's mission and culture while providing the necessary knowledge, skills, and activities that help accelerate them into productive, contributing employees.
About Knowledge Anywhere
Knowledge Anywhere is an elearning company focused on providing flexible, modern learning and development solutions that enable organizations to harness the power of an engaged, knowledgeable workforce.
Our Learning Management System, Virtual Reality Training, and Course Development services, combined with our experience and customer support enables our users to create a learning and development program that boosts sales and drives company growth.
Did you know the performance of your star employees might be dependent on their team? A INFORMS study found that the highest-performing surgeons only performed at their best when supported by a familiar and trusted team. Ensuring that you have cohesive teams in place then, is more important than ever.
Fortunately, there are several work team building strategies you can apply to keep your employees happy and productive. Team building done well boosts motivation, productivity, and employees' well-being. If those benefits sound worth cultivating, read on for five tips to building a successful work team.
1. Informal Socializing
Simply allowing time in the day for informal socializing can go a long way in building trust. At MIT's Human Dynamics Laboratory, researchers found that the most important predictor of a team's success was how well teams communicated in informal settings. While communicating effectively on work-related matters is vital to a team's success, the ability to maintain a casual conversation about other topics indicates that a team gets along well.
You can build opportunities to socialize into the day easily, and without sacrificing productivity. Examples include scheduling breaks at the same time or establishing a communal space to eat lunch.
2. Volunteer for a Good Cause
It's widely accepted that volunteering benefits the helper as much as those being helped. But volunteering is also helpful for creating social cohesion or a stronger sense of community. An extensive research project on youth volunteerism at De Montfort University found that volunteering increased volunteers' sense of influence and trust. Trusting your team members and feeling trusted are both important team values, and having a sense of influence simply equates to knowing that your voice will be heard.
Volunteering is even beneficial at the corporate level. In 1994, John Elkington coined the phrase "the triple bottom line" which he used to refer to the three "P"s of a business should consider: Profit, People, and Planet. He argued that in addition to measuring profit, businesses should be concerned about their social and environmental impact. Using volunteer activities for work team building can also contribute to the wider company culture of service and social responsibility.
3. Escape from the Office
Just getting away from the office atmosphere can be a relaxing and necessary change of pace for teams to strengthen relationships. Going on a field trip, so to speak, encourages conversation outside of strictly work-related matters too. For those naysayers who criticize corporate team building games, an activity outside of the office might spark a natural interest.
Team building for work outside of the office can range from a multiple-day retreat to a company lunch. In fact, simply sharing a meal together is one of the five most recommended team building activities by David W. Ballard from the APA Psychologically Healthy Workplace Program. Others include our second tip volunteering and the next tip: physical exercise.
4. Get Active
Providing opportunities for your employees to get active can be much appreciated since just about everyone finds it challenging to stick to a regular exercise routine. But more than the physical benefits, exercise can also help you socially. Exercise relieves stress, reduces worry, and may even help with social anxiety. The physical and mental well-being of team directly influences their productivity.
But it's important to remember that not everyone will find physical activities enjoyable. Find out what motivates your employees so you aren't pushing them into very uncomfortable situations. You might find that a volleyball match with coworkers sounds too intimidating for some of your employees, but that many of them enjoy hiking in the area. Companies can also participate in or sponsor bigger events like marathons or walkathons.
Of course, when planning a physical team building activity, make sure you consider everyone's abilities and allow for low intensity or even non-physical options. The last thing you want to do when attempting a team-building exercise is single someone out for not being able to play.
5. Practice Work Skills through Play
When people think of team building exercises, they typically think of being forced to play silly games or trust exercises. But there's still a way to encourage play without seeming cheesy.
Research has repeatedly found that adults should play more. Stuart Brown, psychiatrist and author of the book Play, finds that play has a wide variety of benefits, from reducing the chances of criminal behavior to forging meaningful relationships between strangers.
But adults are more likely to view play as a waste of time, rather than time well spent. Before trying any of the following activities, it's important to frame your corporate team building games properly. Explain the skills you want teams to use during the exercise or encourage them to use it as a way to relax or de-stress. You'll want to vary your explanation depending on your company culture and employees' motivation.
Try these small fun activities for employees:
Creative problem-solving scenario (i.e. zombie apocalypse, deserted island)
Escape rooms (create your own clues or find them online)
Collaborative artwork (freestyle or based on a theme)
Structure building contest (i.e. with office supplies or toothpicks and marshmallows)
Don't forget to debrief after the activity, whether by sharing everyone's work, reviewing the skills used, or discussing takeaways as a group.
Takeaways
Team building for work can seem tricky, but it doesn't have to be. Since they can come attached with a negative stigma, the most important thing to remember is to make team building activities as natural as possible. Chances for informal socializing are the most natural and least structured. Activities structured around a clear goal, like a volunteer project or afternoon hike provide more structure but still read as very natural. Finally, you can apply small fun activities for employees for more traditional team building, but be clear about the purpose of these exercises to reduce any cynicism.
Don't be swayed by unmotivated employees. Team building activities can be fun and offer a wide range of benefits for individual employees, teams, and across your company. For more information on team building and corporate strategy, visit our resources.
About Knowledge Anywhere
Knowledge Anywhere is an elearning company focused on providing flexible, modern learning and development solutions that enable organizations to harness the power of an engaged, knowledgeable workforce.
Our Learning Management System, Virtual Reality Training, and Course Development services, combined with our experience and customer support enables our users to create a learning and development program that boosts sales and drives company growth.
The work landscape across industries is in the midst of a major transformation. More than ever before, organizations of all sizes are relying on remote employees and a globally connected workforce to accomplish both daily and strategic tasks.
Earlier this year, research found that almost 50% of the U.S. workforce completes at least some remote work in the course of a regular week. Globally, trends vary based on culture and technological capabilities, but it's worth noting that the same trend of an increasingly distributed workforce is true around the world.
This increasingly remote workforce comes with a wide range of benefits, from increased worker satisfaction to sometimes significant cost savings. But it also introduces challenges, particularly in terms of both HR management and training needs.
The Training Challenges of a Global Workforce
As we move into 2018, a number of workplace trends have become increasingly clear. Employees are striving for connectivity, collaboration, and environmental consciousness more than ever before. At the same time, differences in culture along with an increasing awareness of sexual harassment violations and other toxic issues have entered the forefront of considerations across industries.
Within a global workforce, many of these trends and challenges become amplified. Team members who work hundreds and thousands of miles away from each other will find it more difficult to connect, collaborate, and remain engaged. Enter mobile learning, a key tool to bridge the gaps that remote work has introduced.
5 Ways Mobile Learning Can Connect A Global Workforce
As its name suggests, mobile learning describes the act of gaining information through personal devices like smartphones and tablets. In the age of the distributed worker, this type of training and communication mechanism is becoming increasingly vital. It has the ability to streamline education, while also promoting connections between individual workers.
More specifically, here are 5 ways in which mobile learning services can enhance your global workforce.
1) Provide Universal Access
Above all, the core benefit of any mobile learning education system is its ubiquity. Your training modules hosted in this fashion are accessible from anywhere, and with any device. Different time zones, or preferred methods of engagement, are no longer relevant. Simply build a learning framework, and provide it to your workforce in a way that best suits their needs.
This universal access becomes especially important considering the increasing expectations your workers have for any HR operations. Core functions need to be available 24/7, which includes the onboarding and training modules. Put simply, your workforce doesn't have time to wait for you until they finally learn about their responsibilities. Mobile learning tailors the learning environment to them, not vice versa.
2) Enhance Employee Engagement
Now, your staffers want more than just a paycheck. They want to be involved in the organization's larger goals and discussions, along with the opportunity to represent it in the community. This engagement can be difficult to produce for a remote worker, but mobile learning can help in the process.
Through your digital training solutions, you can easily distribute the organization's core goals and objectives in a way that speaks to workers across cultures. You can also implement more participatory mechanisms that encourage each staffer to take initiative and help to drive the organization forward.
3) Encourage Collaboration on Common Grounds
As we enter the new year, collaboration and teamwork is increasingly key to both productivity and employee engagement. It's the role of HR to facilitate the collaborative process both within and between multiple teams. When the individuals involved never physically see or meet each other, that goal can become a difficult challenge.
Mobile-based learning environments can provide significant help to solve that challenge. Standardized modules designed for all collaborators serve to get everyone on the same page, building a baseline of knowledge that removes introductory steps and allows for a greater role of productive collaboration.
4) Increase HR and Training Connectivity
As discussed in a previous article, "employees worry about taking time off, shutting down their devices and enjoying earned vacation time." Technology has enabled them to always stay connected, but also increased the responsibility to do so even outside or regular work hours.
Any solution designed to engage workers needs to be available not just from a company computer, but any device that just happens to be close by. By definition, mobile learning can solve that problem. Through portability from desktop to mobile devices, it can build the ideal environment to satisfy your workforce's need for connectivity.
5) Account for a Fluid Work Environment
Contrary to popular perception, a remote workforce is not clear-cut. While increasing numbers of professionals work remotely at some point during the week, they also come back to the office for other days. They value their private space, but also work from open or closed offices. Co-sharing has become popular, but not many professionals use it full-time.
Building a training solution that accounts for this fluidity and constant movement between work spaces can be difficult. A mobile approach is the best possible solution, adding an inherent degree of transferability to your learning modules. It makes your learning system accessible, regardless of the daily processes for an individual trainee.
How to Enhance Your Mobile Learning Education Across the Globe
In theory, mobile learning is the perfect answer for an increasingly global and distributed workforce. But in practice, that can only be true if you implement a solution that is actually designed to take advantage of the benefits outlined above.
Knowledge Anywhere offers education solutions designed specifically for these types of situations. Our learning management system is optimized for mobile devices, helping you manage and educate your workforce regardless of location or device.
The office many of us call home 40 or more hours each week doesn't look like it used to. While the throwback nostalgia of TV shows like Mad Men remind us that not long ago, one gender signed the contracts and made the rules and the other took notes, made coffee or just remained home altogether, the current office structure is best described as a place where the fundamental principles of work remain, but the dynamic of who works, when we work and how we achieve company goals are completely different.
What current trends do human resource professionals view as employment hot topics?
Sexual harassment and other toxic issues
Of all the current HR hot topics, the national news makes this subject the most pressing. From Hollywood to the halls of Congress, the #MeToo stories from men and women deluge the media daily and once told, more will follow. Sexual harassment on the job is a violation of Title VII of the 1964 Civil Rights Act, but the law does not prevent the estimated 25% to 85% of women from experiencing sexual harassment in the workplace. Men are coming forward with their recollections, and other harassment issues based on gender identity, sexual preference, race and religious beliefs and clothing are on the rise.
Connectivity
Employees worry about taking time off, shutting down their devices and enjoying earned vacation time. They get concerned when their company does not offer connectivity capability to their phones, yet complain about being "on call" all the time. This HR topic affects everyone's morale: too much time on the job answering emails and phone calls is unhealthy, but too little time results in customer neglect and incomplete work.
Work-life balance
A part of the connectivity conundrum, HR management is the bridge between the corporate office and disconnected employees unable or unwilling to take steps to achieve a healthy halfway point between home and work responsibilities. Business owners and employers have an understanding that workers need to step away and take care of appointments or attend family functions, but they are unaware of methods to increase job flexibility while maintaining productivity.
Employee engagement
Staffers want more than a paycheck; they want involvement in company decisions and the motivation to move out into the community. Volunteering is more than a nice show; it's your company advertised and branded with a team effort that improves local lives. And employee committees with decision-making input result in loyal employees who come to work every day with the intention of remaining for the long-term.
Paperless storage of documents
Forget rooms of file drawers and offsite storage. Cloud storage lightens the physical load, eases retrieval and access and ensures safety with proper encryption. Multiple teams share and alter a single document in a meeting, clients receive forms and contracts via secure email and employees contribute to a greener, less cluttered office by using less paper, ink, and toner. Paperless storage saves space, expedites necessary corrections as compliance requirements change and create a smooth flow of materials for your sales and marketing divisions.
24/7 accessible HR
Employees want access to everything from available vacation and sick time to retirement contributions and medical plan information. And they don't want to call or email HR every time they have a question or update contact information. They want to take care of personal issues quickly and want to do it at a time and place convenient to them, not HR's operating hours. HR apps exist for most department functions including recruiting, sales, attendance, payroll, performance metrics, and benefits.
Open space vs. virtual space vs. cubicle space
The open or shared workspace was considered the saving grace of the office: it permitted the free exchange of ideas, light, and air, knocked down the ugly cubicle walls and encouraged physical movement among employees. It also removed privacy, decreased productivity and increased noise levels. The "cube" was dismal in its sameness, but it absorbed noise, concealed power panels, and cords and increased productivity. The virtual office, whether at home, a coffee shop or an offsite rented office space, meant less overhead but no way to track hours or productivity or meet professionally with clients. Which workspace works is an HR topic still seeking a solution.
Teams and collaboration
Two or more people working towards one goal make a team; multiple teams working together on that goal is collaboration, and the movement from team goals to teams' goals is part of a company's sense of purpose and dedication to faster, better and less costly success. HR's role is gathering and providing resources: Internet-based training, file sharing and video conferencing and encouraging all participants to view each other as equals and leave their titles outside the conference room while bringing their ideas and expertise to the table.
Where is the work going?
The President recently announced semiconductor manufacturer Broadcom's return to U.S.-based manufacturing, but this is one company out of six who left the country just in 2016 for cheaper labor, favorable taxes, and lower costs. Outsourcing jobs to robots and other countries concerns employees and current HR topics include answering worker's questions and addressing anxieties while dealing with the reality of job displacement.
How green is my workplace
It's not just about reducing paper usage and cloud storage. Chemical storage, cleaning products, air quality, lighting and alternative transportation to work are staff concerns. HR departments contribute to sustainable work practices with posted conservation reminders, using vendors selling recycled products, providing paper and plastic recycling bins and tracking and posting the office's green accomplishments regularly.
Many ages, one workspace
The Millennial generation is moving from the bottom tier to the top offices, Gen Z is on the way in and the Baby Boomers are working longer because they can and want the extra money for later retirement. The gathering of generations in one office creates a chance for both successful collaboration and schoolyard cliques. HR's role is introducing one group to the other as coworkers and team members, without the "them vs. us" mentality.
Knowledge Anywhere offers cloud-based training solutions for the healthcare, manufacturing, hospitality, financial and technology industries. Our specialized courses modernize and customize the learning process, teaching relevant and job-specific skills accessible on your computer hardware. Measure results and gain feedback that grows your business and develops your staff effectively. From a single course to fully immersive virtual reality training, we offer real-world training while minimizing risk at a cost-effective level. Our goal is your optimal talent acquisition and management; not just finding the best people for your workplace, but training, coaching, retaining and promoting them.
Among the many challenges businesses face today is engaging an increasingly diverse and multi-generational workforce. It's common to have people from two or even three generations working side by side. Employees born so many decades apart often have very different skills, backgrounds, and expectations. This is something that affects every aspect of work life.
Training people from different generations is often an especially tricky area. You don't want to design separate training programs for people based on age but it's often difficult to come up with methods that work for everyone. Let's look at some tips to help you design a training program that engages people of all ages.
Understanding the Needs of Different Generations
The first step is to understand why employees often need distinct approaches when it comes to training.
Consider a Baby Boomer or even someone born in the World War II era, alternately called the Greatest Generation or the Silent Generation. These people grew up long before the internet (at least before the internet was widely used), not to mention smartphones, instant messaging, and social media. At the other end of the spectrum, millennials and Gen Z grew up side by side with the digital world.
There's actually a wide spectrum of knowledge and familiarity with the latest technology. It's best not to make assumptions about people based solely on their age. But you need to be aware that your workforce probably includes people with widely differing backgrounds. This awareness is especially crucial when it comes to training. For the quality and depth of training are one of the main factors associated with employee engagement.
Why Training and Engagement Are Vital to Success
Employee engagement is one of the keys to a successful enterprise. Lack of engagement harms your company in a number of ways. For one thing, disengaged employees are far more likely to seek employment elsewhere. According to Gallup, 73% of disengaged employees are actively looking other jobs and opportunities. While many factors influence engagement, training, and onboarding play a major role. Without effective training, it's difficult for new hires to fully fit, feel at home and reach their full potential. The Korn Ferry Futurestep Survey reveals that 98% of executives believe that onboarding programs are crucial for employee retention.
Training, of course, is a major aspect of onboarding, making it easier for new employees to meet the challenges of their jobs. Employees who don't receive proper training are more likely to feel disengaged and seek other opportunities. According to one study, 40% of employees who receive inadequate training leave their jobs within the first year. There's an undeniable link between effective employee training, engagement, and business success. The American Society for Training and Development (ASTD) found that companies that offer comprehensive training have a 24% higher profit margin than those that invest less in training. Of course, when considering how to create effective and engaging training today, it's necessary to consider the varying needs of your multigenerational workforce.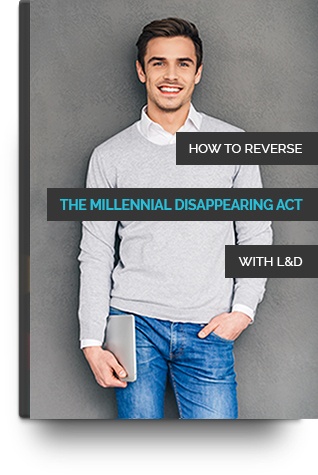 How To Reverse The Millennial Disappearing Act With L&DLearn how to leverage your Learning and Development efforts to retain and attract top millennial talent.
Multigenerational Training Guidelines
Once you are aware of generational workforce differences, you can design training that addresses everyone's needs. The best approach is to incorporate several elements to your training to ensure that you don't leave anyone out. Here are some guidelines to help you do this.
Avoid stereotyping. Try to maintain a balance between recognizing that members of each generation have certain tendencies and realizing that people are individuals. For example, some Baby Boomers are tech-savvy while not all millennials are addicted to their smartphones.
Balance guidance and self-direction in your training programs. Baby Boomers and the Silent Generation grew up learning mostly from personal interactions rather than media. Gen-Xers and Millennials, to varying degrees, grew up playing computer games, browsing the internet, and learning many tasks on their own. Today's e-learning platforms provide many options for self-directed learning. While this is valuable, don't forget that some of your employees prefer live interaction and personal contact.
Seek learning tools that bridge the generations. Some tools are appropriate for multiple generations and learning styles. Video training is especially effective in this manner; everyone probably watched instructional movies in school. Videos also allow for more traditional lecture-style learning that's not very different from a live session.
Provide additional training to bring everyone up to speed. Very often, the gap separating people on tech issues is not as wide as it first appears. Yet, if your training program simply assumes that everyone has the same background, it's easy to inadvertently leave some people behind. You can prevent this by providing extra training and peer-to-peer sessions for older employees (and anyone else who needs it). This type of training might include instruction in using certain software, keyboarding skills, and anything else that's an essential prerequisite to your overall training.
Encourage intergenerational communication. Each generation has distinctive experiences and skill sets (once again, keeping in mind differences within generations and among individuals). Apart from formal training, encourage people of different generations to work together and share their strengths. You can do this by partnering people together in pairs or groups for learning and work projects. When people work together, they often informally pick up quite a bit from one another. A millennial, for example, might teach a Baby Boomer how to use the latest apps while older employees can share some of the valuable experience they've picked up over the years.
If you learn to leverage and appreciate it, people from different generations working together is actually a source of strength for your business. Diversity lets you incorporate the strengths and experiences acquired by people from different generations. It's beyond dispute that quality training improves engagement and contributes to success. By taking steps to address everyone's needs, you ensure that all of your employees get the most out of your training.
Knowledge Anywhere can help you prepare effective, engaging and relevant training for all generations.
With some of the best minds in the business, Knowledge Anywhere offers the experience and expertise needed to improve your training materials and outcomes. Our Learning Management System gives you the tools you need to implement, track and manage your e-Learning objectives.
Workplace harassment is a major issue today. Harassment creates a toxic environment for a business and can harm your reputation. It can also be costly when employees launch lawsuits. Dealing with issues such as workplace bullying, sexual harassment, and other types of harassment is always challenging. It's far preferable to prevent these incidents than to deal with them after the fact. One of the most effective strategies for curbing this problem is by introducing an online anti-harassment training program.
Why You Need to Take Workplace Harassment Seriously
The recent allegations and movements have brought workplace sexual harassment into national headlines. However, the problem goes far beyond the movie industry. According to a report by the National Sexual Violence Resource Center, almost 40% of women have experienced some type of workplace sexual harassment. While sexual harassment is usually directed against women, men are affected as well. There's also the related issue of workplace bullying, which includes verbal abuse, manipulation, and spreading false information about co-workers.
Unfortunately, even these sobering numbers probably don't reveal the true extent of the problem as many incidents are never reported. According to a study from the University of Michigan, only one-quarter one-third of sexual harassment victims report these incidents to supervisors and even fewer ever result in formal complaints. These cases certainly lower workplace morale and disrupt teamwork and motivation. That's why it's essential for every business to take this issue seriously and come up with effective preventive measures.
Creating an Online Anti-Harassment Course
Preventing workplace harassment requires a multifaceted approach. You need to create clearcut policies on conduct and an efficient process for investigating claims. It's important to foster an atmosphere where victims feel comfortable coming forward about any incidents. An online anti-harassment course is a valuable addition to your overall strategy for curbing this problem. Let's look at some of the crucial components to include in such a course.
Defining Harassment
One of the course's purposes is to inform or remind everyone how common harassment is and the many forms it takes. It's important that both potential victims and potential violators are aware of your company's policies. Your course might show examples of harassment, either described or acted out.
Inclusiveness
When employees feel accepted and part of the team, they're less vulnerable to harassment. It's often a struggle for new employees, especially those who are introverted or less aggressive, to fit in. A good place to start with an anti-harassment course is on the topic of inclusiveness. It's important to include new employees in both workplace and extracurricular activities. Very often, people exclude new hires not out of maliciousness but simply due to oversight. Since they're not yet part of people's usual circle of friends/teammates, no one thinks to invite them. An online course can address these issues and remind long-term employees to include their newer co-workers in all activities.
Diversity
Teaching employees about diversity goes a long way in preventing discrimination, whether it's based on gender, sexual preference, race, or religion. Today's workplaces are more diverse than ever and teams are often composed of people from many backgrounds. Diversity training fosters the appreciation of differences and to recognize the contribution that people from different backgrounds can make. Aside from helping to prevent harassment, diversity training helps make your business more creative and innovative.
Team Dynamics
Another essential module of your anti-harassment course deals with effective team-building and team dynamics. Some people are natural leaders while others tend to hang back and not speak up as much. Nevertheless, it's important that everyone's voice is heard. Shy and less aggressive people also have valuable ideas. Sometimes, more assertive people will discourage their quieter teammates from speaking up by interrupting or dismissing their thoughts. This is a type of bullying that actually harms the business in a couple of ways. It makes the bullied workers feel that their voices aren't heard and it deprives the team of hearing their contributions.
How to Increase the Course's Effectiveness
Your online anti-harassment course should cover as many elements as possible to educate employees and get them on board to help you prevent harassment. You can't, however, simply deliver the online course and expect it to work miracles on its own. You also need follow-up procedures.
Updates and reviews. It's a good idea to make frequent updates to the course to reflect and new issues or policies. Even if you haven't made any significant changes, it's still worthwhile to provide at least a short review so the material remains fresh in people's minds.
Survey employees. Surveys help you measure the content and make improvements in the future. Anonymous surveys are useful for asking employees about their experiences with harassment as well as their reactions to your online course.
Discussions. Live discussions help to clarify and reinforce the course material. They also give employees a chance to talk about these issues face-to-face, which can build rapport and prevent harassment issues.
Measuring results. Over time, you'll want to measure the effectiveness of the course. Has it reduced reported incidents? You may observe that it has helped in certain ways but not others. Studying results helps you refine the course and make it more effective.
Workplace harassment is a serious and costly problem for businesses of all types and sizes. You want to do everything possible to prevent such incidents from occurring. An online anti-harassment course is an effective measure to help you achieve this goal. Making sure all employees are clear about your policies on harassment is an essential part of your compliance training. For information on leveraging compliance training, check out:
From the onset of human history, curiosity has been paired with the desire to thrive, resulting in practical and revolutionary inventions that have altered the way people live, discover, and make decisions. As these inventions have evolved, we have evolved with them—creating more advanced technologies that have the capacity to replace the human body (and perhaps even the human mind).
Cognitive computing, notably associated in the minds of the masses with the instance of Watson in Jeopardy, can alter the way we assimilate and interpret large quantities of data. Unlike programmed systems, cognitive computing systems—like IBM's Watson—combine human reasoning capabilities with an advanced aptitude for data mining to uncover unseen trends and new insights. According to IBM, cognitive computing systems can "learn and function as humans" by applying human reasoning to large amounts of complex, and even self-contradictory data[1], all the while learning from "interactions, outcomes and new pieces of information[2]."
While cognitive computing is in many ways still an emerging technology, its potential to create high-value business opportunities is endless—especially in the realm of corporate training and development.
Working in tandem with Subject Matter Experts (SMEs), a cognitive computing system can act as a knowledgeable and unbiased expert for "How do I?" or "How should I?" inquiries—serving as a valuable, go-to resource for employees across different departments and locations within an organization.
Providing a single access point for proprietary knowledge and industry-specific intelligence could prove especially beneficial for positions that require heavy reliance on the relevancy and credibility of information in regular decision-making activities. Business scenarios where multiple sets of complex data must be carefully examined to find a solution, such as those that are common for industry professionals in the practice of law, medicine or science, pose a significant opportunity to combine cognitive computing expertise with human intelligence to solve advanced problems.
Working alongside bright human minds, cognitive computing systems house the potential to not only serve as a reliable information house to help people overcome workplace challenges and solve various problems, but they also harness the potential to use predictive analysis to identify risks, opportunities and trends within the market[3].With the capability to make highly educated discoveries without requiring human assistance, cognitive computing systems have the potential to dramatically increase business intelligence and medical or scientific knowledge—expanding the horizon
of possibilities for corporate learning in a way we've never seen before.
Want to learn more about cognitive computing? Visit IBM's online research center.
[1] http://public.dhe.ibm.com/common/ssi/ecm/gb/en/gbe03641usen/GBE03641USEN.PDF
[2] http://public.dhe.ibm.com/common/ssi/ecm/gb/en/gbe03656usen/GBE03656USEN.PDF
Your company's growth and prosperity hinge upon the success of your sales force. In today's fiercely competitive business environment, your company simply cannot afford to skimp on sales training. By creating an award-winning sales readiness plan, you can make sure that your new sales representatives quickly master essential sales skills like rapport-building, active listening, and following up with customers. Below are ten training topics to cover to help ensure that your new sales representatives are ready to hit the ground running.
1) Targeting the best prospects
The path to sales success begins with a sales rep's ability to identify the best prospective customers and entice them with targeted marketing strategies. Effective sales training arms new reps with the skills they need to determine whether a lead is hot, cold, or somewhere in between.
2) Establishing rapport with a prospect
Connecting with prospects is vital to building a trusted relationship with customers. Top sales readiness training initiatives include virtual simulations that feature examples of rapport building between sales professionals and prospects. Whenever possible, these simulations should feature the following:
The proper way to engage in self-disclosure to earn the trust of prospective customers
Interactive exercises that encourage sales reps to practice active listening techniques
Simulations of effective cold calling techniques
Multi-cultural awareness training, especially for companies with a large international client base
3) Lead prioritization
Sales reps receive inquiries from a variety of sources such as trade shows, referrals, the internet, and phone calls. Knowing how to prioritize these leads should be an essential part of any sales readiness plan. Sales training online is effective because simulation can be used to introduce and compare examples of varying lead types simultaneously.
4) Introduction to sales software
Mastering the art of selling and negotiating is only part of the learning process for a new salesperson. Most companies use sales software that new reps must learn how to use. Training initiatives should include an introduction to your company's sales software and cover the following points:
Entering new customers into the system
Preparing and sending formal quotations to customers
Tracking inventory and looking up products
Preparation of sales orders
5) Overcoming Objections
Learning how to avoid the word "NO" is a critical skill for new sales reps to master. Training programs should cover strategies that help eliminate customer excuses and subtly overcome customer resistance to investing in your products. By featuring the following types of virtual training scenarios, an LMS can help sales reps overcome customer objections:
6) Following up on leads.
Roughly 80% of sales close after the fourth follow-up attempt. However, nearly half of all salespeople never follow up at all on their leads. Ideally, sales training should highlight these statistics and demonstrate effective follow-up strategies such as the following:
Showing sales reps how to accurately estimate the customer's purchasing timeframe
Employing virtual simulation to show sales reps how to be tactful when following up
Using the sales software system to schedule regular follow-up reminders with customers
7) Shortening the sales cycle
Closing opportunities faster is a major challenge for virtually every sales representative, regardless of tenure. Top sales training programs utilize a multi-media format to introduce sales reps to strategies that can shorten the sales cycle. Examples include the following:
Presentation of time-sensitive discounts to incentivize customers to purchase more quickly
Simulations that feature sales reps effectively creating a sense of urgency among customers
Effective ways to use promotions to spur customers to purchase
8) Product training
Selling a product is typically easier if you have a strong working knowledge of its features and benefits. Sales training software makes product education interesting and interactive by enabling sales reps to engage in learning through the following:
Gaming simulations that allow sales reps to compete against each other to master product features
Online quizzes and exams to assess knowledge of product features
Delivery of product mastery certificates that sales reps can post to social media
9) Asking for the order
Some sales reps can master every phase of the sales process but then fail to ask for the order. Whether this tendency is due to fear of rejection or sheer forgetfulness, sales reps need to be trained to ask for the sale. Highlights to cover include when to ask for the order and subtle ways to ask for a customer's business.
10) Post-sale follow-up
Dropping a customer like a hot potato after closing a sale is a sure fire way to send that customer running to a competitor the next time they need to place an order. Fortunately, you can prevent this from happening by ensuring that your sales training emphasizes the importance of post-sale follow up.
How to Develop the Most Effective Sales Readiness Training
The most valuable sales training tips in the world will not bolster a sales rep's close ratio unless they are presented in a format that captures and maintains the sales rep's attention. The most effective sales readiness plans feature the following qualities:
A style that keeps sales reps fully engaged during the learning process
Sales training techniques that are interactive for learners
A multi-media approach that includes images, videos, quizzes, and virtual simulations
A means of tracking each sales rep's learning progress and acquisition of selling skills
The learning management professionals with Knowledge Anywhere are experts at developing sales training programs that incorporate these elements. Check out our learning management software to see how your sales reps can exceed their performance goals with the help of virtual reality training courses. We look forward to helping you enjoy record-setting sales!
Schedule a Demo today!
The function of the HR department has changed over recent years. More businesses have realigned the role of HR to better manage and grow their company while controlling costs more effectively. Many companies have decided that outsourcing some of the traditional HR training and development functions to third parties makes sense so that internal staff can focus their expertise on strategic issues. Currently, the issues providing the biggest challenges to HR leaders are the areas of recruitment, knowledge transfer, retention, and leadership development.
Recruitment: The Skills Gap and Incentives
The skills gap is defined as a significant discrepancy between a business's current capabilities and the skills needed to achieve its goals and meet consumer demand. Moreover, it is the point at which a business may not be able to remain competitive since it cannot fill system critical jobs with appropriately skilled employees.
"Two-thirds of HR professionals are having a tough time recruiting skilled workers." -Hank Jackson
To bridge this gap, Hank Jackson from the Society for Human Resource Management suggests taking a fresh look at the unlikely candidate. He goes on to say that to tap into the truly unlimited resource of human potential; we must first reevaluate those who were underestimated or screened out.
"As HR business leaders, we will need to judiciously tap every available talent pool to fill the 6 million job openings in this country."
In a recent report citing recruitment trends, tuition assistance is becoming favored over traditional signing bonuses. These may appear more valuable to employees wishing to get out of debt faster. Upcoming legislation, if successful, may make this option more attractive for businesses as well, by offering tax incentives to those providing such benefits and by making the benefit tax-free to the recipient.
As the skills gap widens, due to increasing retirement rates, organizations will need to consider employee retraining initiatives. Strategies involving online training, as well as tuition assistance for skilled degree and certification programs should be considered.
Training: Multigenerational Workforce and the Transfer of Knowledge
In today's economy, intellectual property is critical to the sustainability of many organizations. These organizations stand to lose large amounts of knowledge assets, as Baby Boomers retire in greater numbers—leaving behind a less experienced workforce.
Knowledge transfer becomes a more complex issue because of a multigenerational workforce. The "digital divide" makes mentorship or apprenticeship a more difficult process. In their research report, The Conference Board (TCB) outlines this problem and offers the following strategies;
Online training programs are proven to be especially helpful for the transfer of knowledge when designed with input from both demographics. Working with an outside firm to develop custom training content can be beneficial in creating the right materials to reach all learning needs and styles.
"While many companies fear the loss of knowledge that comes with massive retirement, few have plans in place to address the issue." -Mary Young, Gray Skies, Silver Linings: How Companies are Forecasting, Managing, and Recruiting for a Mature Workforce
Understand the generational differences, including learning styles and use this awareness to build training programs that include input from all generations of workers.
Take time to discover the younger employees learning needs. Understanding exactly what knowledge they need and how they best Recruitment it is critical to retention and utilization of that knowledge.
In older employees, create awareness of the benefits they gain from engaging in mentorships, such as recognition and legacy.
Reciprocity and recognition are instrumental for bettering the way knowledge is transferred.
Emerging education methods like reverse mentoring can provide opportunities for behavior change in both groups.
Don't wait too long to begin. This can limit the usefulness of certain techniques and inhibit the transfer of critical knowledge.
Try to integrate the knowledge transfer into your employee's daily routine to increase the chance that the knowledge will be utilized. Otherwise, the extra work may seem lacking in usefulness.
Retention: Engagement and Workplace Culture
For the past few years, HR leaders have discovered the importance of creating a workplace culture that matches the company's purpose, mission, and values. By focusing on understanding and creating a shared culture an HR department can design a work environment that is engaging to all employees. Research continues to show that employee engagement drives retention.
A recent Deloitte survey found that keeping employees happy used to be a simple matter; offer more pay or benefits. The millennial-aged workforce has shifted that strategy, as it has been said time and again that Millennials work for purpose and recognition, not for pay. It isn't surprising then that many employers are leveraging rewards and recognition programs, to increase retention. The impact this of this type of program is indicated in the data from a report entitled, A Business Case For Recognition.
86% of executives rate workplace culture as being very important
82% of executives believe that workplace culture offers competitive advantage
Only 12% of executives believe they are delivering the "right" workplace culture
Recognition for work well done increases engagement by 50%
Engaged employees are 33% more proactive and innovative
Engaged employees are twice as productive
Employees stay at least two years longer with companies who offer rewards and recognition
Leadership Development: Millennial Style
The Brookings Institute estimates that the Millennial generation will make up 75% of the global workforce by 2025. It appears, however, that leadership development of Millennials has not been seen as a priority for many organizations. According to the Brandon Hall Group's 2015 State of Leadership Development Study, only 20% of companies polled were focusing on this sector of development —for the upcoming two fiscal years.
One of the main distinctions between Millennials and previous workplace generations is their commitment to ideals such as purpose, culture, and concepts like work-life balance. Therefore, organizations wishing to attract and successfully develop leaders in this demographic must include strategies that encompass those values. Encouraging employee fitness programs at all levels with leadership taking proactive roles in creating incentives is one example. Another is empowering employees at the leadership level to discover ways the organization can make a difference in the community. To further differentiate in the area of work-life balance, many companies are turning to flexible scheduling.
Millennials enjoy new challenges and learning life skills. Companies should consider investing in training programs that help the employee develop personally as well as professionally. One company, Workday, has found success in their leadership development program by preparing consultants by enhancing their knowledge of the company's product line, while also training them for public speaking.
As the business landscape changes, so does the role of the HR professional. Because HR is a business-driven function, effectiveness depends on a thorough understanding of the strategic direction of the organization, as well as the ability to develop relationships with employees. Recruitment of skilled talent, retention, training, and leadership development continue to pose the greatest challenges in HR today. These are only complicated by the nature of a multigenerational workforce. Fortunately, thought leaders and experts continue to study and develop new strategies to solve these issues. To partner with our experts in creating an eLearning platform designed to meet your unique needs, contact Knowledge Anywhere today.
How can you prepare your team for the unexpected? How can you leverage real-world scenarios in a daily work environment, before they actually occur? These are the questions that tend to stump training managers and developers across multiple industries today.
Traditional training and development tend to revolve around theoretical concepts, past experiences, and other hypotheticals. While undoubtedly important, these mechanisms are not always relatable and can make onboarding new team members as well as developing existing staff difficult.
That doesn't have to be the case. New training techniques have allowed modules to become not just more immersive, but more applicable to your team's everyday work tasks. One technique that deserves particular attention is video role-play; in fact, here are five ways in which utilizing online video coaching can transform your training effectiveness.
1) Simulate Real-World Environments
Role-playing is particularly effective in sales training environments, due to the high-pressure situations reps can encounter. Even the best training focusing on the script and hypotheticals cannot address the scenario in which a customer asks unexpected questions, or reacts negatively to a pitch.
Through video role-playing, these situations can be better anticipated and learned. Experienced online mentors walk trainees through a scenario that puts them in the right mindset to respond appropriately. Trainees learn faster and more effectively in this type of active environment.
2) Encourage Creative Problem-Solving
Unexpected situations such as the ones described above can quickly lead to scenarios that no theoretical preparation can cover. The goal of your training program, then, should not just be to teach basics but also to encourage any trainee to foster and develop their creative problem-solving abilities and techniques.
As Rehearsal VRP, a leader in the online video training environment points out, "incorporating role-play scenarios in training bridges the gap between reacting and being prepared." Through effective online role-playing new and experienced sales reps alike can begin to anticipate the unexpected, and form patterns of correct responses and ways forward.
3) Save Training Costs
Effective training can be expensive. According to John Talbot's Training in Organizations book, expenditures of in-person training and off-site workshops and conferences make up a majority of the average company's training budget. At the same time, few other opportunities can replace the personal contact and customized learning that these types of training can provide.
Video role-playing could be the exception. Through its mentor system, it still focuses on personalized training, but without the actual costs of travel and event organization or the opportunity cost of pulling an employee out of their day job. The result is an approximately equally effective training, at a much less expensive rate.
4) Improve Listening and Communication Skills
Role-playing is about more than just listening to a linear video. Any trainee has to build a more wholesome understanding of their conversation partner, from the actual words of the body language and nonverbal cues. Modules often include scenarios in which these exact cues become vital to success.
Any externally-focused position at your company can benefit from these learned skills. Employees trained through this method begin to understand the importance of communication and listening, not just to spoken or written words but the context around it.
5) Minimize Time and Location Restrictions
Finally, especially when compared to its in-person training alternatives, online video coaching minimizes the time and location restrictions typically placed on a team in need of training. Live role play for sales reps can easily be converted to recorded, asynchronous videos to be incorporated into future onboarding and development programs.
Within these lower limitations, of course, it still makes sense to place each participant in locations that are as realistic as possible. Sales reps learn more if they perform the role-playing exercise at the same spot in which they will ultimately encounter similar scenarios. But even then, connectivity and remote possibilities significantly reduce the typically centralized aspect of training.
Use Cases of Video Role-Play Across Industries
The above-mentioned benefits are particularly relevant to sales training. At the same time, video-based employee training can be just as beneficial across industries, as the below use cases highlight.
New employee onboarding. Role-playing is a perfect fit to onboard new employees for any communication-based role. From sales to customer service, it can provide scenarios that develop the needed skills at a fraction of the cost compared to other training methods.
Regular professional development. Even experienced professionals, in sales and elsewhere, will need to develop their skills regularly. Online video coaching can be a natural fit to present new scenarios and make sure that these professionals don't begin to fall into formulaic habits of communication.
Distributed workforce. Centralized training makes sense if all of your employees work from a single location. With a centralized workforce, however, the limited costs and flexibility afforded by an online solution that doesn't sacrifice customization can be significant.
In short, live role play for sales reps and other professionals within your organization might be the technique you need to enhance your training. Thanks to benefits that range from real-life simulations to cost considerations, any industry that looks to prepare its employees for high-pressure, communication-based roles can take advantage of it to optimize their training management and execution.
To leverage these benefits, of course, you need a learning management system capable of integrating video role play software. Knowledge Anywhere is proud to partner with Rehearsal, one of the premier VRP solutions on the market.
Thanks to Rehearsal video role play, in combination with our eLearning suite, your team will be able to prepare better for any scenarios they might encounter. Contact us to learn more about our customizable LMS, and how it can allow you to take advantage of video-based employee training.
Knowledge is power—both in the consumer world and in the real one. With information available to consumers on virtually any product, service, brand or topic, purchase behavior has become largely influenced by pre-purchase information-gathering via the internet.
As consumers have become accustomed to having vast amounts of information at their fingertips, they have begun to desire a greater level of detail about a product, service and brand before making a final purchase decision. This presents a challenge for marketers, as any information surrounding a brand and its associated goods or services carry weight in the mind of the consumer—whether it's positive or negative. But, it doesn't have to be a challenge.
"Call it "the secret sauce" to a great content marketing strategy, learning can be a powerful vehicle to help drive a more empowered and devoted customer base."
Leveraging the benefits of eLearning technology, organizations can help shape customer perceptions and final purchase decisions by offering consumers additional value through a targeted knowledge exchange.
Here are a few ways you can leverage learning to improve your content marketing strategy:
1. Product Education
Ditch the traditional product manual for a learning solution that is both informative and engaging. You can save a tree and some frustration with a virtual, video-based product walk-through deployed as a public eLearning course.
2. Alternate or Optimal Product Use Cases
Show consumers creative ways (or the best way) they can put your product to good use by creating a public Learning Center. By giving consumers access to a consistent library of high quality, instructive, and insightful content, you can become the source of information in your industry, making consumers less inclined to surf elsewhere and giving you more control over consumer perceptions of your brand.
3. Magnitude of Solution (Product/Service) Impact
Enlist the help of experts within your organization, or within the industry at large, to speak to the delivered benefits of your product or service that solve specific problems for your audience, and make these sessions available to consumers on your public Learning Center. For example, if you're a medical device company you could ask a doctor who has experience using your product talk to the real-world benefits of the instrument, i.e. how it specifically impacts the accuracy of the procedure or improves the treatment given to the patient.
Workplace illnesses and injuries can have a devastating effect on a company's workforce and their bottom line. In the United States, employers pay roughly $1 billion per week in worker's compensation costs. And with the Occupational Safety and Health Administration (OSHA) increasing monetary penalties for safety violations, businesses and organizations simply cannot afford to gloss over employee safety training. Below is a look at the benefits of using a Learning Management System (LMS) for safety training and the specific ways that virtual safety training can enhance a company's risk prevention initiatives.
Who can benefit from online safety training courses?
The United States Department of Labor (DOL) recommends that safety education and training be a top priority for every employer, whether you are a part of a large or small business. Training should be provided to business owners, supervisors, managers, and all workers who are employed by a company. While there is a need for safety training in virtually every industry, there are some industries that require comprehensive safety training. They include the following:
Construction companies and employers of people who operate lifts and powerful equipment
Healthcare organizations and any entity that employs workers who handle hazardous materials
Manufacturing companies and businesses that feature heavy machinery and welding equipment
Businesses within the HAZMAT industry that involve exposure to dangerous chemicals and materials
Transportation companies and businesses that involve the operation of specialized vehicles
How can an LMS minimize risk in the workplace?
The key advantage of an LMS for risk management is the ability to provide a lifelike simulation of common hazardous or dangerous situations without risking employee welfare. Whereas traditional safety training methods may include live demonstrations that could pose a risk to employees, an LMS introduces employees to vital safety information using a virtual reality platform that poses no risk to participants or employees.
What type of material can be featured in online safety courses?
To be most effective, learning for safety purposes should be engaging and interesting for employees. Additionally, safety courses must cover key elements recommended by the DOL. While some variance in safety training requirements exists among different industries, the DOL recommends that safety training courses cover the following:
The skills and knowledge required to safely perform work and avoid risky or hazardous situations
The proper way to report and control common workplace hazards
Specialized training tips for employees whose work involves unique risks and challenges
In accordance with these recommendations, effective online safety training for employees may include courses that feature the following safety procedures:
Video simulation of proper lifting techniques to help prevent back injuries at a packaging company
A guided tour of each step to report an unstable scaffold or other hazard at a construction site
Simulation of hospital employees properly handling and disposing of blood-borne pathogens
What are the key benefits of using online safety training courses?
With their comprehensive design and user-friendly format, online safety training courses help companies avoid employee injuries and costly monetary penalties. In addition to enabling employees to receive training from their preferred location with their favorite mobile device, an LMS for safety training offers a variety of advantages to employers. Below are five key benefits of using online safety training courses.
1) Employees receive the most current information.
Safety regulations are constantly changing, requiring employers to revise their safety training materials on an ongoing basis in order to prevent safety violations. Online safety training for employees is advantageous because safety content can be quickly modified in a matter of seconds from any location.
2) Safety training material can easily be standardized.
Standardization of training material is critical in industries that emphasize safety. Organizations such as the International Federation of Standards Users (IFAN) point to the need for standardization education and training. Using an LMS for safety training supports standardization because all employees are exposed to exactly the same content using the same mode of delivery.
3) You can easily train a multi-language workforce.
OSHA and other agencies dedicated to employee safety require that employees receive training and instruction in a manner or language that is "understandable to employees." This means that safety training material must be presented in a foreign language if employees receive their job instructions in a language other than English. Online safety courses can easily be modified to meet the linguistic needs of a diverse workforce.
4) Shift work is not interrupted.
Many employees who receive safety training engage in shift work. Traditional safety training methods hinder productivity because they are administered during an employee's work shift. Online safety training courses offer a greater degree of flexibility because they do not have to be administered during an employee's shift.
5) Companies can effectively demonstrate compliance with industry safety standards.
Demonstrating compliance with industry safety standards is critical to the success of most businesses. Using a compliance LMS for safety training enables training managers to maintain robust employee training records, thereby fulfilling key documentation requirements.
The Bottom Line
The rapidly evolving safety landscape requires companies to adapt their training material swiftly while keeping employees engaged and interested in learning how to prevent injury. An LMS for safety can help minimize risk in the workplace by offering a versatile, adaptable means of simulating risky scenarios.
Contact the online training experts with Knowledge Anywhere to find out how you can minimize risks in your workplace. As a leading online safety training company, we can introduce you to our eLearning suite and help you make sure that your employees receive safety training in an efficient, comprehensive format. We look forward to helping you implement a stellar safety training initiative!
Schedule a Demo to learn more about how to implement a stellar safety training initiative.
Similar Posts
Learn how you put education at the center of your organization with these great articles and resources.
Sign up to receive industry tips, trends, & insights