Reaching out to your external partners is critical for the success of your business. Having an extended enterprise LMS feature gives you the ability to expand and be more involved with your external stakeholders. An Extended Enterprise (EE) LMS feature gives your platform the flexibility to be used for different training scenarios without needing to create multiple different LMS platforms.
What is an Extended Enterprise LMS?
An extended enterprise LMS is a training platform that is capable and optimized for use in training people outside of the immediate organization. For example, this might include product training for vendors, outside sales reps, or customers.
Here are the top 6 features to look for in an extended enterprise LMS.
1. Customization and Personalization
Customization and personalization in your extended enterprise LMS are important for both your company and your customers.
Branding for your own company:
Having the ability to customize and personalize the user interface allows for the integration of branding and messaging. Being able to choose the images and color scheme that are used on the site enables the learning platform to become a seamless extension of your company.
Branding for external partners:
Larger partners may require the creation of their own branded extension of your learning management platform. If Safeway is a distributor for my wine business, I will probably need to have a learning platform branded for Safeway specifically. In this way, having the ability to customize and personalize your EE learning platform is crucial.
2. Reporting and Analytics
Your job doesn't stop once you have the extended enterprise LMS set up. Data needs to be calculated and analyzed to make sure that your investment is effective and what areas can be augmented to be even better.
In order to do this, the LMS needs to have the capability to analyze and run reports on the extended enterprise platform data in a meaningful way.
Make sure the reporting has the ability to fulfill your company's needs. Ask about automated reporting and delivery, report integration and reporting visualization.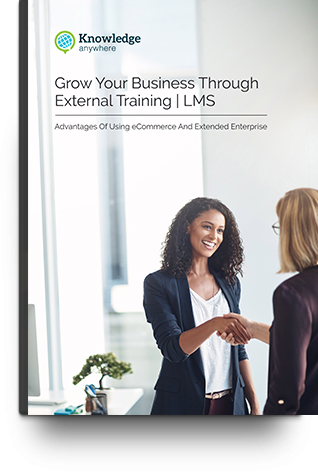 Grow Your Business Through External Training: Advantages of using eCommerce and Extended EnterpriseBecome an expert on how to use eCommerce and Extended Enterprise LMS features to train external partners.
3. Compatibility and Integration
An extended enterprise LMS must be able to work with your current software and content. Your team will a lot more work if the system does not integrate or work with current business processes.
The extended enterprise LMS must have the ability to use integration features such as Application Programming Interface (API). Being able to integrate webinar courses into your training curriculum and manage the engagement results through API allows for deeper learning tracking.
4. Single-Sign-On
Single-Sign-On gives your audience the ability to use a different software for user authentication and login. Your user, therefore, does not have to create a whole new account with a unique username and password. They could use their same login from, for example, your HR software.
This simplifies the learner creation, authentication and login process, reducing barriers for your users and encouraging the use of your extended enterprise LMS. Because the trusted authenticator managing the sensitive information of your users, there is reduced work for administrators as well.
5. Mobile Friendly
External stakeholders are normally geographically dispersed, and they need to access training programs on the go. With mobile learning capabilities, your company can develop and distribute learning courses on any device enabling users to access these courses virtually anywhere. Look for a responsive LMS that automatically scales to meet any screen size.
Mobile learning also supplements the concept of microlearning. Microlearning gives users quick and specific information anywhere at anytime. One of the top benefits of microlearning is it is ideal for Just-In-Time learning which provides learners the information they seek at exactly the right time.
6. Localization Support
As your company expands, you may need to be engaging with different audiences around the globe. When distributing content to global audiences, localization must be an element of your extended enterprise LMS. Having the ability to use a multilingual user interface which can be translated into any language, lets you focus on researching and developing the specific content that matches the needs of the target country or market.
These features will allow extended learning to quickly and effectively reach all of your external partners which will allow your company to scale.
If your company is looking to make an investment which will lead to an increase in revenue, decrease in costs, and improvement of productivity, expanding your learning beyond the internal walls of your organization with an extended enterprise LMS is a must-do.
Schedule a Demo to learn more about our extended enterprise LMS feature.
Similar Posts
Learn how you put education at the center of your organization with these great articles and resources.
Sign up to receive industry tips, trends, & insights