​With a worldwide pandemic, organizations without online training in place are scrambling. And while a Learning Management System (LMS) is a great way to access all of your courses in one place, it requires some time and resources to get up and running. The world is going through rapid changes - with workers remote or long distance, it's best to prioritize quality online training. We can help you get your instructor led material online, as well as any other content you have, so your audience can see it from anywhere.
In this blog, we'll be teaching you how you can start getting your training online today, by showing you best practices so you can get the process going as quickly and painlessly as possible.
The Quickest Ways to Create Training Content Now
Create Your Own Courses
Even if you are not a professional trainer, anyone can put up a course online. And doing it yourself is surprisingly inexpensive! In fact, most companies already have sources of content available, which they can reformat to use inside of a course. Here are a few ideas:
Upload PDFs, videos, and documents you're already Using
Record live lectures and classes
Record all webinars and online classes
Once you create or find the content to upload, make sure your content is SCORM-compliant. In short, SCORM is an eLearning industry standard, but if you'd like to learn more, you can check out our article, "What Is SCORM and Why Is It Important?" There is an instantaneous, convenient way to convert your content into a SCORM-compliant eLearning material: Scormify. Scormify meets all SCORM standards so that your content will work in any LMS and is a great option for trainers that have a live audience and need new content now.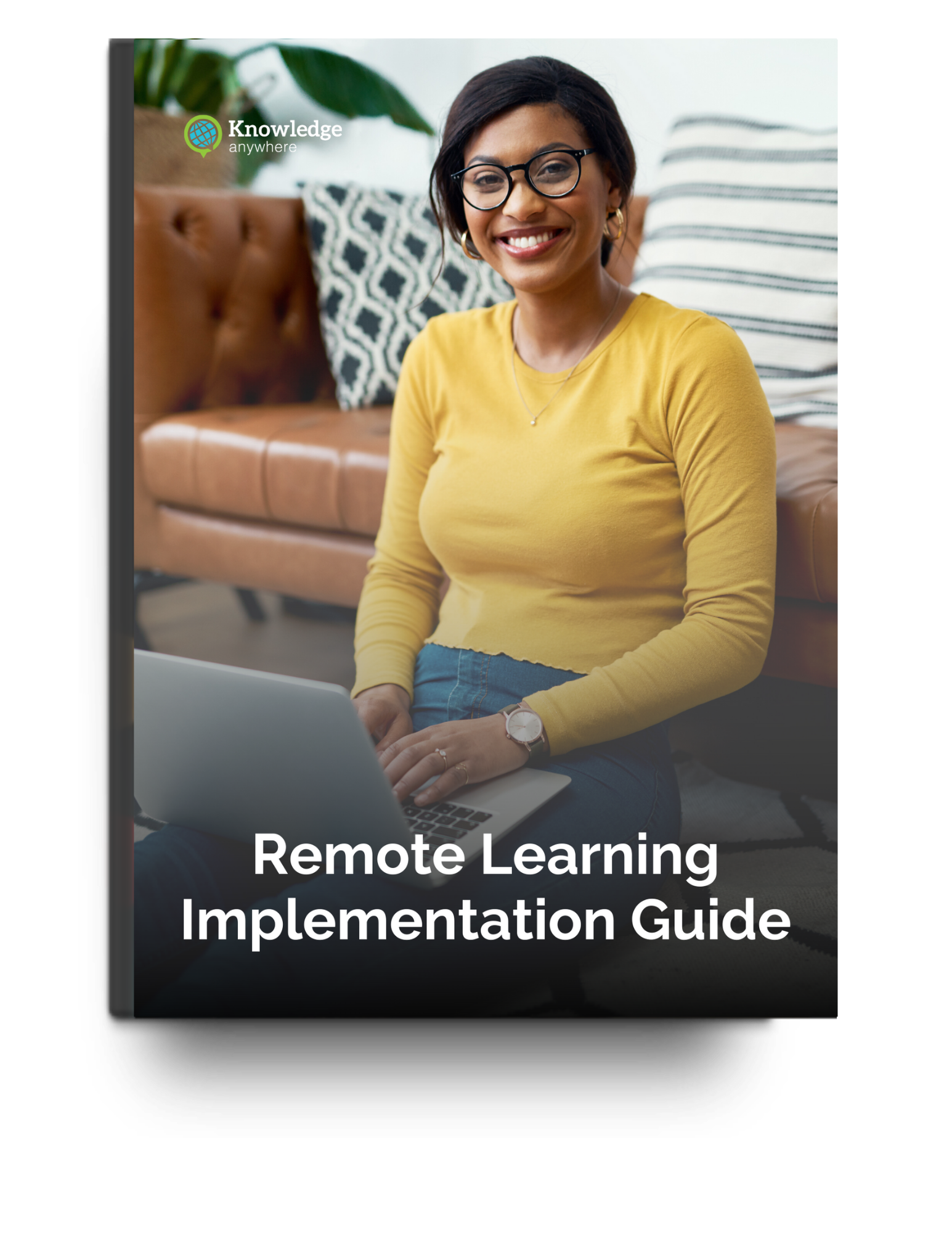 Remote Learning Implementation GuideLearn from anywhere with this handy remote learning implementation guide, which makes it easier to onboard, train, or check up on workers remotely.
Purchase Courses
Off the Shelf Courses
If you need to train people quickly, you can access a library of pre-made courses, which have (almost) every training topic conceivable. These courses hit on major training topics almost any organization needs, such as compliance training, safety training, sales training, ethics training, and more!
Expert-Made Custom Courses
Sometimes, it's best to trust the experts. For tailored approaches that take your company in mind, custom courses are a great option, that outsources training to the professionals that live and breathe it. They'll know best practices, mistakes to avoid, and can get it done and out in a timely manner. Through our partnership with Knowbly, Knowledge Anywhere users can sign up here to get a FREE demo, a 21-day trial, and a discount on course authoring systems.
These are just a few ways to get your courses up and running as quickly as possible. Whether you do-it-yourself or consult an expert, this is a great time to get training started. If you have any eLearning inquiries, Knowledge Anywhere is here for you. What do you need? We can help point you in the right direction - schedule a free call with us today!
Similar Posts
Learn how you put education at the center of your organization with these great articles and resources.
Sign up to receive industry tips, trends, & insights