What is a training timeline and where are learners within it? It's important to know how to identify the different stages of the training process and discuss how to move forward from each point. Each stage is crucial and if you don't have each stage fully fleshed out you are likely costing your organization significant resources.
Training is not a single event - instead, it's an experience that has multiple stages and lifecycles. A training timeline shows these different cycles and shows how training can occur at multiple, but very different points in a learner's journey. Once you're able to create each stage of the cycle, you can use this guide as a continued resource to regularly update your training program.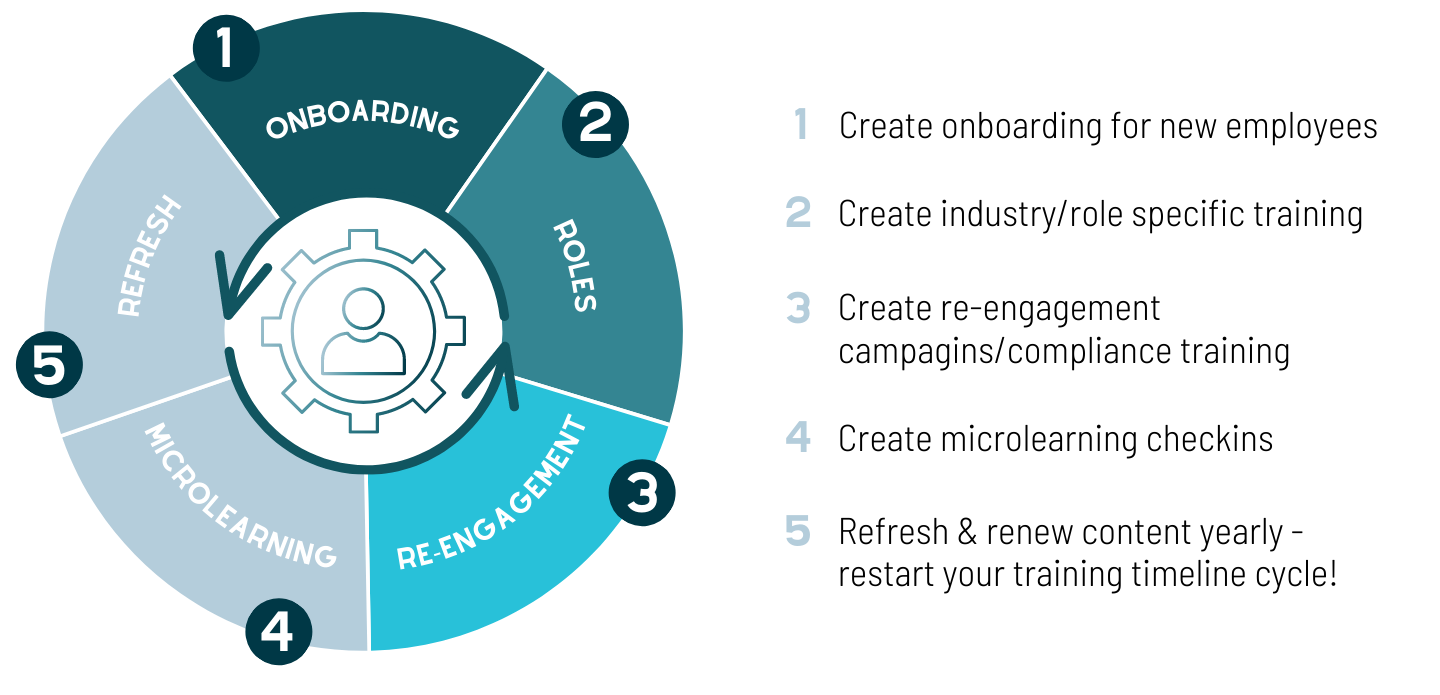 Stage 1. Create Onboarding
Onboarding is usually the first type of training that comes to mind. It's when the learner is new and knows nothing about the organization's process, products, or rules. This is the most vital stage, updated and engaging onboarding is a surefire way to ensure new employees understand how to best do their job.
This stage can be customized depending on role, rule, or product. For example, Knowledge Anywhere has resources that can tailor specifically toward onboarding product training for sales representatives. This kind of attention to detail will only help employees clarify how they can succeed within your company.
Stage 2. Create Industry or Role-Specific Skills Training
After onboarding the next training that should be created is industry or role-specific training. This is vague because it can depend on many different factors and what role the employee is in. Here are a few main types of training for different types of employees:
The key here is to sit down and think about how each kind of training could elevate employee knowledge and company well-being. Once the correct approach is identified, get started on implementation!
Stage 3. Create Re-Engagement Campaigns & Compliance Training
Re-Engagement:
Sometimes, our motivation dips - for those times, it's imperative that your organization has a re-engagement plan in place. It's time to utilize internal marketing strategies to reach your learners and remind them why online training is important for them and the company. Here are a few quick steps to implementing re-engagement campaigns:
Figure out WHY learners aren't engaged
Evaluate your learning materials
Create need and make it urgent
Launch an internal marketing strategy
To see more, check out our blog about How To Implement A Captivating eLearning Re-Engagement Campaign.
Tip: To really engage your Learners, try out Virtual Reality training! It's a fun, gamified way to ensure workers are paying attention while learning new skills or processes.
Compliance Training
In order to cover your bases, Administrators should be sending out scheduled, re-occurring training courses so that your organization is not liable for malpractice. Below are a few examples of training that can be scheduled out on an annual or bi-annual basis:
Industry Compliance Standards, including HIPPA and OSHA
Stage 4. Create Microlearning Check-Ins
Microlearning is the practice of providing instruction in smaller, manageable portions as opposed to longer lessons. It's a format particularly well-suited for employees that telecommute. Let's take a closer look at exactly why microlearning is the answer for training your teams. Microlearning is the process of creating short and quick eLearning materials to deploy during an employee's average work day. They take less time from the employee's day meaning they can be more efficient, but also increase retention because they are more frequent.
There are many ways to introduce microlearning into your training curriculum and it's a great way to surprise your learners and check in with their skills in a way that doesn't take more than 5-10 minutes, allowing them to get on with their busy day! Below are a few great resources about microlearning that you could implement in your own organization:
Stage 5. Admins Refresh & Renew Cycle
The biggest mistake trainers can make is assuming that they're done after all the courses have been completed by learners. In truth, there is no "end" to training - it's a continuous cycle of lifetime learning, which should be refreshed and renewed often. To stop training is like saying there's no more to learn!
It's important to refresh and renew every year and restart the cycle frequently. However there is good news, when you start the cycle again you will already have those preexisting training materials in place. Instead of starting from scratch, you will be able to simply audit and refine your existing materials.
If you find yourself not creating or managing any training at the moment, rethink where your organization's training fits within this cycle. If you need some inspiration here are a few starting blocks to help: what can you do to make it more relevant to users? How can your company be improved by enhanced employee skills? Are all certificates, information, and products up to date? Is your compliance training refreshed and up to date? Have you created a 1 year LMS check-up?
Summary
Learning is an ongoing, lifelong process. Your training should be no different! Check-in with your learning platform constantly, for optimization and improvement. The goal is to think of corporate training as less of an event, and more of an experience. For any questions about eLearning, talk to an expert for free today!
Similar Posts
Learn how you put education at the center of your organization with these great articles and resources.
Sign up to receive industry tips, trends, & insights